Taxi in Antananarivo: the best way to get around
Antananarivo, Madagascar's capital, is the country's largest city and where you're likely to find the most accommodation options. Antananarivo has multiple historic landmarks and attractions to visit but there are also many outdoor activities if you're looking to make your trip more adventurous.
Using a taxi in Antananarivo is the best way to enjoy all Antananarivo has to offer and get from one destination to the next quickly and comfortably. There are plenty of taxis all around Antananarivo both for private and shared rides and you can hail a cab from the street wherever you are around the city. If you prefer to plan in advance, a great option is to pre-book your Antananarivo taxi transfer with a private operator.
If you don't see any taxis around, you can order one online through a taxi-hailing app or over the phone. The cost is usually fixed for certain routes around the city but make sure to ask the driver in advance how much the ride will cost to avoid surprises after arriving at your destination.
TRAINED DRIVERS
Hand picked & english speaking drivers
LOW PRICES
Same price as a regular Taxi from the line
FLIGHT MONITORING
Drivers are always on time
QUALITY SUPPORT
24/7 Email & Phone support
How much does a taxi cost?
Night time


(00:00 - 05:00)
ANTANANARIVO CITY CENTRE TO LAKE ANOSY
ANTANANARIVO CITY CENTRE TO FIADANANA
ANTANANARIVO CITY CENTRE TO TSARASAOTRA PARK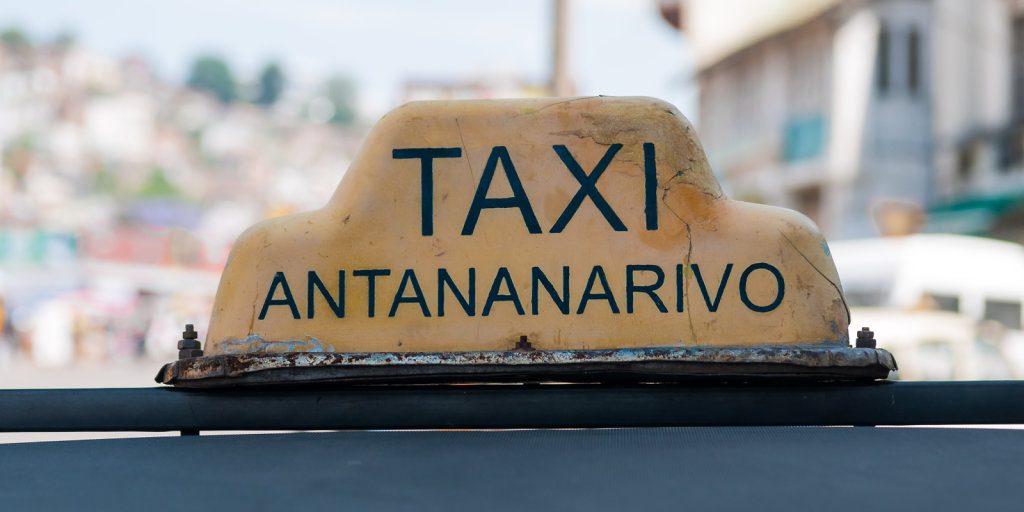 Antananarivo taxi fare
The cost of a taxi in Antananarivo isn't fixed as there are no pre-set rates by the local authorities and taxis aren't metered. This means that you may get a different quote for the exact same route depending on the number of passengers, time of day or other factors. It's strongly advised to ask how much the ride will cost and agree on the fare with the driver before you get in any local taxi. As a reference, for a 5-km route around the city, you can expect to pay about €3 (MGA 14,770) for a standard Antananarivo taxi.
If that sounds like too much of a hassle, you can pre-book a reliable taxi in Antananarivo with Welcome Pickups and secure a fixed, competitive fare with no hidden costs for your complete peace of mind.
What our customers say about Welcome
How to find a taxi in Antananarivo
Antananarivo taxi service is the most popular option for tourists as it provides comfortable and usually private transportation. You will recognise most official taxis by the typical sign on the roof and their white or yellow colour; those are the standard taxis that you come across in most cities around the world.
In Antananarivo, you'll also find a "taxi brousse", which is the go-to option for locals. These are shared minibuses that are much cheaper than regular taxis but they're usually in very poor condition and can get really crowded; you can give it a try if you're feeling adventurous and want to mingle with the locals.
There are regular taxis all around the city during the daytime but service may be limited during the nighttime or in more remote areas. If you see a taxi on the street you can simply wave over to the driver to indicate you need a ride; alternatively, look for taxi ranks near busy locations and popular tourist attractions. If you don't see any taxis around, you can download one of the available taxi-hailing applications and order a taxi online. Another option is to use Taxi Finder Madagascar to find a licensed driver and have them pick you up wherever you are.
Of course, before looking for other options for a taxi in Antananarivo, you can simply book all your transportation needs with Welcome Pickups and enjoy top-rated service from professional, English-speaking drivers at a competitive, fixed fare.
Benefits of pre-booking your Antananarivo taxi
If it's your first time in Antananarivo, navigating the local public transport or trying to find an official taxi on the street in a remote area can be challenging and stressful. The best way to secure reliable transportation 24/7 wherever you are is to pre-book your Antananarivo taxi with Welcome Pickups and enjoy peace of mind.
The booking process only takes a few minutes and there's a flexible cancellation policy in place allowing last-minute changes. All Welcome drivers are English-speaking, trained professionals so whether you're looking for an airport transfer or in-city transportation, language won't be a barrier.
The greatest benefit of booking with Welcome though is the fixed, competitive fare, which ensures no hidden fees or surprises at the end of the ride. Plus, your ride will be pre-paid saving you the trouble of currency exchange or carrying cash.
Antananarivo taxi tips
Taxi fares in Antananarivo aren't fixed; be sure to negotiate and agree on the fare with the driver before you get in the taxi.
Card payment is rarely an option, so carrying cash in small notes is important if you plan to use a taxi in Antananarivo.
English isn't widely spoken by Antananarivo taxi drivers; write down any important information in Malagasy or French.
Tipping your taxi driver isn't required but you can round up the fare or ask the driver to keep the change if you received good service.
Wheelchair-accessible taxi in Antananarivo
Infrastructure for people with disabilities and wheelchair users is really poor in Madagascar and visiting can be challenging if you don't make plans in advance. There are no wheelchair-accessible taxis on the streets. Depending on the vehicle size, they may be only able to fit a foldable wheelchair in the trunk; make sure to ask the driver if there is an additional fee for that.
If you require a fully accessible vehicle that is equipped with a ramp, it's best to contact a local travel agency and enquire about a fully accessible van.
Antananarivo taxi safety and complaints
Using a taxi in Antananarivo is a safe and reliable option for travellers, provided you take an official taxi and stay away from unregistered drivers who will likely try to overcharge you. If you take a private taxi and you think you've been overcharged or the driver shows unprofessional or inappropriate behaviour, you can contact the company they work for directly; they should be able to provide a solution and refund if needed.
If the company doesn't help you resolve the issue or you don't know which company the driver works for, you can escalate the issue to the local police. It is important to write down as much information as possible, including the driver's name, license plate, and registration number.