A reliable Asuncion taxi
A wealth of history and culture is on offer in Asuncion, the captivating capital city of Paraguay. Full of green spaces and fascinating colonial architecture, there are many notable buildings to explore amongst a vibrant culture and arts scene. 
The city of Asuncion can be explored at your pace with a local taxi ride or private transfer, with a professional driver transporting you comfortably and reliably to your destination. Driving around Asuncion is a great way to soak up the atmosphere and historic sights of this "Mother of Cities" that was founded in 1537. Local food, culture and architecture are all on offer as you visit locations such as the Museo del Barro which showcases more than 400 years of indigenous culture. The sandy beaches of Costa Serena offering stunning sunset views can be reached by taxi in less than an hour, as can La Escalera Infinita, San Bernardino which is perfect for breathtaking hikes. 
Local drivers know the streets well and are also better accustomed to the sometimes adventurous driving styles of other road users in this city. The easiest and safest way to secure a modern air-conditioned taxi in Asuncion is to book a private transfer in advance, but you can also easily find cab ranks around town or call for a radio taxi in Asuncion. 
TRAINED DRIVERS
Hand picked & english speaking drivers
LOW PRICES
Same price as a regular Taxi from the line
FLIGHT MONITORING
Drivers are always on time
QUALITY SUPPORT
24/7 Email & Phone support
How much does a taxi cost?
Night time


(00:00 - 05:00)
ASUNCION TO FERNANDO DE LA MORA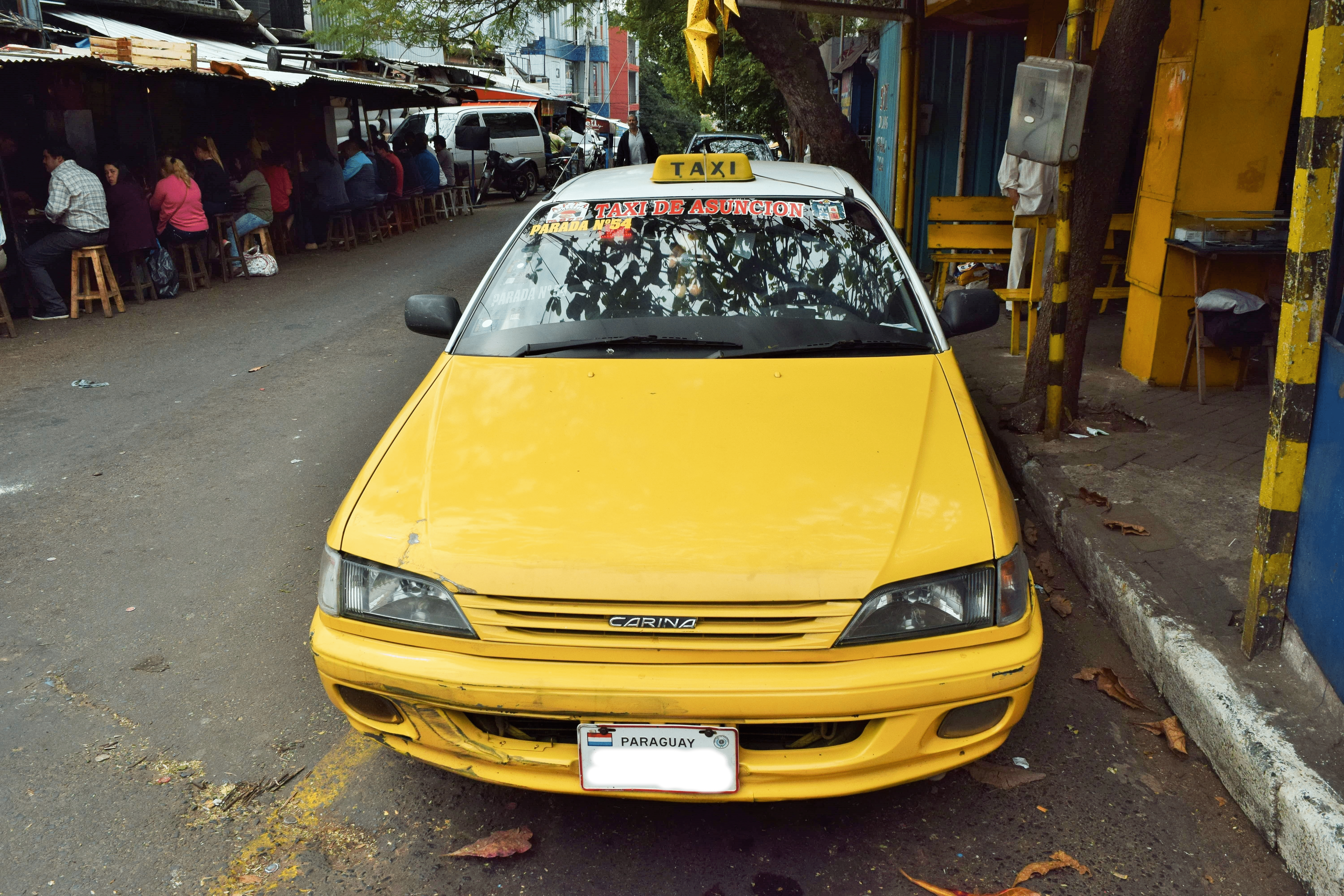 Taxi rates in Asuncion
Asuncion taxis operate 24/7 and can be found readily available throughout the city. If you choose to hail a taxi, it is recommended to establish and negotiate a fare before stepping in. While taxi drivers in the city are supposed to use a meter, many often choose not to. The following taxi rates in Asuncion can be used to estimate your fare, depending on the distance to your destination and the time of day:
Base fare: €0.60 (PYG 5,005)
Rate per km: €0.50 (PYG 3,813)
Rate per km at night-time (Weekdays from 20:00-06:00, Sundays and Public Holidays): €0.60 (PYG 5,005)
*Each km driven is charged in addition to the base fare booking fee.
A fare of €5-10 (PYG 39,720-79,440) should get you to most places in the city centre ring. There are no extra charges for luggage or a specific waiting charge, but you can expect increases in your fare due to traffic in Asuncion. These can be calculated as around 5% for moderate traffic to 10% for heavy traffic.
What our customers say about Welcome
How to get an Asuncion taxi
Asuncion taxis are bright yellow and you'll easily find them roaming the local streets. If you're interested in taking a cab, you can call for a radio taxi in Asuncion by reaching out to the Radio Taxi Service at +595 (21) 311 080. Radio taxis in Asuncion can also be arranged with private companies, including POLITTAN, reachable at +57 (316) 3075 478 and Teletrans, reachable at +562 (29) 345 337. You can also secure your Asuncion taxi via the MUV app, the local app designed for on-demand travel.
If you are looking to guarantee an English-speaking driver who can provide a fully personalised journey taking you directly to the door of your destination, then booking a private taxi in advance with Welcome Pickups is recommended for a comfortable and safe ride.
Benefits of booking an Asuncion taxi in advance
Making sure you can get to your destination securely and easily when travelling around Asuncion is a priority. If you know when and where you'll be needing a ride, you can organise your pickup ahead of time! A reliable and modern taxi booked in advance with Welcome Pickups will accompany you to your destination in a smooth and worry-free manner.
With no hidden fees or extra charges, free waiting time and a flexible cancellation policy, you can rest assured that a reliable experience awaits. What is more, our handpicked and well-trusted, English-speaking drivers are local professionals, so will also be able to offer some of their valuable local knowledge en route to your destination.
Asuncion taxi tips
Before you start the journey, make sure your taxi driver is using a taximeter to calculate the fare. Taxi rates in Asuncion are sometimes not calculated with a meter, in which case it is recommended to agree on a price before you step in.
Bring more than enough cash for the journey that you plan to make, in case the fare is increased due to heavy traffic.
You may not be able to guarantee an English-speaking driver if you hail a taxi from the street. Be prepared with a few key phrases in the local language to help you negotiate the fare and communicate the journey you wish to make to the driver.
Many of the yellow Asuncion taxis are old and some may even be missing seatbelts. It is worth having a quick check before you step into the vehicle.
Wheelchair-accessible Asuncion taxi service
You'll find that local taxis you can hail from the street and even many private transfer providers do not offer wheelchair-accessible services in Asuncion.
However, there is a special vehicle equipped to transport wheelchair users that circulates Asuncion, provided by the Cooperativa de Taxistas 11 de Noviembre. You can call them at +593 (72) 510 855 to request an accessible taxi. Rather than the typical yellow taxi colour, this vehicle is white and has the international accessibility symbol on it.
Asuncion taxi safety and complaints
Asuncion is one of the safer cities in Paraguay and invites fewer scams, due to it experiencing less tourism than other destinations.
Having said that, it is advisable to stick to pre-booked taxis at night-time instead of hailing street cabs. A dispatched radio taxi in the Asuncion Centro (centre) may be old and in poor condition. Many also lack functioning seatbelts and there are even vehicles that aren't registered, yet look like official taxis. Therefore, your first step in securing a safe and secure journey through the city is to book in advance online or over the phone and ensure you're using only taxis from a registered cab company. 
If you happen to have a bad experience and you cannot get hold of an official taxi company representative, you can visit the nearest Criminal Complaints Office (Oficina de Denuncias Penales) in the nearest Prosecutor's Office (Fiscalía más cercana) or your nearest police station (Comisaría de Policía), where you can record the incident. You can also reach them via phone (+562 (21) 454 611) at any time.