Boise Taxi Services
Boise, Idaho, is a hidden gem of the Pacific Northwest, offering visitors a unique blend of outdoor adventure, culture, and history. With a thriving food scene, picturesque riverfront, and access to nearby mountains, Boise has something for everyone to enjoy. And the best way to make the most of your time in the city is by taking a Boise taxi.
TRAINED DRIVERS
Hand picked & english speaking drivers
LOW PRICES
Same price as a regular Taxi from the line
FLIGHT MONITORING
Drivers are always on time
QUALITY SUPPORT
24/7 Email & Phone support
How much does a taxi cost?
Night time


(00:00 - 05:00)
FROM CITY TO QUAIL HOLLOW GOLF COURSE
FROM CITY TO BOISE AQUARIUM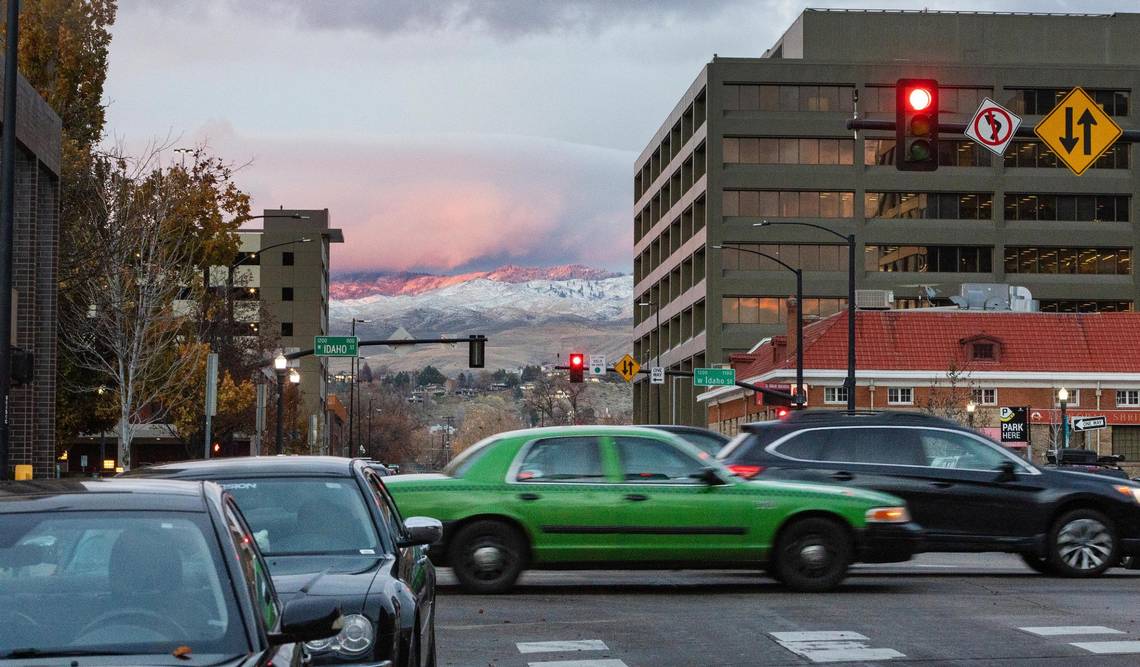 Boise Taxi Prices
Various Boise taxi services operate around the city, all of which calculate their prices using a taximeter based on the time and distance travelled. The pricing your fare will be based on is as follows:
Initial fee: $3.60 (€3.30)
Cost per km: $2.60 (€2.38)
Waiting price per hour: $36 (€33)
For trips from downtown Boise to the airport, and vice versa, you'll pay $13.10 (€12) on average, excluding tips. Please note that there are no price surcharges at night or on weekends.
What our customers say about Welcome
How to get a taxi in Boise, Idaho
Getting a taxi in Boise, Idaho, is relatively easy. You can hail a cab directly off the street, head to a transportation hub or a popular tourist area, book your taxi in Boise online, or call a local taxi company and request a pickup from a specific location.
Some popular Boise taxi services you can phone are: 
Green City Taxi: +1 (208) 353 1693
Boise Express Taxi: +1 (208) 353 1877
Boise Cab Service: +1 (208) 570 1217
If you know when and where you'll be needing a ride and want to travel with a friendly local driver at a competitive fixed rate, it is recommended to pre-book your private transfer with Welcome Pickups.
Benefits of Booking a Private Transfer with Welcome
Arriving in an unfamiliar city can be stressful, especially if you have to figure out how to navigate its public transportation network or wait in taxi lines. That is why pre-booking a private transfer with Welcome Pickups ensures a stress-free and pleasurable trip.
Welcome offers on-time pickups, stellar 24/7 customer service, a fast and efficient booking process, personalised transfers, and friendly, knowledgeable local drivers, carefully handpicked and trained by us. So avoid long waiting times and unexpected fees, and start your holiday in Boise as best as possible.
Boise Taxi Tips
Tipping your Boise taxi driver is customary, like in most parts of the United States. Most travellers leave a 15 to 20% tip.
Taxis in Boise, Idaho, accept card payments, although it is best to confirm with your driver beforehand.
During busy periods, such as weekends or holidays, booking a taxi in advance may be necessary to ensure availability.
It is good to know that Boise taxis have no price difference for day, night and weekend trips.
Wheelchair-accessible Taxis in Boise
Several taxi services in Boise offer wheelchair-accessible vehicles. Here are a few options with their telephone numbers:
Boise City Taxi: +1 (208) 377 3333
Treasure Valley Taxi: +1 (208) 871 6900
SafeRide Taxi: +1 (208) 871 6900
It's important to note that the availability of wheelchair-accessible vehicles may vary depending on the time of day, day of the week, etc. Thus, booking with the taxi company in advance is best, to ensure a wheelchair-accessible vehicle is available.
Boise Taxi Safety and Complaints
If you had a bad experience with a Boise taxi, you could file a complaint directly with the taxi company you used, or the City of Boise's Department of Transportation. However, it is essential to keep your taxi receipt, as it contains all the valuable information needed – including the driver's name, the date and time of the incident, and the taxi's license plate number.