Calgary Taxi
Calgary is the modern epicentre of Alberta, filled with impressive skyscrapers, world-class restaurants and high-end shopping. However, Calgary is also still full of that welcoming Western culture, as you can enjoy the yearly Rodeo and country festivals every year. The easiest way to get around this sprawling city is to take a fast and reliable Calgary taxi. You can find a Calgary cab at designated taxi ranks, by hailing one in the street, by calling a local phone dispatch company or by booking your transfers in advance. 
TRAINED DRIVERS
Hand picked & english speaking drivers
LOW PRICES
Same price as a regular Taxi from the line
FLIGHT MONITORING
Drivers are always on time
QUALITY SUPPORT
24/7 Email & Phone support
How much does a taxi cost?
Night time


(00:00 - 05:00)
FROM CITY CENTRE TO CALGARY AIRPORT
FROM CALGARY AIRPORT TO BANFF
FROM CALGARY AIRPORT TO CANMORE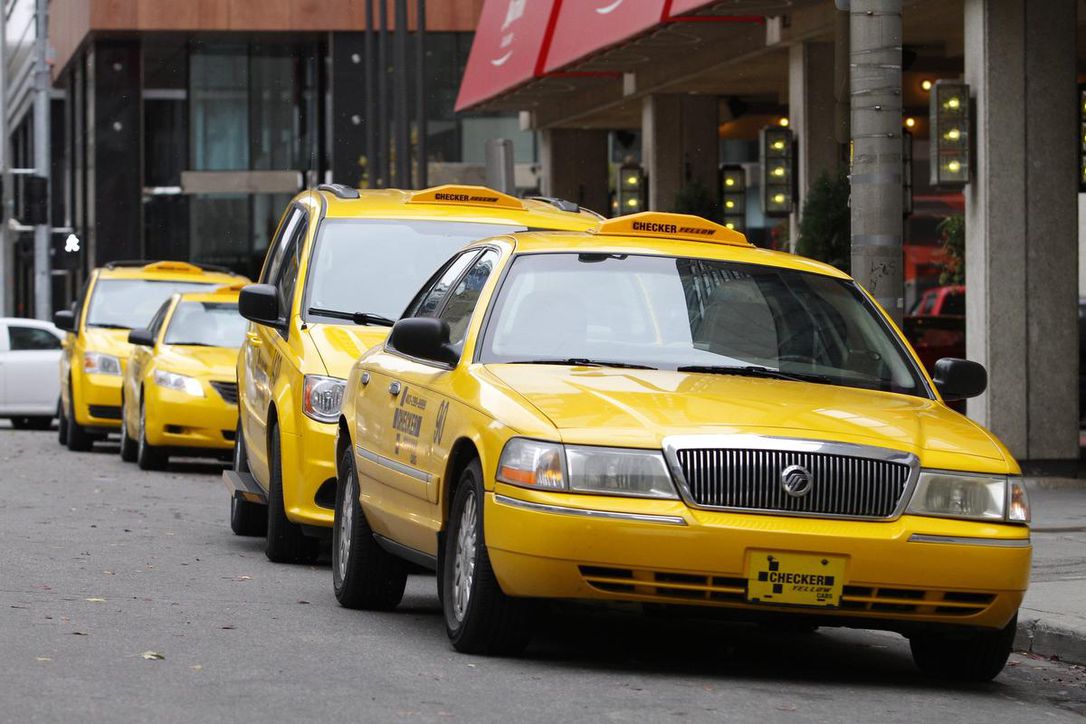 Cost of a Taxi in Calgary
Calgary Taxi rates are set and regulated by the City of Calgary Livery Transport Service. All Calgary cab companies must therefore adhere to the official rates by using an officially calibrated taximeter. There are two different rate systems; Rate 1 – if you're travelling anywhere in the city, and Rate 2 – if your journey is originating from Calgary International Airport. 
Rate 1 – Normal Tariff
Base fare (inc first 120 m): €2.80 (CAD 3.80)
Price per 120 m: €0.15 (CAD 0.20)
Rate 2 – Originating from Calgary Airport
Base fare (inc first 120 m): €6 (CAD 8.30)
Price per 120 m: €0.15 (CAD 0.20)
It's worth noting that Rate 2 includes the airport departure fee of €3.30 (CAD 4.50). There are also additional charges for things such as keeping your driver waiting for an hour (€25 (CAD 33.80)) and travelling during snowstorms. 
What our customers say about Welcome
How to get a Calgary Taxi
Finding a taxi in Calgary couldn't be easier. There are many different private taxi companies in Calgary that can be hailed in the street or picked up at designated taxi ranks. Taxi ranks can be found outside of the main transport hubs, shopping centres, large hotels and tourist areas downtown. You can find a full map of taxi ranks in Calgary here. Although the colours and designs of each Calgary cab may vary, they are usually yellow or white in colour and have their company number and logo on the side. 
On the other hand, if you'd prefer a more personalised door-to-door service, you can call a phone dispatch Calgary taxi company for an on-demand service. Some of the top phone Calgary taxi companies are:
Calgary United Cabs: +1 403 777 1111
Delta Cab Ltd: +1 403 278 9999
Checker Cabs: +1 403 299 9999
Mayfair Taxi: +1 403 255 6555
Why book your Calgary Cab with Welcome Pickups?
Although there are many Calgary taxi companies available throughout the city, during peak times, bad weather or late at night, it can be near impossible to find an empty cab in the street, and wait times for phone dispatch taxis can be up to an hour. In this case, you can pre-book your Calgary taxi with Welcome Pickups and enjoy guaranteed on-time pickups, personalised transfers, unbeatable prices and 24/7 customer support. 
Calgary Taxi Tips
Ensure your driver resets the taximeter before you begin your journey.
Calgary cab drivers aren't required to carry change for more than €3.60 (CAD 5) at night and €14.50 (CAD 20) during the day.
Many Calgary taxi drivers take card payments, but be sure to ask before beginning your journey if you wish to pay this way.
Tipping 10-20% of your final fare is expected in Calgary.
Wheelchair Accessible Taxi in Calgary
In recent years, the city of Calgary has put a lot of money and effort into creating Wheelchair Accessible Vehicle Calgary (WAV Calgary). Unlike their private counterparts who require pre-booking, WAV Calgary is a central dispatch company that provides on-demand wheelchair accessible taxis. Plus, every WAV Calgary taxi must charge the same as a regular taxi by law. To get a wheelchair accessible taxi in Calgary, you simply need to call +1 403 974 1110 and the closest available cab will be sent to you.  
Calgary Taxi Safety and Complaints
All taxis in Calgary are regulated by the Taxi and Limousine Advisory Committee, which guarantees public safety and quality of service. This means that Calgary cabs are very safe and well monitored. However, if you do experience any issues during your ride, such as overcharging or rude drivers, you can make a complaint by calling the non-emergency police department on +1 403 266 1234. Be sure to have your driver's ID number or taxi number on hand when calling the police to help them deal with your complaint.