Taxi Service in Cincinnati
The city of Cincinnati is a cultural and economic hub in the state of Ohio. It's a very interesting destination to visit in the wider metropolitan area, combining history, architecture, and culinary experiences. To get around quickly and get from one exciting activity to the next in comfort, it's best to pre-book a Cincinnati taxi. There are taxis available all around town so you can simply hail one from the street or take one from the taxi ranks near popular locations like the airport or train stations. If you can't find a taxi near you, don't worry; there are also many taxi operators that you can call and ride-hailing apps that you can use to order one.
TRAINED DRIVERS
Hand picked & english speaking drivers
LOW PRICES
Same price as a regular Taxi from the line
FLIGHT MONITORING
Drivers are always on time
QUALITY SUPPORT
24/7 Email & Phone support
How much does a taxi cost?
Night time


(00:00 - 05:00)
CINCINNATI CITY CENTRE ➙ NEWPORT
CINCINNATI CITY CENTRE ➙ AVONDALE
CINCINNATI CITY CENTRE ➙ CONEY ISLAND PARK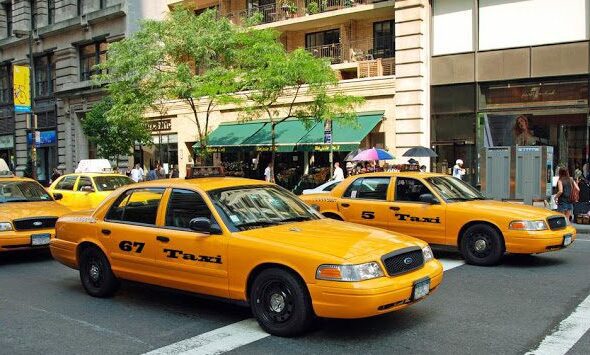 Cincinnati Taxi Fares
Cabs in Cincinnati are required to use a taximeter for the entire ride to calculate the total fare based on distance. The rates are regulated by the state for official taxi companies but you will find that the rates might differ from one taxi operator to another.
Avg. Base fare – $3.60 (€3.60)
Avg. Rate/km – $1.25 (€1.25)
Keep in mind that there can be additional fees among the different companies, for things like heavy luggage or pets. Most companies also charge a waiting time fee of around $25 (€25) per hour and of $0.25 (€0.25) for every 37 seconds that the taxi is either moving very slowly or staying still.
What our customers say about Welcome
How to Get a Taxi in Cincinnati
Getting around Cincinnati by taxi is easy as you can find one 24/7; just look for the typical yellow cab with a TAXI sign on the roof, which should be lit if the taxi is available. You will also find taxis lined up outside or near popular locations, like the airport, train stations, and tourist attractions. If you're not close to any of the taxi ranks that can be found around the city, you can order a cab over the phone; there are many Cincinnati taxi companies to choose from, some of which are:
Yellow Taxi Cincinnati: +1513 549 2469
Town Taxi: +1513 362 0281
United Cab Co.: +1513 251 1155
Pre-book your Taxi in Cincinnati
Taking a Cincinnati cab is a reliable transportation option but to ensure a competitive fixed rate and convenient door-to-door service, you can pre-book your Cincinnati taxi with Welcome Pickups. Whether you're looking to get from the airport to the city centre or move around the city, with Welcome you won't have to worry about currency or carrying cash, as your transfer will be prepaid. A handpicked, professional driver will be there on time to take you quickly and comfortably to your destination, providing a stress-free travel experience.
Cincinnati Cab Tips
Not all taxis in Cincinnati accept card payments, so make sure to carry a few dollars on you; the smaller the note, the better.
Once you enter the taxi, make sure that the taximeter is reset to the base fare; the amount may differ from one taxi company to the other.
Make sure to ask for a receipt at the end of the ride; it will help in case you leave any personal items behind.
If you hail a cab from the street, make sure it's an official, registered taxi; there should be a taximeter and the registration number on display.
Wheelchair Accessible Taxis in Cincinnati
Cincinnati is an accessible city, where wheelchair users can move around comfortably. Most standard taxis can fit a foldable wheelchair in the trunk but aren't fully accessible to passengers who require to use one during the ride. To ensure you'll make the most of your stay and explore the city in comfort, you can book one of the taxi companies providing fully accessible vehicles; you can call Queen City Medical Transport at +1513 903 4073 or Express Mobile Transportation at +1859 655 4600 and book your Cincinnati taxi in advance.
Cincinnati Cab Safety and Complaints
Cabs in Cincinnati are overall safe and reliable as they're regulated by the state. The use of the taximeter prevents overcharging incidents, but if you think that you have been overcharged or you need to file a complaint about unprofessional behaviour, you can contact the City of Cincinnati customer service line at +1513 591 6000. Make sure to ask for a receipt at the end of the ride or write down the date and time of the incident and the driver's name, registration number, and license plate.