Reliable taxi in Cordoba
Taxi services in Cordoba undoubtedly offer the most convenient mode of travel when visiting this captivating city. As Argentina's second-largest city, nestled within the foothills of the Sierras Chicas on the Suquía River, Cordoba is renowned for its colonial architecture and vibrant cultural scene. This has made it an attractive destination for numerous travellers. As a result, you will find a plethora of taxis in Cordoba, as well as various bus lines covering different routes. That being said, if you're interested in exploring the centre or surrounding areas comfortably – or if your time is limited, opting for a local taxi for your transfers would be the most appropriate choice for you.
TRAINED DRIVERS
Hand picked & english speaking drivers
LOW PRICES
Same price as a regular Taxi from the line
FLIGHT MONITORING
Drivers are always on time
QUALITY SUPPORT
24/7 Email & Phone support
How much does a taxi cost?
Night time


(00:00 - 05:00)
CORDOBA CITY CENTER TO CORDOBA INTERNATIONAL AIRPORT (COR)
CORDOBA CITY CENTER TO VILLA GENERAL BELGRANO
CORDOBA CITY CENTER TO LOS TERRONES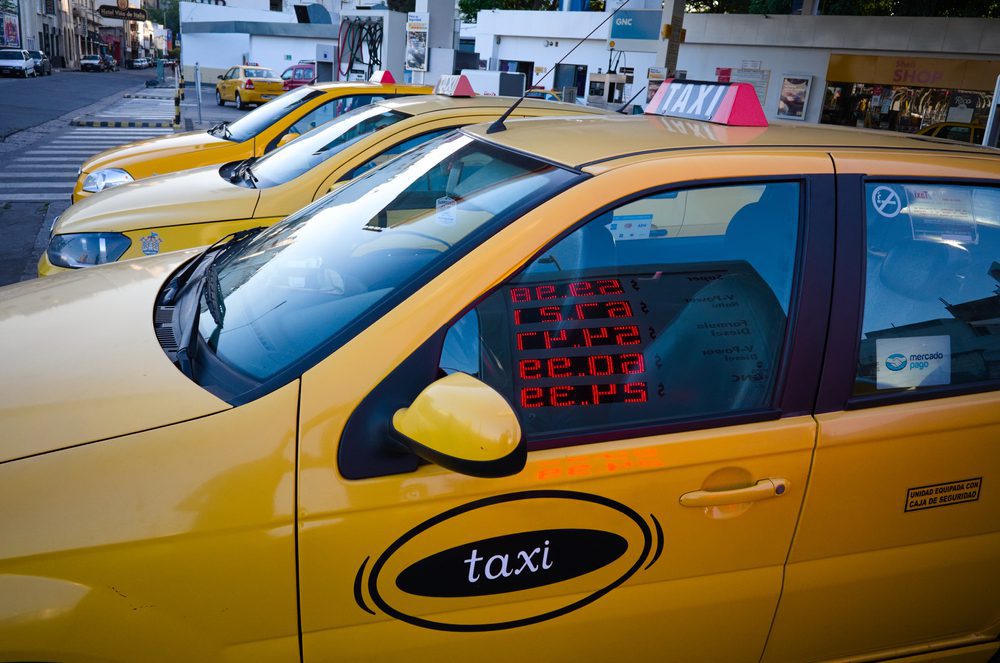 Prices for taxis in Cordoba, Argentina
Taxis in Cordoba calculate their fares using a taximeter, based on the time and distance travelled to your destination. The current cab rates in the city are as follows:
Initial fee: €0.91 (ARS 274)
Per km: €0.45 (ARS 136)
Waiting time/hour: €2.60 (ARS 783)
Remember that all passengers using a taxi from/to the airport may have to pay a surcharge, whilst any tolls encountered during the trip are also payable by the traveller. Moreover, additional charges may apply for factors such as heavy luggage or more than a certain number of passengers, depending on the terms and conditions of your chosen provider.
To avoid unexpected costs and ensure a timely pickup and door-to-door transfer, consider pre-booking a private transfer with one of our trusted local drivers for a fixed price.
What our customers say about Welcome
How to get a taxi in Cordoba?
Radio taxis in Cordoba are available round-the-clock and can easily be found at clearly marked taxi stands. Popular locations such as historical sites, hotels, metro stations, and train stations offer a high likelihood of finding an available cab too. In Cordoba, taxis that are available often have a lit sign on the roof. If you see this, you can flag down the taxi driver directly from the street. Alternatively, you can always pre-book your ride if you know when and where you'll need one, or call a dispatch company for pickup.
Among the most reliable local taxi providers you can contact are C.C. Taxis, reachable at +54 (351) 426 3795, and Rapi Taxi, which can be contacted at +54 (351) 455 5555. These providers can offer you a comfortable and convenient ride around Cordoba.
Pre-book your taxi in Cordoba
If your schedule is tight and you don't have much free time, arranging your taxi in Cordoba ahead of time can save you a lot of stress. Having a taxi waiting for you at a specific location at a fixed price is effortless.
Why not schedule your Cordoba taxi ride with Welcome Pickups? By doing so, you'll have the assurance of a ride with a handpicked, highly skilled English-speaking local driver at a guaranteed, competitive price, without any hidden costs. This way, you can fully enjoy your journey, knowing that your transportation in and around the city is organised in the best way possible.
Tips for your Taxi in Cordoba, Argentina
Ensure your taxi in Cordoba is licensed by checking for the clearly displayed taxi license inside the cab.
Remember that taxis calculate their fare using a taximeter, and the cost can increase in slow traffic or with heavy luggage.
For ease of communication and navigation, have the address of your destination written down or available on your phone to show the driver.
Make sure to ask for your receipt after your journey is complete in case you leave anything in the taxi.
In Cordoba, the majority of taxi drivers prefer cash payments, and many don't have card machines in their vehicles at all.
Wheelchair Accessible Cordoba Taxi
In Cordoba, Adaptado Taxi provides easy-to-book, wheelchair-accessible taxis. Their vehicles are fully equipped for comfort and safety, featuring ramps for wheelchair access and special safety retention devices.
Pre-booking is recommended, especially for long-distance transfers. Services are provided by bilingual drivers fluent in both English and Spanish. You can book your rides online.
Safety and Complaints for Taxi in Cordoba, Argentina
If your taxi in Cordoba, Argentina didn't meet your expectations and you'd like to file a complaint or apply for a refund, you should first contact the taxi company that provided your service. If you find the response unsatisfactory or if you receive no response, you can then approach the Dirección General de Tránsito y Transporte of Córdoba, which is the local governing body responsible for taxi services. It is important to remember to request a receipt at the end of your taxi ride, as it will contain the necessary information about the driver and your trip.