Taxis in Dakar
The booming port city of Dakar, the capital of Senegal, is on the westernmost point of mainland Africa, the Cap-Vert peninsula. Dakar is in French-speaking West Africa and is well connected to Western Europe. The people of Dakar are known for their generous hospitality. During the day, the markets are bustling, prominent cultural institutions offer insight into the anthropology and art of Africa, and various beaches offer fun in the sun. Plus – you can dance the night away to vibrant local mbalax music.
Taxis in Dakar are numerous, and it is easy to spot the yellow cabs on the streets. You can readily flag down a taxi or find drivers waiting near major local attractions and transport hubs. There are also several taxi companies you can call to request a ride. Unless you book your ride in advance, the taxi fare is negotiated with the driver before the start of the journey.
TRAINED DRIVERS
Hand picked & english speaking drivers
LOW PRICES
Same price as a regular Taxi from the line
FLIGHT MONITORING
Drivers are always on time
QUALITY SUPPORT
24/7 Email & Phone support
How much does a taxi cost?
Night time


(00:00 - 05:00)
DAKAR TO AFRICAN RENAISSANCE MONUMENT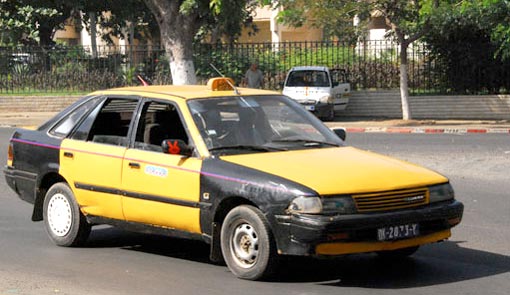 Dakar Taxi Prices
Most Dakar taxis don't make use of a taximeter. The fare is negotiated with the driver before starting the trip. Generally, you can estimate the fare to cost around €0.46 (CFA 300) per kilometre. The cost to reach Dakar city centre from the airport may range from €18.35 (CFA 12,000) to €30.58 (CFA 20,000).
Keep in mind that the fare above does not include the cost of any applicable road tolls; which is an additional cost for the passenger. You can also expect to pay a higher rate for rides at night. To avoid having to negotiate your fare, you can choose to book your Dakar taxi in advance with Welcome Pickups for a competitive set flat rate and no hidden fees.
What our customers say about Welcome
How to get a Taxi in Dakar
Taxis are plentiful in Dakar and they can be easily recognised thanks to their signature yellow colour and roof sign. Taxis can be flagged down in the street, or you can find taxis waiting around popular destinations. You can also call one of Dakar's taxi companies to request a ride.
A couple of companies you call include Subito (dial +221 78 136 3635) and SamaTaxi (dial +221 33 825 9080). Alternatively, to save some waiting time, you can book your ride in advance with Welcome Pickups and benefit from personalised transfers, all-inclusive fares and friendly, prompt, English-speaking drivers.
Book your Dakar Taxi Transfer in Advance
By booking your Dakar taxi transfer in advance, you can relax knowing that your driver will show up at the allotted time. You won't have to worry about navigating public transportation nor waste time looking for a taxi to flag down. Plus, you will be charged a flat competitive rate for your ride, so you won't have to worry about negotiating the price with your driver. For a comfortable and convenient transfer with a professional English-speaking local driver, consider pre-booking your ride with Welcome Pickups.
Tips for your taxi in Dakar
If you take a taxi from the street, negotiate the price for your ride before hopping in the vehicle.
If you have a great driver, it's not uncommon to request their number so you can organise a ride with the same person again.
Carry some small bills with you, just in case the driver doesn't have change for larger bills.
Have directions ready to your destination, to be sure you are going the right way and that the driver is taking the best route.
Wheelchair Accessible Taxis in Dakar
Dakar does not yet offer great accessibility to persons with reduced mobility and regrettably, fully accessible taxis with wheelchair lifts are difficult to find. However, you can easily get a lift in a larger vehicle for a more comfortable trip with ample space to store foldable wheelchairs. Sama Taxi is one of the local companies offering more spacious vehicles – just ensure you specify your needs when booking a trip for the best possible service.
Dakar Taxi Safety and Complaints
Taxis in Dakar are the safest, easiest option for getting around. Dakar is generally a safe destination for tourists, though you should still take normal precautions when travelling there. If you take a taxi from the street, be sure to agree on a set rate for your trip before getting in the vehicle. If an issue does arise, save the details of your trip including the license number, driver's name and the date, time, and location of your pickup and/or dropoff. You can contact the company you used directly or reach out to the police to report any issues.