Dortmund taxi service
Dortmund is a lively city in Germany's North Rhine-Westphalia, with centuries of rich history. The city is known for its charming streets, picturesque landscapes, and intriguing historical sites like the Zollern Colliery – a fascinating industrial monument. Some must-visit attractions include the Dortmund U-Tower and the impressive Reinoldikirche. 
For history enthusiasts, the Alter Markt Square and Marien Church hold captivating stories, whereas, for football fans, the iconic Signal Iduna Park, home to the renowned Borussia Dortmund team, and the German Football Museum are steeped in football spirit. Adding a touch of fairytale allure to Dortmund is the enchanting Westfalenpark with its botanic gardens and 138m-high revolving restaurant, as well as the Wasserschloss Haus Rodenberg, a beautifully preserved water castle from the Renaissance period.  
Dortmund taxis are a fantastic choice for exploring the city with utmost convenience. Dortmund boasts well-regulated and readily available taxis 24/7, making getting around a breeze. For a stress-free experience, you can even pre-book a private transfer, securing a fixed rate.
TRAINED DRIVERS
Hand picked & english speaking drivers
LOW PRICES
Same price as a regular Taxi from the line
FLIGHT MONITORING
Drivers are always on time
QUALITY SUPPORT
24/7 Email & Phone support
How much does a taxi cost?
Night time


(00:00 - 05:00)
Zollern Colliery to Dortmund U-Tower
Westfalenpark to Wasserschloss Haus Rodenberg
Signal Iduna Park to German Football Museum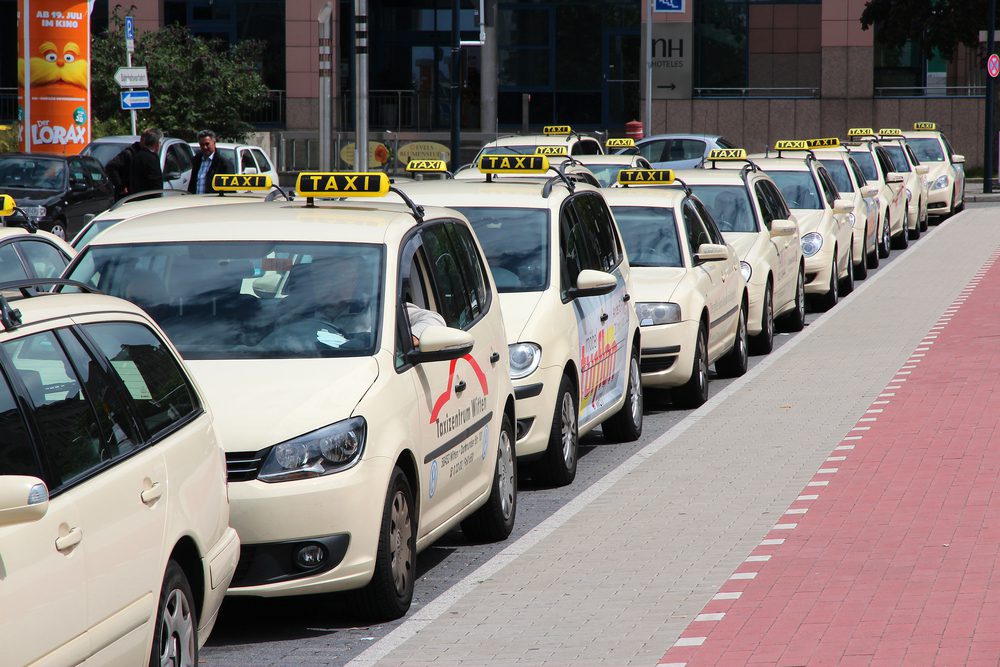 Dortmund taxi prices
Finding a local taxi in Dortmund is easy, but they can lean towards the pricier side. Nevertheless, they are very well-regulated, operate with calibrated taximeters based on official rates, and accept card payments for ease of use.
Day rates
Initial fee: €4.50
Minimum fare (for the first km): €2.50
Fare per km (after the first km): €1.95
Waiting charge per hour: €33

Night rates (22:00-06:00 Monday to Saturday, and all day on Sundays)
Initial fee: €5
Minimum fare (for the first km): €2.65
Fare per km (after the first km): €2.10
Waiting charge per hour: €38
Please keep in mind that depending on your specific journey and chosen provider, the final fares may include additional charges.
What our customers say about Welcome
How to get a taxi in Dortmund
Finding a taxi in Dortmund is a breeze, with plenty of cabs available on the streets and at taxi ranks across the city. Alternatively, you can call for a radio taxi using one of the numbers provided below but keep in mind that there could be a surcharge for this service. If you prefer to use a taxi app in Dortmund, you can check out a local one like Taxi Deutschland or CABDO, or plan your transfer in advance.
TAXI Schepers: +49 (23) 41 3333
Taxi Castrop: +49 (2) 305 1661
Markt Eving Taxi: +49 (23) 180 8083
Taxi Bochum: +49 (234) 6106 5900
Pre-book your Dortmund taxi service
To travel to Dortmund in comfort, you can book your airport transfers in advance with Welcome. Similarly, to get around easily around the city or to travel to any nearby region of your choice, our exceptional 24/7 service includes on-time pickups, door-to-door rides, personalised travel products, and round-the-clock customer support, ensuring your travel is hassle-free to make the most of your holiday in Dortmund. Trust your handpicked English-speaking local driver to deliver an unforgettable experience every time!
Dortmund taxi tips
Before starting your taxi ride, ensure that the taximeter is reset to the initial fare and that the correct tariff for the time of day is set.
Most taxis in Dortmund accept credit and debit cards without issues, but it's best to inform your driver before starting the journey.
While tipping is not mandatory, it is customary to round up the fare or add a small tip (usually 5-10% of the total) as a sign of appreciation for good service.
While many Dortmund taxi drivers may speak English, knowing a few basic German phrases, such as simple greetings and destination names, can go a long way in establishing a friendly connection during your ride.
Wheelchair-accessible taxis in Dortmund
ViamedGO is a company that operates in many cities in Germany, including Dortmund. They provide medical and accessible transport, and their services also include fully accessible private leisure trips and airport transfers. Contact them directly at +49 (2315) 869 0520 for more information. 
Dortmund taxi safety and complaints
While it's essential to stay cautious when travelling and using transportation in a foreign place, Dortmund taxis are known to be safe and well-regulated. If you encounter any issues, contact the taxi company you used directly to make a formal complaint. For more serious matters or complaints of legal nature, you can reach out to the police using the online police services, or for emergencies, call 110.