Taxis in Fort Myers, Florida
Fort Myers, the commercial centre of Lee County in Florida, is a popular destination for travellers who wish to explore southwest Florida; its beautiful beaches and historical monuments, make Fort Myers suitable for different types of activities, no matter what type of traveller you are.
To explore as much as possible during your trip, you can choose to move around by taking a Fort Myers taxi or pre-booking a personalised transfer for professional door-to-door service. Taxis in Fort Myers are a popular transportation option both for locals and travellers, especially for longer routes beyond the downtown area. No matter if you're travelling alone, with family or with friends, the Fort Myers Beach taxi service will get you quickly and comfortably to your next destination. You will find taxis available 24/7 all around the city or you can order one online or over the phone for on-demand service.
TRAINED DRIVERS
Hand picked & english speaking drivers
LOW PRICES
Same price as a regular Taxi from the line
FLIGHT MONITORING
Drivers are always on time
QUALITY SUPPORT
24/7 Email & Phone support
How much does a taxi cost?
Night time


(00:00 - 05:00)
FORT MYERS CITY CENTRE ➙ EDISON PARK HISTORIC DISTRICT
FORT MYERS CITY CENTRE ➙ LAKES PARK
FORT MYERS CITY CENTRE ➙ FORT MYERS BEACH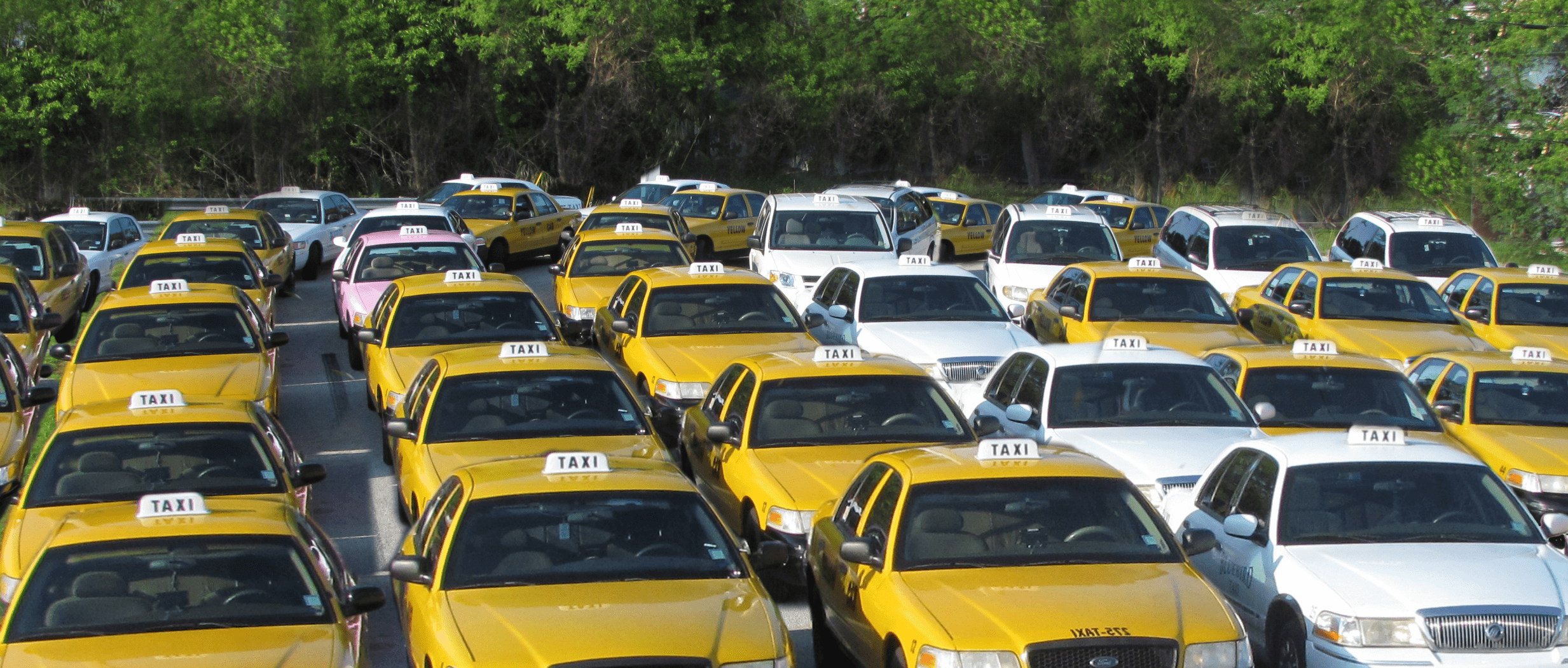 Fort Myers Taxi Fares
Taxis in Fort Myers are a reliable transportation option that both locals and tourists prefer to be able to move around quickly and comfortably. The fares can differ among Fort Myers beach taxi service providers but the state regulates them to avoid unreasonably high prices. In the downtown area, you're more likely to come across providers that use taximeters to calculate the fare based on the total distance driven.
Avg. Base fare – $3 (€2.80)
Avg. Rate/1st km – $5 (€4.65)
Avg. Rate after 1st km – $2 (€1.85)
Other providers, such as Fort Myers Airport taxis, define their fares based on zones instead of using a taximeter. The further you move from the airport the higher the fare gets, ranging from $10 (€9.30) to $140 (€130). Keep in mind that there can be additional charges like baggage fees or an extra fee for each additional passenger if there are more than 3 passengers in total.
What our customers say about Welcome
How to Get a Taxi in Fort Myers
Getting around Fort Myers by taxi is a quick and comfortable transportation option to explore the city and nearby destinations 24/7. The Fort Myers Beach taxi service is available 24/7 and you can hail a taxi from the street by waving at the driver. Most taxis are yellow with the typical TAXI sign on the roof, which is lit if the taxi is available. You will also find taxis lined up at taxi ranks near busy or popular locations, like the airport, train stations, malls or tourist attractions. If there aren't any taxis around, you can order one through the available online apps or by calling one of the many providers offering taxi services in the city.
Bluebird Taxi & Yellow Cab: +1 (239) 275 8294
A Better Taxi: +1 (239) 288 5587
Night Owl Taxi: +1 (239) 449 8118
Pre-booking your Fort Myers Taxi
Booking your Fort Myers taxi in advance with Welcome Pickups can be a great way to save time and let you enjoy peace of mind. Spending a few minutes to book your transfers while you plan your trip is worth it if you're looking for a smooth and stress-free travel experience. All Welcome drivers are trained, hand-picked professionals who will ensure you're warmly greeted and safely transported to your destination, no matter what time of the day or night you're travelling! Also, all your transportation needs will be pre-arranged, ensuring a competitive, fixed rate that you'll know and pay for in advance while saving you the trouble of looking for a taxi at the last minute.
Tips for Fort Myers Beach Taxi Service
Not all taxis in Fort Myers accept card payments, so make sure to carry a few dollars on you; the smallest the note the better.
If the operator you'll choose uses a taximeter to calculate the fare, make sure that it's turned on and reset to the base fare.
Tipping your driver around 10% - 15% of the total fare is expected in Fort Myers.
Make sure to ask for a receipt at the end of the ride; it will help in case you leave any personal items behind.
Wheelchair Accessible Taxis in Fort Myers
Fort Myers is a wheelchair-friendly city with accommodations, public transportation, and attractions that are fully accessible. Standard taxis that you'll find on the street or at taxi ranks can hold a foldable wheelchair in the trunk but they're not equipped with ramps that allow wheelchair users to enter the vehicle while seated. To move around Fort Myers comfortably during your trip, you can pre-arrange your transportation needs with a company like Bluebird Mobility, offering rides with fully accessible vehicles; you can contact them online or by calling +1 (239) 790 4201.
Fort Myers Taxis Safety and Complaints
The Fort Myers Beach taxi service is generally reliable and perfectly safe to use day or night. Taxi fares are regulated by the state and scams aren't a frequent occurrence. In case you need to file a complaint concerning overcharging, inappropriate behaviour on behalf of the driver or poor standards of driving, you can contact the service provider directly. If the issue isn't resolved, you can contact the LCSO Dispatch at +1 (239) 477 1000 for further guidance. Make sure to write down as much information about the incident as possible, including the driver's name, registration number, and license plate.