Taxis in Geneva
Geneva, despite being known as a major finance and diplomacy hub, has plenty to offer its visitors. Travellers can relax and enjoy the luxury offered in this cosmopolitan city or find adventure in the Alps or Lac Léman (Lake Geneva). Getting around the centre of Geneva is easy by foot or using the tram, but if you have a greater distance to travel, or wobbly legs from having too much fun on the ski slopes, taxis are readily available to get you to where you need to go quickly and comfortably.
Many different companies offer Geneva cab services, and you can effortlessly find a taxi at one of the 60 taxi ranks in the city. You can also hail a taxi from the street, call to request a ride or pre-book your transfer online. Taxi prices are determined by a taximeter unless you pre-book your ride for a set fare.
TRAINED DRIVERS
Hand picked & english speaking drivers
LOW PRICES
Same price as a regular Taxi from the line
FLIGHT MONITORING
Drivers are always on time
QUALITY SUPPORT
24/7 Email & Phone support
How much does a taxi cost?
Night time


(00:00 - 05:00)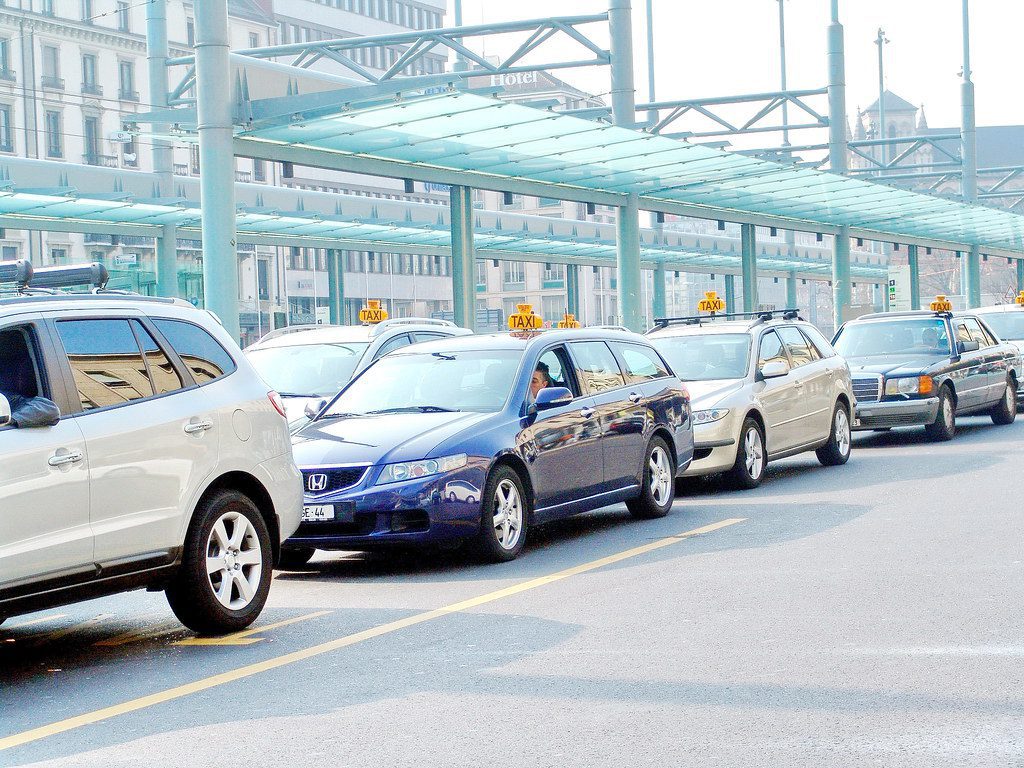 Geneva Taxi Prices
A taxi fare in Geneva is based on a metered rate unless you book your transfer in advance. The final cost is determined by the base rate, the number of kilometres travelled, when you are travelling, and if you are travelling with more than 4 passengers. Your fare will be calculated based on the following:
Base fare: €6.21 (CHF 6.30)
Daytime rate per km: €3.15 (CHF 3.20) per kilometre
Nighttime, Sundays, public holidays, or for 4+ passengers per km: €3.75 (CHF 3.80)
A fare from Geneva airport to the city centre is estimated to cost €34.50-44.36 (CHF 35-45). If you pre-book a ride with one of the Geneva taxi companies, you can request a flat rate.
What our customers say about Welcome
How to get a Taxi in Geneva
Taxis in Geneva are readily available at any of the 60 taxi ranks that can be found throughout the city (including the airport), whilst you can always hail a taxi from the street too. Alternatively, if you want to plan ahead, you can also call to request a ride, pre-book online with one of the many Geneva cab companies or benefit from guaranteed on-time pickups, trained local drivers and stellar 24/7 customer support if you book with Welcome Pickups.
Book your Geneva Taxi Transfer in Advance
Booking your Geneva taxi in advance can help you make the most out of your stay by saving you both stress and time during your trip. Rather than worrying about finding a Geneva taxi rank or being uncertain about the total cost of your ride, you can sit back, relax and let your driver come to you at a competitive fixed price. With Welcome Pickups, not only a comfortable transfer with a professional English-speaking local driver is guaranteed, but also you'll be receiving top-rated door-to-door service where and when you need it.
Tips for your taxi in Geneva
Most drivers accept credit cards, but it is suggested that you double-check before starting your journey.
When taking your taxi from the taxi rank, make sure the meter is on and is reset at the start of your ride.
Tipping is not expected, but if you had great service, you could consider rounding up to the nearest franc or giving your driver 5% of the cost of the fare.
Wheelchair Accessible Taxis in Geneva
Several transfer companies offer wheelchair accessible taxis in Geneva. If you will be needing a ride in an accessible vehicle, some companies request that you book your ride at least 24 hours in advance to ensure vehicle and driver availability. A couple of the companies offering wheelchair-accessible services include Maiandi'Cap and Aloha Trasport Services. Public trams and buses are also accessible in their majority.
Geneva Taxi Safety and Complaints
Geneva taxis are the safest transfer option available, and the city is generally considered perfectly safe as well. When taking a taxi, make sure the meter is reset so you won't be overcharged and exercise the normal amount of caution you would in any cab. If an issue does arise, be sure to record the taxi number and keep your receipt. That way, if you wish, you can file a complaint directly with the cab company you used. You can find the relevant phone number on your receipt, posted on the taxi, or via the company's website.