Taxis in Guangzhou
Guangzhou is the third-largest city in the province of Guangdong, China and is located northwest of Hong Kong on the Pearl River. It is known for its avant-garde architecture with its Zaha Hadid Guangzhou Opera House, carved box-shaped Guangdong Museum, and the iconic Canton TV Tower skyscraper. As Guangzhou is such a big city, the best way to get around quickly and comfortably is by taking a Guangzhou taxi.
TRAINED DRIVERS
Hand picked & english speaking drivers
LOW PRICES
Same price as a regular Taxi from the line
FLIGHT MONITORING
Drivers are always on time
QUALITY SUPPORT
24/7 Email & Phone support
How much does a taxi cost?
Night time


(00:00 - 05:00)
FROM GUANGZHOU TO CHIMELONG PARADISE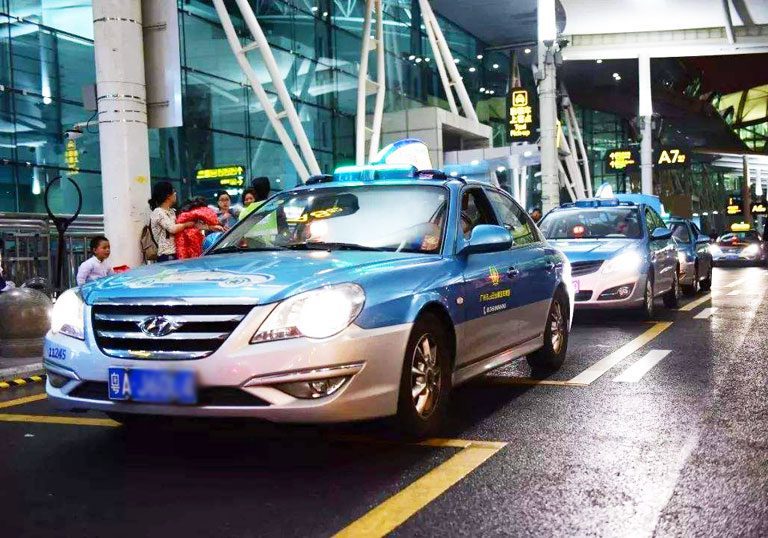 Guangzhou Taxi Prices
Taxis in Guangzhou calculate their fares using a taximeter based on the time and distance travelled to your exact location. However, it is good to know that only one tariff is applicable, as there is no price difference for day, night or weekend trips.
The taxi fares are as follows:
Base fee (includes the initial 2 km): €0.42 (CNY 10)
Price Per Kilometre: €0.37 (CNY 2.60)
Waiting time per hour: €5.11 (CNY 36)
Nonetheless, if you prefer to travel with a trusted company at a set rate and with a local English-speaking driver, you can always pre-book your Guangzhou private transfer with Welcome Pickups.
What our customers say about Welcome
How to get a taxi in Guangzhou
Over 80 taxicab companies operate in and around Guangzhou, all have their own colour and are available 24/7. As there are many taxis around the city, they are easy to come by. You can get one by hailing a cab straight off the streets, heading to any popular tourist hub or hotel where you can find official taxi ranks, or booking a taxi service in Guangzhou through a company's website or via telephone:
Baiyun Taxi Group: +86 20 8769 3477
Guangjun Taxi Group: 83 60 0000
The Benefits of Booking a Guangzhou Transfer in Advance
Visiting a new city is exciting but stressful when you don't know how to get around Guangzhou's public transportation system or if you don't want to waste time looking for a taxi or taxi rank. Pre-booking a private transfer with Welcome Pickups is undoubtedly the best way to travel around town.
Welcome Pickups ensures safe and on-time pickups, stellar customer service, a fast and easy booking process, personalised transfers, and friendly local English-speaking drivers handpicked and trained by us.
Guangzhou Taxi Tips
Always use an official taxi - you can see this by the taxi company logo on the side of the vehicle.
Ensure your Guangzhou cab driver has turned on and reset their taximeter before starting your journey.
To avoid any overcharges, try and get a price estimate of your journey beforehand.
Tipping your taxi driver in Guangzhou is not a must, but most travellers round up their end fare to the nearest yuan.
Guangzhou Wheelchair Accessible Taxis and Transfers
Most regular taxi services in Guangzhou cannot accommodate wheelchairs; you need to pre-book with a wheelchair-accessible cab company. The best company for this is Brightway Taxis who can be reached online or via phone on 6487 8878.
Guangzhou Taxi Safety and Complaints
Taxis in Guangzhou tend to have mixed reviews as the service highly depends on the company and the specific driver you come across. If you encounter a bad experience during your Guangzhou taxi ride, you may wish to file a complaint directly with the taxi company you travelled with, whilst you can also call 96900 or 12345.