Taxis in Jackson
Jackson, otherwise referred to as the "City with Soul", is the capital city of Mississippi and has the largest population in the state. A historical destination packed with museums, and attractions including the Mississippi State Capitol building, getting around in a taxi is the easiest and most convenient way to experience the rich history and culture of this stunning southern city.
Taxis in Jackson are safe but some companies are known to be quite expensive. Plus, there are no taxi ranks or cruising taxis on the streets. This means that the only way to hop in a taxi is by calling one of the cab companies in advance to book your ride. Alternatively, for a stress-free transfer with a set fare and no hidden fees, you can pre-book your private Jackson taxi with Welcome Pickups.
TRAINED DRIVERS
Hand picked & english speaking drivers
LOW PRICES
Same price as a regular Taxi from the line
FLIGHT MONITORING
Drivers are always on time
QUALITY SUPPORT
24/7 Email & Phone support
How much does a taxi cost?
Night time


(00:00 - 05:00)
DOWNTOWN TO MISSISSIPPI CIVIL RIGHTS MUSEUM
DOWNTOWN TO BELHAVEN UNIVERSITY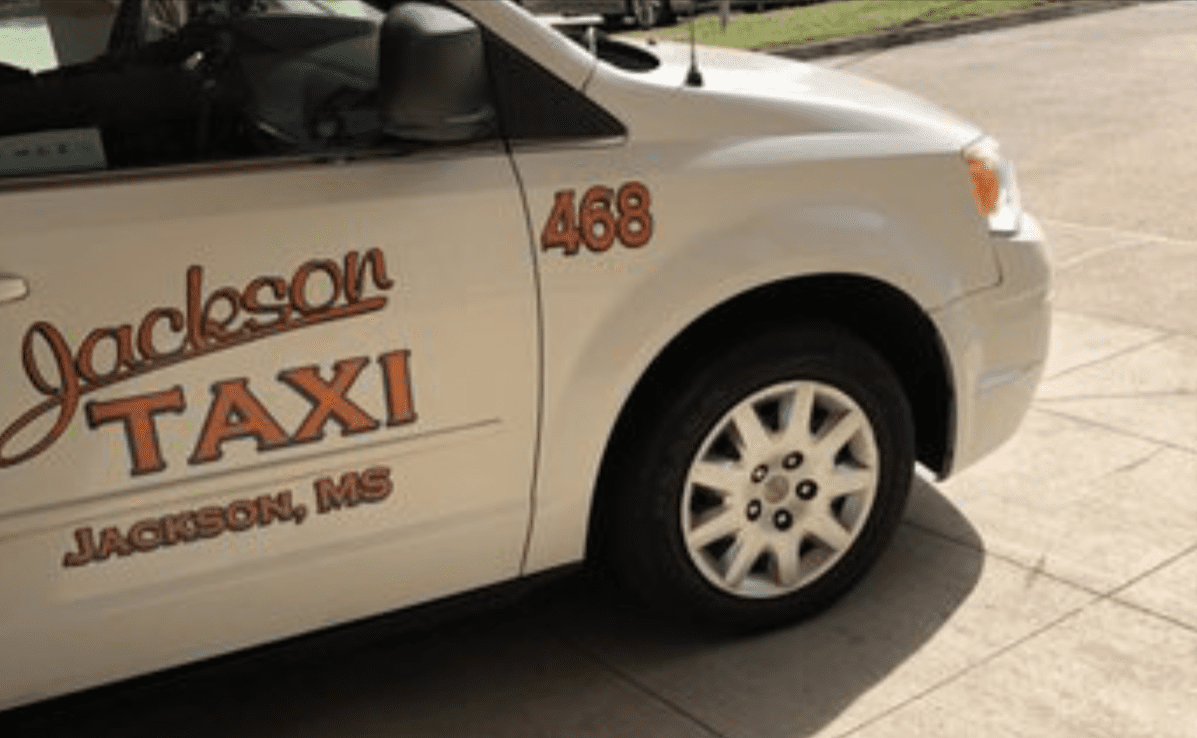 Jackson taxi fares
Taxis in Jackson, MS follow a taximeter system, meaning the fares are based on the length of the journey, the time of day and the day of the week. However, prices aren't regulated by a governing body and each company may charge different rates, so we recommend contacting your chosen provider to find the most accurate fare. That being said, a taxi from Jackson MS Airport to downtown Jackson will cost you roughly $45 (€41.20).
With that in mind, here are some estimated rates for local taxis:
Minimum fare: $7.50 (€6.90)
Base Fare: $4 (€3.65)
Per km: $1.40 (€1.30)
*Keep in mind that fares may vary if you're travelling at night or on weekends and holidays, and there might be extra charges for luggage or extra passengers.
What our customers say about Welcome
How to get a taxi in Jackson, MS
Taxis in Jackson are plentiful, however, it's not possible to hail a cab from the street and taxi ranks aren't available in the city. You'll need to call and book at least 30 minutes ahead of time with one of the private shuttle services that operate in the city.
Some of the most popular cab companies in Jackson, MS are:
Jackson Taxi: +1 (601) 292 1100
Citicab Co: +1 (601) 355 8319
Yellow Cab Co: +1 (601) 922 9991
How to book a Jackson taxi in advance with Welcome
Arriving in a new city can be stressful, especially when there are numerous cab companies in Jackson, MS charging different prices. So if you're looking for a competitive fixed fare and the peace of mind of choosing a reliable, globally-recognised company, pre-book your private Jackson taxi with Welcome Pickups.
You can book within 60 seconds on our app or via our website and ensure that a trusted driver will be waiting for you on the other side.
Jackson taxi tips
You must call and book a taxi at least 30 minutes in advance.
Always ensure that the taximeter is turned on and working before you get going.
It is recommended to discuss the taxi fare with the driver before starting your trip.
Tipping taxi drivers is customary in Jackson, MS. 10%-15% is a good amount if you enjoyed their service.
Wheelchair-accessible taxis in Jackson
Jackson taxis generally use standard vehicles that aren't wheelchair compatible. If you need an accessible vehicle, you can book your transfer with a limited number of cab companies such as Tim's Transportation, +1 (601) 209 9766. 
As wheelchair-accessible cab companies in Jackson, MS are few and far between – opting to use the JTRAN bus service is a solid choice. All JTRAN vehicles are fully equipped with wheelchair lifts or ramps and a wheelchair area with space for up to 4 wheelchairs.
Jackson taxi safety and complaints
Taxis in Jackson are generally safe and reliable, as long as you use a licensed taxi. However, there's always a possibility that taxi drivers might try to overcharge you.
If you experience any issues during your ride, be sure to ask for the receipt which contains the taxi licence number, date and time of travel, route taken and amount paid. With this, you can report any issues or complaints to the taxi company you travelled with or the local police.