Your taxi service in Jaipur
Getting around Jaipur can be overwhelming, especially as the public transport system can be difficult to navigate. That's why using a taxi service in Jaipur is the easiest way to get around. Taxis allow you to get to where you need to go quickly and effortlessly, giving you more time to explore all the city has to offer.
Jaipur taxi services are easy to spot and are typically white. There are two main types of local taxi services in Jaipur; metered taxis and prepaid taxis. You can also use a ride-hailing app or book a private transfer if you're after some added peace of mind.
TRAINED DRIVERS
Hand picked & english speaking drivers
LOW PRICES
Same price as a regular Taxi from the line
FLIGHT MONITORING
Drivers are always on time
QUALITY SUPPORT
24/7 Email & Phone support
How much does a taxi cost?
Night time


(00:00 - 05:00)
From Jaipur Airport to City Centre
From Jaipur Centre to Hawa Mahal
From Jaipur Centre to Nahargarh Fort
From Jaipur to Chand Baori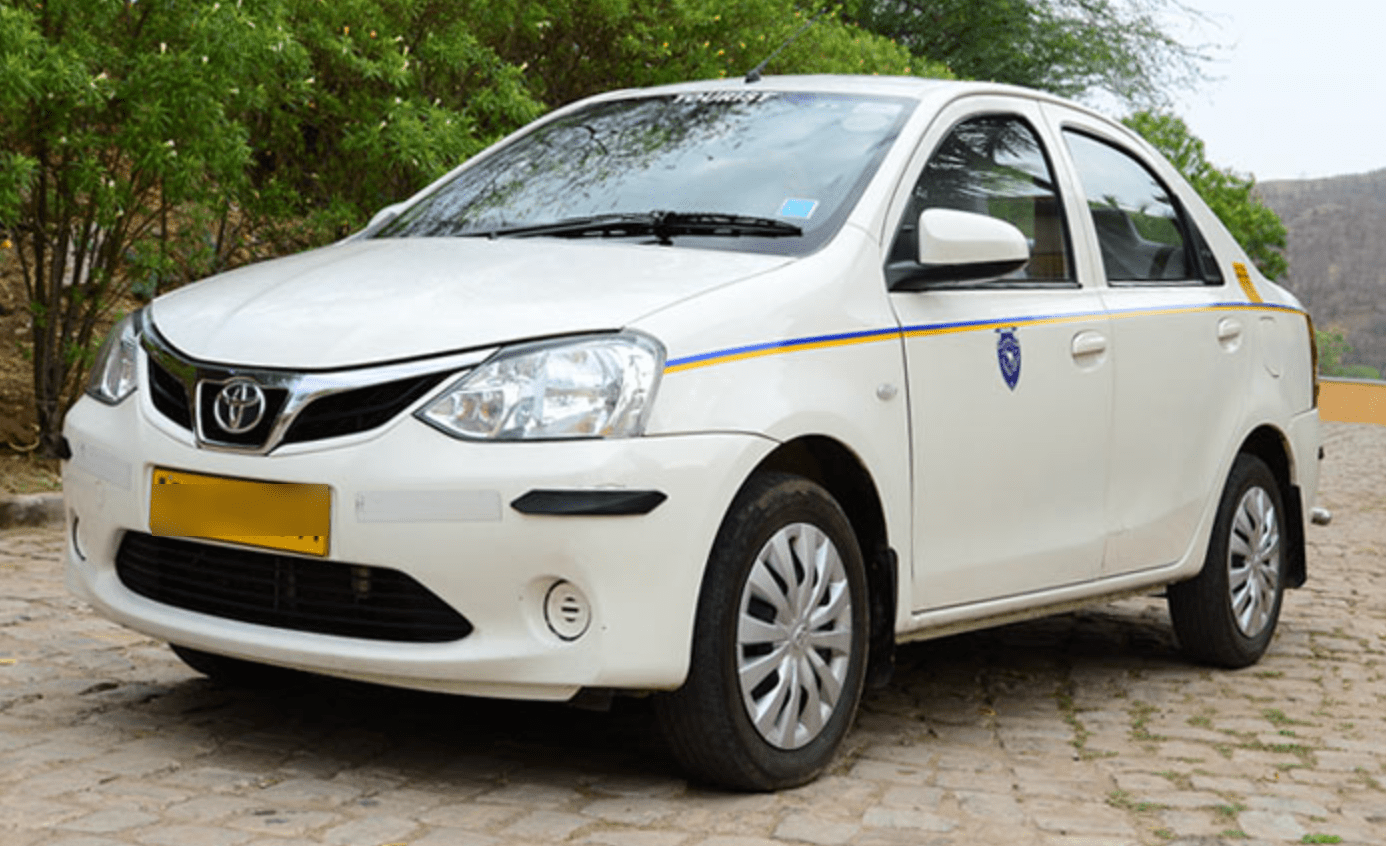 Jaipur taxi rates
Jaipur taxi rates vary depending on which type of service you choose. Local white taxis follow a taximeter system that is regulated by the government, so your fare will depend on the length of the journey, the time of day and the day of the week. 
The fares are calculated as follows:
Day (05:00 – 00:00):
Minimum fare (first 2 km) – €1.70  (INR 150)
Rate/km – €0.20  (INR 18)
Night (00:00 – 05:00):
Minimum fare (first 2 km) – €1.70  (INR 150)
Rate/km – €0.26  (INR 22.50)
*Bear in mind that taxis with air conditioning will cost an extra 10% and tolls and other charges may be added to your final fare. There is usually a fare card in the vehicle that details the extra charges.
You can also use prepaid Jaipur taxi services. You can pay the fare in advance at a prepaid ticket counter and receive a receipt, which they must then give to the driver. This service is popular with tourists as knowing the price ahead of time eliminates some stress.
What our customers say about Welcome
How to get a Jaipur taxi service
Many taxis are roaming the streets of the city. Local taxis in Jaipur are typically white, but private company vehicles come in many colours. You can hail a Jaipur taxi in the street, find the nearest prepaid taxi rank, use a ride-hailing app or book a private transfer.
If you want a trusted service you can rely on, you can book your private Jaipur taxi in advance or use one of these recommended local taxi companies:
Jaipur Taxi Cab – +91 797 606 1103
Rajasthan Cab – +91 935 881 1941
If you'd rather use a prepaid taxi service, you can find these at major transportation hubs such as airports, bus terminals and train stations, like Jaipur Railway Station. All you have to do is prepay for your ticket at the counter and give your receipt to your taxi driver.
You can also get a Jaipur taxi using a ride-hailing app, Uber and Ola are the most popular options in the city. You just need to download the app and pay for your ride digitally.
Book in advance: How to book a private taxi service in Jaipur with Welcome
Hailing a taxi in the street or calling and waiting for a taxi to arrive can be time-consuming and comes with the risk of higher fares.
With Welcome Pickups, you can pre-book your personalised Jaipur taxi service within 60 seconds and be reassured that a trained, English-speaking driver will be waiting for you no matter what. We offer competitive prices, 24/7 customer support, a convenient mobile app and a fully personalised service you can rely on.
Welcome's services don't just end when we drop you off, you can take advantage of our travel extras such as skip-the-line tickets for the best attractions in Jaipur – book with Welcome and treat yourself to a seamless travel experience from start to finish.
Jaipur taxi tips
If you're using a local metered taxi, always ensure that the taximeter is turned on and working before you get going.
It is recommended to discuss the taxi fare with the driver before starting your trip, even for a metered taxi.
Tipping in India is not expected but if you enjoyed the service, you can round up the fare.
Make sure to have cash and small change if you're using a metered taxi, as Jaipur taxi drivers don't typically have change for larger notes.
Taxi services in Jaipur don't usually accept credit cards, so it's good to carry some cash in the local currency.
Wheelchair-accessible taxi services in Jaipur
Jaipur is known to be quite a wheelchair-friendly city, however, local taxis in Jaipur usually use standard vehicles that aren't wheelchair compatible. If you need an accessible vehicle with a lift or ramp, you can contact Mobility India by calling +91 2649 4444 / +91 2659 7337 or emailing them at [email protected].
Jaipur taxi safety and complaints
For the most part, taxi services in Jaipur are inexpensive and easy to use, however, they can be unreliable. As in most cities, some drivers may try to take you on a longer route, pretend they don't have change, or avoid turning on the taximeter in order to overcharge you.
Not to worry, you can ask how long the journey will take before getting in the taxi and check Maps to be sure. With that being said, if you experience any issues during your ride, just ask for the receipt and note down the taxi registration number and the company name. You can then report any issues or complaints to the taxi company you travelled with or the local police.