La Romana taxi service
La Romana, located on the southeastern side of the Dominican Republic, is a significant tourism hub full of natural wonders. Some of the world's most beautiful beaches are in the city's vicinity. At the same time, the area boasts charming seaside resorts, world-class golf courses and a marvellous 16th-century Mediterranean village replica made of stone, called Altos de Chavón.
A La Romana taxi is the easiest and most convenient way to get around the city and explore its every corner. Without hassle, you can hail a cab on the street, head to a local rank located outside main attractions and hotels, or call a 24-hour La Romana taxi service. Affordably and comfortably set your schedule and make the best of your stay.
TRAINED DRIVERS
Hand picked & english speaking drivers
LOW PRICES
Same price as a regular Taxi from the line
FLIGHT MONITORING
Drivers are always on time
QUALITY SUPPORT
24/7 Email & Phone support
How much does a taxi cost?
Night time


(00:00 - 05:00)
CITY CENTRE TO CASE DE CAMPO MARINA
LA ROMANA AIRPORT TO BAYAHIBE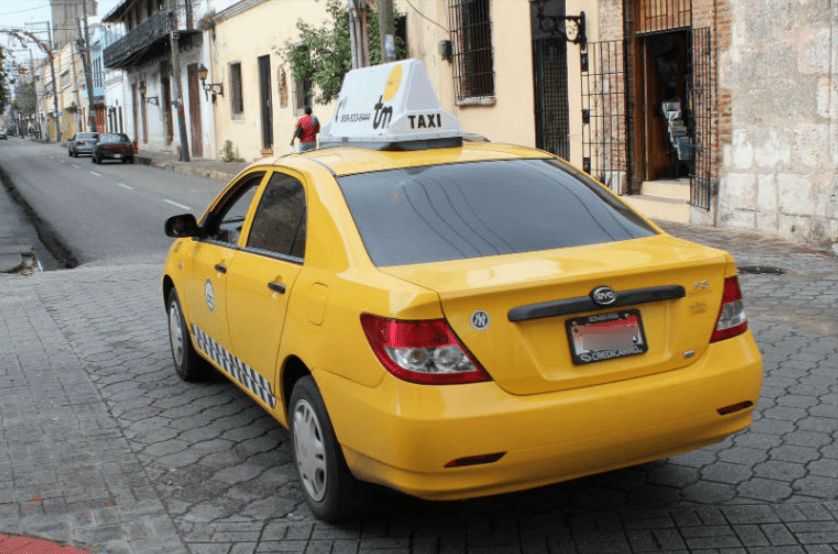 La Romana taxi rates
La Romana taxis don't use a taximeter to calculate fares. The local taxi companies and drivers offer fixed rates based on the distance to your destination. For example, a ride from the city centre to Casa de Campo Marina, which is 110km away, will cost you around €23.5 (DOP 1,380). The price is per vehicle, not per passenger. Keep in mind that after dark and until the early morning, there is a 10% surcharge for all taxi trips.
What our customers say about Welcome
How to get a taxi in La Romana
There is an abundance of taxis roaming the streets of La Romana. All you have to do is raise your hand and flag one down. You can also walk to one of the many taxi ranks that you'll find outside of hotels, attractions, and central spots in the city.
Alternatively, if you would like to make your transfer more personalised and peak-time-proof, it is more straightforward to book your Romana taxi in advance or call one of the taxi companies operating on a 24-hour basis in the city. Some of the top-rated ones local providers you can phone for a pickup are:
Tio Taxi 026: +1 (809) 813 7505
FcTransfers: +1 (809) 712 6269
Carlos Taxi: +1 (809) 944 8082
Booking your La Romana taxi in advance with Welcome
The language barrier can be very stressful when spending time in a foreign country. In many cases, misunderstandings result in lost time and money, plus there could be an overload of requests when the weather is bad, or during peak times when it's challenging to find a ride on time. To avoid unnecessary hassle, all it takes is 60 seconds of your time to pre-book your transfer with Welcome Pickups. Our handpicked, English-speaking drivers are always on time at your doorstep, ready to offer a 5-star service at a competitive fixed rate.
Tips for your La Romana taxi service
In their vast majority, La Romana taxis are cash only. Remember to have small change with you; it's difficult for drivers to break down big-value bank notes.
Generally, payments in US dollars or Euros are accepted in some cases. Yet, keep in mind that you'll get your change back in the local currency.
When you call a taxi company to request a pickup, ask for the car's make and colour, and the wait time. Also, ensure the operator confirms the final fare you must pay.
Wheelchair-accessible taxis in La Romana
Regular taxis you hail on the street in La Romana are not wheelchair-accessible. If you or one of your travel companions need a specially equipped vehicle, contact one of the local taxi operators providing such services and pre-book your fully accessible transfer. One of the better-rated companies you can use is Dominican Limousine (+1 (954) 324 0700).
La Romana taxi safety and complaints
In general, taxis in La Romana are safe and reliable. You will rarely encounter any serious issues besides some overcharging attempts now and then. If anything unexpected happens to you, make a note of the driver's details and the vehicle's licence plate, and call the local police authorities. Always remember not to board unlicensed taxis to avoid unpleasant surprises.