Taxis in Lahore
Pakistan's second-largest city and one of the country's most iconic destinations, Lahore stands as a captivating blend of culture and modernity in the wider Punjab region. Nestled along the banks of the serene Ravi River and with a history spanning over a millennium, today Lahore is considered one of Pakistan's major industrial and economic hubs as well as one of its most cosmopolitan cities, where age-old traditions coexist harmoniously with the demands of contemporary life. 
To navigate a city with a population of over 13 million while conveniently admiring the majestic Mughal architecture, hopping in a Lahore taxi is your best bet. However, taxi services in Lahore are rather scarce and fares are to be negotiated before starting a journey, meaning booking a private transfer in advance at a fixed rate can be more practical and reliable.
TRAINED DRIVERS
Hand picked & english speaking drivers
LOW PRICES
Same price as a regular Taxi from the line
FLIGHT MONITORING
Drivers are always on time
QUALITY SUPPORT
24/7 Email & Phone support
How much does a taxi cost?
Night time


(00:00 - 05:00)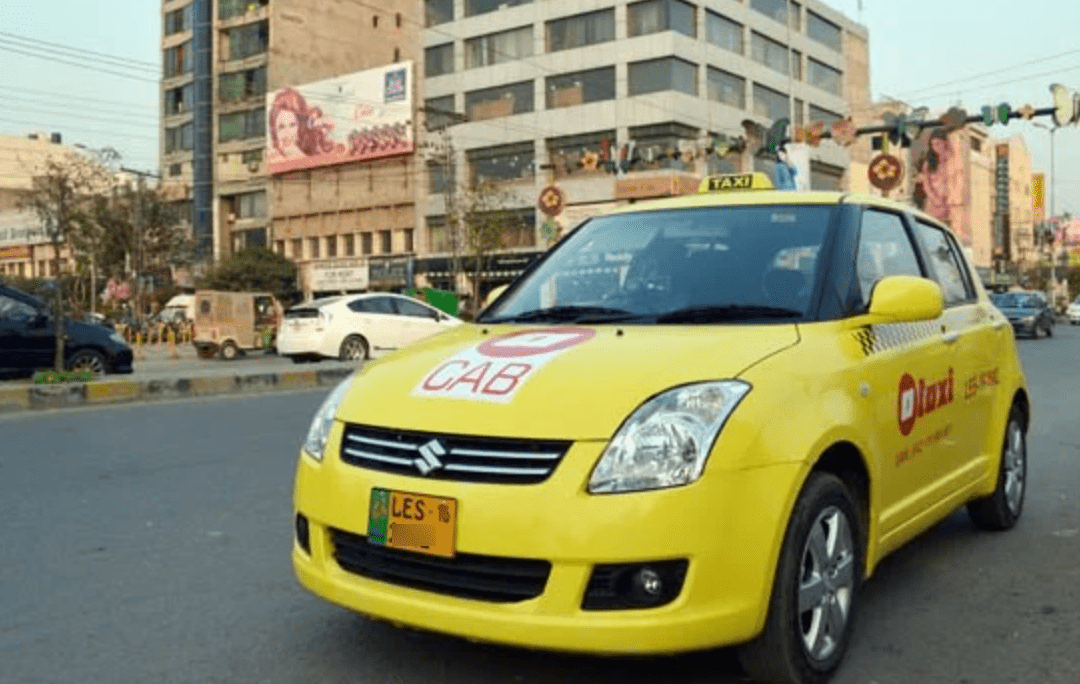 Cost of a taxi service in Lahore
Taxi services in Lahore are pretty cheap compared to most destinations. Some Lahore taxi drivers use a taximeter to calculate your fare, based on the time and distance travelled. However, it's also very common to find taxis that don't use taximeters and operate on a fixed fare system to specific destinations. In this case, you can agree on a set fare before getting in the taxi.
The cost of your journey based on a Lahore taximeter will be calculated as follows:
Base price (inc. first 1 km): €0.50 (PKR 150)
Price per km: €0.20 (PKR 50)
*Keep in mind that you may be charged more for extra luggage items and keeping your driver waiting for an hour (€0.50 (PRK 150).
For a guaranteed fixed fare, we recommend booking a private transfer in advance.
What our customers say about Welcome
How to get a taxi in Lahore
Taxis in Lahore are usually yellow or black and yellow, although many private companies and ride-hailing apps are offering their services in the region lately, meaning you'll see all sorts of colours. Getting a taxi in Lahore isn't difficult, you'll find taxis cruising the streets or you can head to a designated taxi rank, usually found near major markets, transportation hubs, and popular destinations.
Just like in many other cities around the world, ride-hailing apps are also available in the city and can be used to book an online taxi service in Lahore. Uber and Careem are the most popular choices. You can also call a local radio taxi company, such as Metro Radio Cab (+92 111 222 787).
Also, if you're at a hotel, restaurant, or any other establishment, the staff can assist you in getting a taxi. They often have contacts with local taxi services and can call a taxi on your behalf. This can be particularly helpful if you're in an area where hailing a taxi off the street might be less convenient.
For travellers who prefer a seamless, door-to-door service with a professional English-speaking driver and a globally renowned company to rely on, you can pre-book a private transfer with Welcome Pickups.
Benefits of booking a Lahore transfer in advance
Lahore is a captivating blend of history, culture, and modernity and if you want to see everything, it's best to plan in advance.
There are several taxi and tour companies in the city, but you can find some of the best taxi services in Lahore with Welcome. We guarantee a competitive fixed fare with no hidden fees, trained English-speaking drivers and 24/7 customer support for your private door-to-door transfer.
Not only that but we even offer fully customisable private tours around the city's landmarks and beyond, as well as skip-the-line tickets for major attractions in Lahore – allowing you to make the most out of your stay.
Lahore taxi tips
Payment is typically made in cash, and it's advisable to carry smaller denominations to avoid any issues with change.
Generally speaking, Lahore taxis can be found around major tourist sites such as the airport, hotels and shopping malls, but they may be hard to come by in less frequented areas - consider arranging a roundtrip to avoid long waiting times.
Remember that Lahore can experience heavy traffic, particularly during peak hours, so plan your trips accordingly.
Since most drivers do not speak English very well, make sure to have your destination in writing or a map on your phone to explain exactly where you need to go - this way there will be no miscommunication!
Tipping your driver is not expected, however, if you enjoyed the service, you can always round up the fare to show your appreciation.
Wheelchair-accessible Lahore taxi service
Unfortunately, Lahore taxis aren't typically wheelchair accessible. You can store your wheelchair in the trunk for free, but local taxis don't provide ramps or hydraulic lifts.
If you require a fully wheelchair-accessible Lahore taxi, you will need to book in advance with a specialised company such as iCab.
Lahore taxi safety and complaints
While Lahore's taxis are generally safe, it's always wise to exercise caution. Opt for registered taxis or those affiliated with reputable Lahore taxi services and always sit in the back, as an additional safety measure.
However, if you do experience any problems during your journey such as a rude driver, overcharging or an unlicensed taxi, you can contact the taxi company or make a report to the Tourist Police by calling or texting 1421 (a 24/7 helpline for tourists). Just make sure you keep your receipt.