Smooth transfers by taxi in Merida
The colonial city of Merida is the perfect place to soak up the Mexican culture while enjoying city living. Down each street, you will find countless cafes, artisanal stores, boutique restaurants and even museums. Be sure to also check out the impressive Merida Cathedral and spend an afternoon strolling through the main city square, with its street vendors and local performers. The quickest and smoothest way to explore Merida is by taking a taxi. You can hail a taxi in Merida from the street, walk to a taxi rank, pre-book your transfers or call a radio taxi in Merida.
TRAINED DRIVERS
Hand picked & english speaking drivers
LOW PRICES
Same price as a regular Taxi from the line
FLIGHT MONITORING
Drivers are always on time
QUALITY SUPPORT
24/7 Email & Phone support
How much does a taxi cost?
Night time


(00:00 - 05:00)
FROM BUS STATION TO CITY CENTRE
FROM MERIDA TO CHICHEN ITZA
FROM CATHEDRAL TO CHAYA MAYA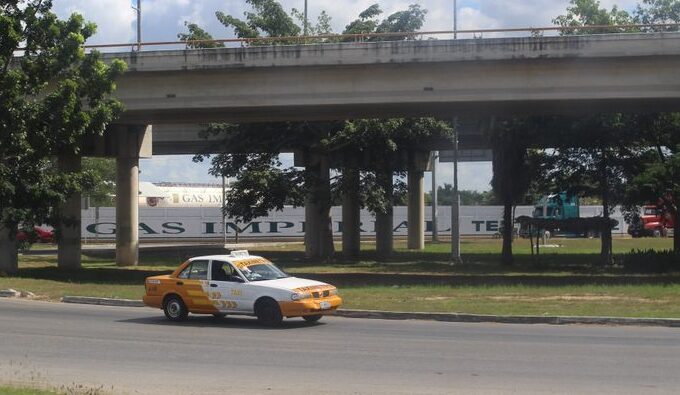 How much is a taxi in Merida?
There are no fixed fares when it comes to taking a taxi in Merida, nor are the taxis fitted with meters. Instead, your driver will decide on a cost based on where you're travelling to. The average cost for a journey around the city centre of Merida will be €2.50 to €5 (MXN 50-100). It's always best to agree on a price with your driver before you get in the taxi and begin your journey.
What our customers say about Welcome
How to get a taxi in Merida
There are plenty of taxis in Merida buzzing around the city streets. To hail a taxi, simply hold out your hand when a taxi passes and they will pull up. There are also taxi ranks called 'sitios' located around the city centre, where taxis will wait. You can find the taxi ranks at places such as the main square, the bus station, shopping centres and some of the main tourist stops. 
It's also possible to pre-book your Merida taxi transfers or call a radio taxi in Merida. When you call a Merida taxi service, you will speak to one of the sitios and they will dispatch a taxi for you. Some of the best local taxi providers you can call are; 
Sitio Santa Ana: +52 (999) 928 5600
Sitio Tekax: +52 (999) 928 3023
Sitio Oxkutzcab: +52 (999) 923 5540
Taxi Seguro: +52 (999) 922 7575
Booking your taxi in Merida with Welcome
Sometimes having to deal with changing rates, haggling with local drivers in a foreign language and long wait times for your pickup can be challenging. That's why booking your Merida taxi service in advance with a company such as Welcome Pickups is such a great option. At Welcome, all of our local drivers speak fluent English and offer fixed-rate fares that won't change. We also guarantee on-time pickups every time and have a 24-hour customer service line, should you need us during your stay in Merida.
Merida taxi tips
The local Merida taxi drivers often overcharge tourists that don't speak Spanish.
Be sure to agree on a price for your taxi in Merida before beginning your journey.
You can fit up to 4 passengers in a Merida taxi.
Be sure to bring cash in Mexcian Pesos to pay for your taxi in Merida, the local drivers don't accept card payments.
Wheelchair-accessible taxi in Merida
Unfortunately, the standard taxis in Merida aren't wheelchair friendly. If you're in need of a specialist vehicle, equipped with either a hydraulic lift or a ramp, you will need to pre-book this service with a private provider before visiting the city.
Merida taxi safety and complaints
Taking a taxi in Merida is usually an easy and pleasant experience. However, one thing that you will want to watch out for is being overcharged by the local drivers. To avoid this issue, be sure to only use one of the official taxi providers in Merida – they're usually white cabs with a red stripe on the door, and always feature the 'Taxi Syndicate" emblem and taxi number. It's also best to ask your driver for a price before getting into the taxi to ensure they are giving you a fair deal.