Taking a taxi in Newcastle
Newcastle upon Tyne, or simply Newcastle, is North East England's most populated city, located on the River Tyne's northern bank. It's famous for its industrial heritage and vivid nightlife while offering some great scenery along the river. Taking a taxi in Newcastle is a great and convenient option to explore everything this exciting city has to offer.
Public transport can be cheaper in some cases but it won't get you everywhere and you might end up waiting in the rain or experiencing delays; that's not ideal when you're on getaway – no matter how long or short! Using a Newcastle taxi will save you both time and trouble by providing quick and comfortable transportation. You can even pre-book your taxi in Newcastle for an even smoother experience and a pre-paid ride. If you prefer to plan as you go, there are many different operators providing taxi services 24/7.
TRAINED DRIVERS
Hand picked & english speaking drivers
LOW PRICES
Same price as a regular Taxi from the line
FLIGHT MONITORING
Drivers are always on time
QUALITY SUPPORT
24/7 Email & Phone support
How much does a taxi cost?
Night time


(00:00 - 05:00)
NEWCASTLE CITY CENTRE ➙ NEWCASTLE CASTLE
NEWCASTLE CITY CENTRE ➙ QUAYSIDE
NEWCASTLE CITY CENTRE ➙ JESMOND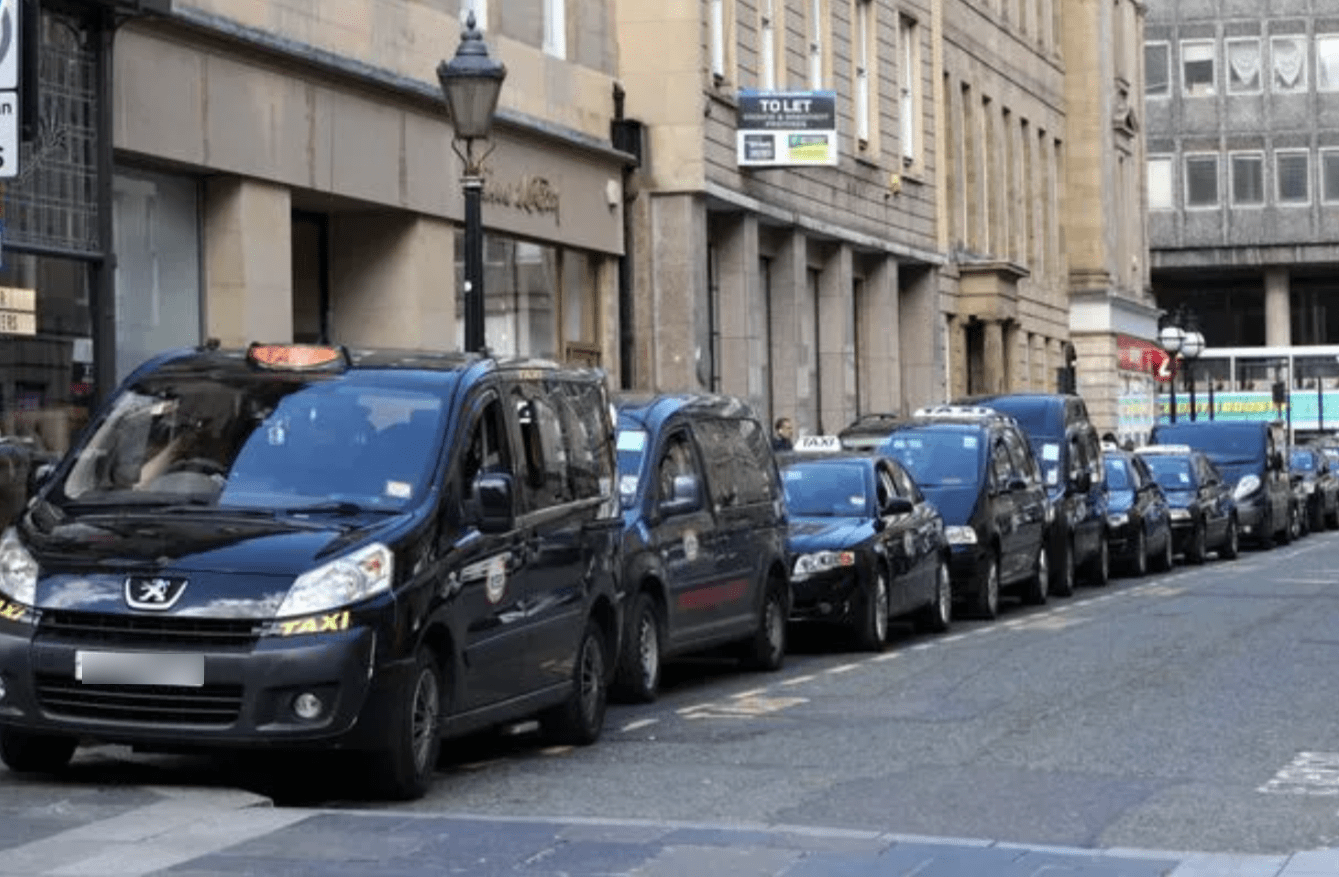 Newcastle taxi fares
Taking a cab in Newcastle is a perfectly safe and reliable transportation option as all official operators are regulated by the government. All taxis must be equipped with a taximeter, which records the fare based on the total distance driven. There are two different tariffs for the iconic Black Hackney carriages, depending on the time of day and the day of the week.
Tarif A
First 160 metres – £2.40 (€2.80)
Rate/km – £1.09 (€1.27)
Tarif B (Monday-Saturday 23:00-07:00, Sunday, public holidays)
First 140 metres – £2.40 (€2.80)
Rate/km – £1.27 (€1.48)
Note that besides the per km rate, there can be additional charges like an additional fee for more than two passengers, luggage fee, and pet fee. Also, any tunnels, bridges or road tolls are to be paid by the passenger. To ensure a fixed and competitive fare, you can always pre-book your Newcastle taxi with Welcome Pickups.
What our customers say about Welcome
How to find a taxi in Newcastle upon Tyne
Finding a Newcastle taxi is easy no matter where you are in the city. There are taxis available 24/7 and you'll see ranks all around, including at locations like Newcastle Airport, train or bus stations, and tourist attractions. You'll find the iconic Black Hackney carriages roaming around the city streets, but also other types of vehicles depending on the operator. If you see an available taxi on the street, you can simply wave over to the driver and they'll pull over to pick you up.
If there are no taxis around, you can use your mobile to call one of the numerous providers or order a taxi online through one of the available applications. If you wish to make a reservation for a taxi in Newcastle over the phone you can call one of the following official operators:
Noda Taxis: +44 191 222 1888
Smart Cabs: +44 191 486 2005
Newcastle Taxi Service: +44 788 850 0205
If you like planning and prefer to have your transfers arranged in advance, you can pre-book your Newcastle taxi with Welcome Pickups.
Pre-book your Newcastle upon Tyne taxi
By pre-booking your taxi in Newcastle with Welcome Pickups, you ensure reliable and friendly door-to-door service from the moment you arrive. No matter where you are in the city, instead of trying to locate the nearest rank or hail a taxi from the street wondering how much the fare will be, you'll enjoy ultimate peace of mind and professional door-to-door service. Welcome guarantees a set fee at a competitive rate so that you can plan and book all your transfers in advance and stay within budget; there's a flexible cancellation policy in place too, so you won't need to worry about any last-minute changes.
Newcastle taxi tips
Once you enter the taxi, make sure that there is a taximeter on the dashboard and that it's reset to the base fare.
Most taxi providers accept card payments but it's always a good idea to carry a few pounds in a variety of notes, just in case.
Tipping your taxi driver isn't required in Newcastle but you can round up to the nearest pound if you are happy with the service received.
If you don't know the area but feel that your driver is taking a longer route on purpose, you can keep track of the journey on a maps app on your smartphone.
Wheelchair-accessible taxi in Newcastle
Newcastle, like many major cities in the UK, is for the most part accessible to wheelchair users with suitable accommodation and transportation options.
You'll find that most Black Hackney cabs are fully wheelchair accessible with ramps, grab handles and wheelchair-friendly belts.
For the rest of the local taxi providers, you might find they have accessible vehicles in their fleet but hailing one of them from the street is rare; most standard taxi vehicles can only fit a foldable wheelchair in the trunk.
To ensure comfortable transportation during your trip to Newcastle and enjoy all the activities you have planned, it's best to book your taxi in Newcastle in advance with a company like Noda Taxi; you can contact them over the phone at +44 191 222 1888 or through their website and request a fully accessible taxi. The earlier you arrange your transfers, the better the service you'll receive.
Newcastle taxi safety and complaints
Newcastle cab service is very reliable and safe to use both for locals and tourists. Official operators are regulated by the North Tyneside Council so scams aren't a common occurrence. If you think that you have been overcharged or you need to make a complaint regarding the condition of the vehicle or the conduct of the driver, you can first contact the company that the driver works for if it's a private operator.
If your issue isn't resolved, then you can address the matter with the local police. It's important to write down as much information as possible about the incident, including the driver's name, registration number, and license plate.