Fast and Reliable Norfolk Taxi
The beautiful waterfront city of Norfolk, Virginia is the perfect place to enjoy a fun-filled city break. You won't want to miss the riverside Virginia Zoo or the fascinating Chrysler Museum of Art during your stay. From the exciting museums and rich naval history to the many bars, restaurants and shops, there's so much to do in Norfolk. To make sure you have time to get around and see all that this amazing city has to offer, we suggest taking a quick and reliable Norfolk taxi. You can easily hail a taxi in the street, book your rides in advance, walk to a taxi rank or call for a taxi cab in Norfolk, VA.
TRAINED DRIVERS
Hand picked & english speaking drivers
LOW PRICES
Same price as a regular Taxi from the line
FLIGHT MONITORING
Drivers are always on time
QUALITY SUPPORT
24/7 Email & Phone support
How much does a taxi cost?
Night time


(00:00 - 05:00)
FROM NORFOLK BUS STATION TO CHRYSLER MUSEUM OF ART
FROM DOWNTOWN TO VIRGINIA BEACH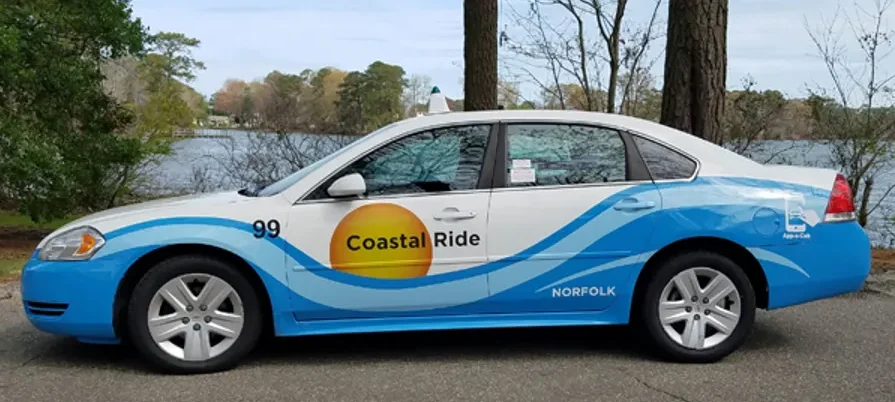 How much is a Taxi Cab in Norfolk, VA?
There are many different Norfolk taxi companies operating throughout the city, each of which can set its own fares. However, if they are fitted with a taximeter, they will have to use and clearly display a fare that can't exceed the government-set maximum. The average tariffs for taking a Norfolk taxi service are as follows:
Base price: $3 (€2.78)
Price per km: $1.65 (€1.50)
Waiting 1 hour: $20 (€18.50)
What our customers say about Welcome
How to Get a Taxi in Norfolk
There are many different companies that offer a Norfolk taxi service. Some companies only offer pre-booked services of phone dispatch services, while others will happily pick up passengers in the street or from a taxi rank. If you're downtown, you will find the Norfolk taxi ranks located outside of the bus station, large shopping malls, tourist attractions and the harbour. 
If you're trying to catch a Norfolk taxi during bad weather or from outside the city ring, it's advisable to either book your ride in advance or call one of the phone dispatch companies listed below; 
City Wide Cabs: +1 (757) 319 3368
Coastal Ride: +1 (757) 853 7777
Duke Cab Co: +1 (757) 202 3564
East Side Cabs: +1 757 718 0937
Norfolk Checker:+1 (757) 853 7777
Booking your Norfolk Taxi Service with Welcome
As there are so many different Norfolk taxi services available throughout the city, the level of service you will receive may vary. If you don't want to deal with the possibility of a rude driver or fluctuating taximeter prices, we recommend pre-booking your taxi in Norfolk with Welcome Pickups instead. We offer guaranteed on-time pickups, friendly local drivers, fully personalised transfers and a 5-star door-to-door service every time, thanks to our handpicked, well-trained drivers and 24/7 customer support team.
Norfolk Taxi Tips
If you call for a phone dispatch taxi in Norfolk, be sure to agree on a price over the phone at the time of booking and check if surcharges and pickup fees apply.
Never get in a Norfolk taxi that doesn't have a clear ID and taxi number showing.
You can usually pay by card for your Norfolk taxi service, but be sure to ask if your driver offers his service before you get in the cab.
Tipping your Norfolk taxi driver around 10-15% of your total fare is expected.
Wheelchair-accessible Taxi in Norfolk
Unfortunately, standard taxi cabs in Norfolk, VA don't offer wheelchair-accessible services. If you're looking for a fully wheelchair-accessible vehicle with a ramp or hydraulic lift, you will need to pre-book with a specialised company. There are a few wheelchair-accessible Norfolk taxi companies available to choose from, which you can contact via the handy Disability Navigator website.
Norfolk Taxi Safety and Complaints
All taxi cabs in Norfolk, VA are monitored and regulated by the government. Every driver will need to gain a special license and display their unique ID and taxi number in their vehicle. This makes taking a taxi in Norfolk very safe and reliable. However, if you do experience any issues during your ride, you can make a direct complaint to the transport department by calling +1 (126) 351 6189.