Nottingham taxi
Nottingham is one of the major cities of the East Midlands in the heart of Central England. Famous for the legend of Robin Hood and with a thriving University culture, Nottingham combines history, beautiful green landscapes and a buzzing arts and music culture.
Nottingham has lots of interesting attractions, and its location offers visitors even more options due to its close proximity to a number of other great cities and towns. The use of a taxi in Nottingham would therefore be an ideal way to get around and make the most of your time when visiting this exciting area of the East Midlands. You could even pre-arrange your transfers by booking them in advance with a credible company like Welcome Pickups and ensure you have all your transport needs met.
TRAINED DRIVERS
Hand picked & english speaking drivers
LOW PRICES
Same price as a regular Taxi from the line
FLIGHT MONITORING
Drivers are always on time
QUALITY SUPPORT
24/7 Email & Phone support
How much does a taxi cost?
Night time


(00:00 - 05:00)
Nottingham city centre to Sherwood Castle
Nottingham city centre to City of Caves
Nottingham city centre to the Arboretum
Nottingham city centre to Wollaton Hall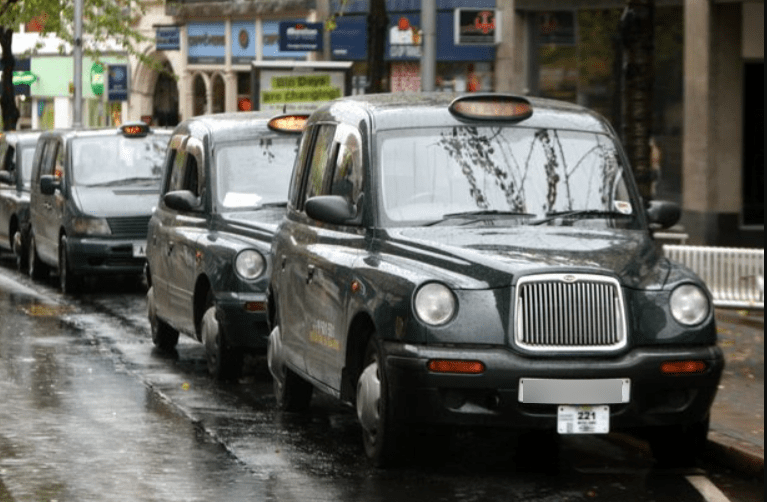 Nottingham taxi prices
A Nottingham taxi will either be installed with a calibrated taximeter or quote you a fixed-rate fare, where the cost will be dependent on the distance travelled during the transfer. Currently, taxi rates in Nottingham are calculated based on a minimum fare charge, a per km rate and a waiting time charge, which are as follows:
Minimum fare charge: £2 (€2.30) 
Per-km cost: £1.12 (€1.30) 
Waiting time – charge per hour: £19 (€22.10)
These rates are applicable for transfers between 6:00 and 22:00. All night transfers (between 22:00 and 6:00) are subject to higher rates. At nighttime, the minimum fare charge is the same but the per-km cost increases to £1.37 (€1.60) and the waiting time charge is £21 (€24.30) per hour.
What our customers say about Welcome
Getting a taxi in Nottingham
Nottingham cabs are easily found when you are in the city. There are two main types of taxis in Nottingham, the Hackney-style black cab and private taxis. Black cabs can be directly hailed from the street by raising your hand in their direction and can be found either at taxi ranks or near major city locations like shopping centres, large hotels, central stations or popular attractions. Private taxis, on the other hand, can be requested through your hotel reception or by contacting them directly, either via phone or by making an online booking through your preferred company's website. There are numerous Nottingham taxi companies working in the area and below are some of the most popular taxi numbers you can call for on-demand Nottingham cab service:
Royal Cabs: +44 115 960 8608
My Cars Nottingham: +44 115 919 9999
Ali Baba Cabs: +44 736 544 4888
DG Taxis: +44 115 960 7607
Benefits of booking a Nottingham taxi in advance
Booking your transfers in advance with a taxi company in Nottingham can be very helpful on your day of travel. By planning ahead you don't have to search for a taxi which can be stressful, time-consuming and, often, more expensive. When you pre-book your Nottingham taxi with a reputable company like Welcome Pickups, you are guaranteed an all-inclusive fixed-rate fare with no hidden costs that you can pay for ahead of time, through Welcome's user-friendly mobile app or online. You are also offered a fair cancellation policy with every booking, so you don't need to worry if your travel plans change, and access to our customer support team 24/7!
Nottingham taxi tips
All black cabs in Nottingham can carry up to 5 passengers, compared to private hire taxis that can carry up to 4 passengers.
Black cabs tend to be more expensive than private hire taxis or shuttles that can offer fixed-rate fares and can be booked in advance.
If you are using a Nottingham cab with a taximeter make sure it is turned on at the start of your transfer and that the initial fee (minimum fee) is correct.
Even though tipping (10-15%) is optional when using a UK taxi, a tip is commonly expected if you are travelling on a national holiday (Christmas, New Year's, bank holidays, etc.)
Wheelchair-accessible taxis in Nottingham
Most Nottingham taxi transfers you can privately hire offer wheelchair-accessible vehicles, but those need to be requested well in advance of the transfer. As for the local taxis, due to the size and shape of black cabs, most are wheelchair accessible via an unfolding ramp that offers easy access to the vehicle.
Nottingham taxi safety and complaints
Taking a taxi in Nottingham is a safe way to travel; just make sure that you are using either an officially licensed taxi or a black cab – feel free to check the driver and vehicle license if you need to. In the event that you have a bad experience and want to report the incident, you can make a complaint to Nottingham City Council by submitting an official complaint form. Any serious or criminal incidents should be reported directly to your nearest Nottingham police station.