Taxis in Okinawa
The Japanese prefecture of Okinawa consists of a chain of over 150 islands offering the perfect tropical getaway. Okinawa is known for its relaxed island culture, picturesque white sandy beaches, and colourful coral reefs. Visitors can embark on whale-watching expeditions or spectate dragon boat races. History enthusiasts may also enjoy checking out the castles of the Ryukyu Kings or the World War II sites.
Taking an Okinawa taxi is the easiest way to get from one place to another throughout the main island. To take a taxi, you can flag one down from the street, or you can find taxis waiting near popular destinations. You can also call an Okinawa taxi company to request a ride or book your ride in advance for a pickup at the time and place of your preference.
TRAINED DRIVERS
Hand picked & english speaking drivers
LOW PRICES
Same price as a regular Taxi from the line
FLIGHT MONITORING
Drivers are always on time
QUALITY SUPPORT
24/7 Email & Phone support
How much does a taxi cost?
Night time


(00:00 - 05:00)
NAHA AIRPORT TO THE CITY CENTRE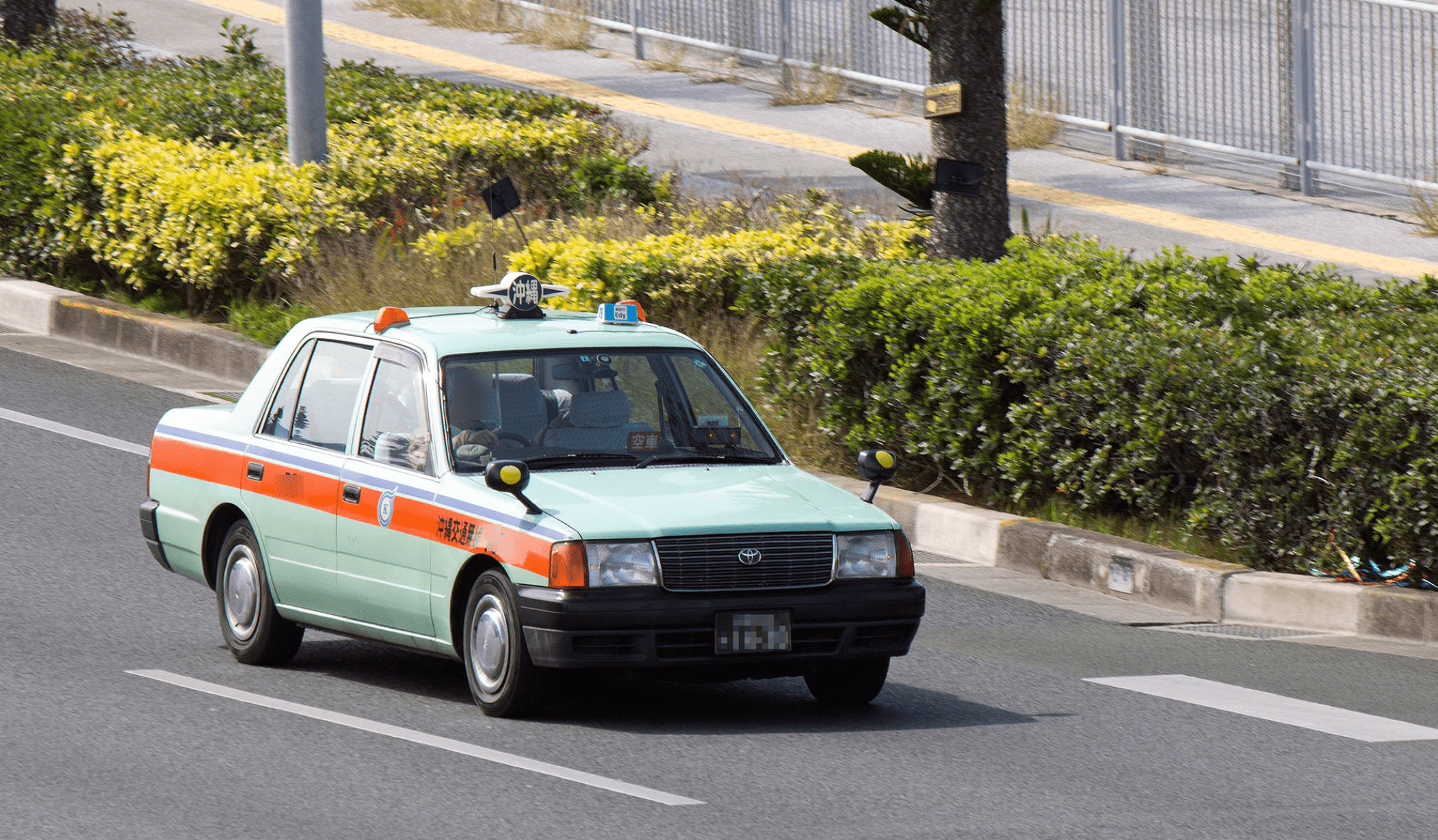 Okinawa Taxi Fares
Okinawa taxi fares may vary between the different drivers and companies. Fares are usually determined by calculating the distance and time travelled using a taximeter. You can get an approximate estimation of your fare by adding up the base rate of €3.50 (JPY 500) and €1.40 (JPY 200) per each additional kilometre covered. Other surcharges for travel late at night or luggage may apply depending on the provider. To go from Naha Airport to the city centre, you can expect to pay around €10 (JPY 1,450), although that fare is not fixed and may fluctuate. For a competitive flat rate with no hidden fees, you can always book your ride in advance with Welcome Pickups.
What our customers say about Welcome
How to Get a Taxi in Okinawa
Several companies provide taxi services in Okinawa. Taxis can easily be found in downtown Naha and at popular destinations around the city. You can flag a taxi down from the street or find taxis waiting in taxi ranks near famous attractions or transport hubs. You can also call an Okinawa taxi company to request a ride. A couple of companies you can contact include Okito Taxi (+81 (120) 215 005) or Sankei Taxi (+81 (120) 661 537). For a competitive flat rate, if you know when and where you'll be needing a cab ride, a great alternative is to book your Okinawa taxi in advance with a professional English-speaking Welcome Pickups driver for your peace of mind.
Book your Okinawa Taxi Transfer in Advance
If you know where and when you'll need to be picked up in advance, you can keep things easy and efficient by booking your taxi in Okinawa ahead of time. When you book with Welcome Pickups, you can be sure your local English-speaking driver will be ready and waiting for you as soon as you need to be picked up. Also, you will be charged a competitive flat rate, so you won't have to worry about hidden fees, surcharges and what the taximeter may add up to. What is more, you can always reach out to our 24/7 customer support team should you have any questions or concerns.
Tips for your Taxi in Okinawa
There is no need to tip your driver as Japan does not have a tipping culture.
Most taxi drivers will accept payment by card. You may just want to double-check with your driver before starting your trip.
If you use a local taxi service, your driver may not speak English. We suggest having the address to your destination written down or having a map on your phone pulled up so you can show it to your Okinawa taxi driver.
Wheelchair-accessible Taxis in Okinawa
All taxis in Okinawa should be able to transport a wheelchair in the trunk of the vehicle for free, however, if you require a ride with full accessibility and more room, one of the major companies you can contact for your wheelchair-accessible transfer is Kaigo Taxi Okinawa. The company suggests that reservations must be made in advance, as same-day service may not be available. To pre-book your ride you can call +81 (120) 356 194 and specify your requirements.
Okinawa Taxi Safety and Complaints
Getting around Okinawa by taxi is the best way as you get to travel from point A to B comfortably and quickly. The local taxi drivers are reliable and professional, though, in the unlikely event an issue arises during your trip, you can keep a note of what happened, when, and where along with the taxi's license plate number and driver's name and registration number if possible. That way, you can file an official complaint to the taxi company you used for your transfer, or for safety matters, go directly to the police.