Cabs in Philadelphia
Philadelphia is the largest city in the Commonwealth of Pennsylvania of the United States. It has a population of over 5.5 million and gets over 46 million visitors yearly. It is undoubtedly a city worthy of exploration due to its array of attractions.
Although there is a large number of Philadelphia taxi companies throughout the city, they are all fully regulated and have set pricing. If you're looking to travel around the city in comfort and style, or you're short on time, choosing a Philly cab would be the best option for you. You can hail a taxi in the street, call one of the many taxi companies or walk to the designated taxi ranks around the city, close to the most popular tourist spots.
Nevertheless, if you don't want to wait around to find a free taxi, especially if you're arriving in a new city, you might want to consider pre-booking your Philadelphia Taxi and have a driver pick you up as soon as you land.
TRAINED DRIVERS
Hand picked & english speaking drivers
LOW PRICES
Same price as a regular Taxi from the line
FLIGHT MONITORING
Drivers are always on time
QUALITY SUPPORT
24/7 Email & Phone support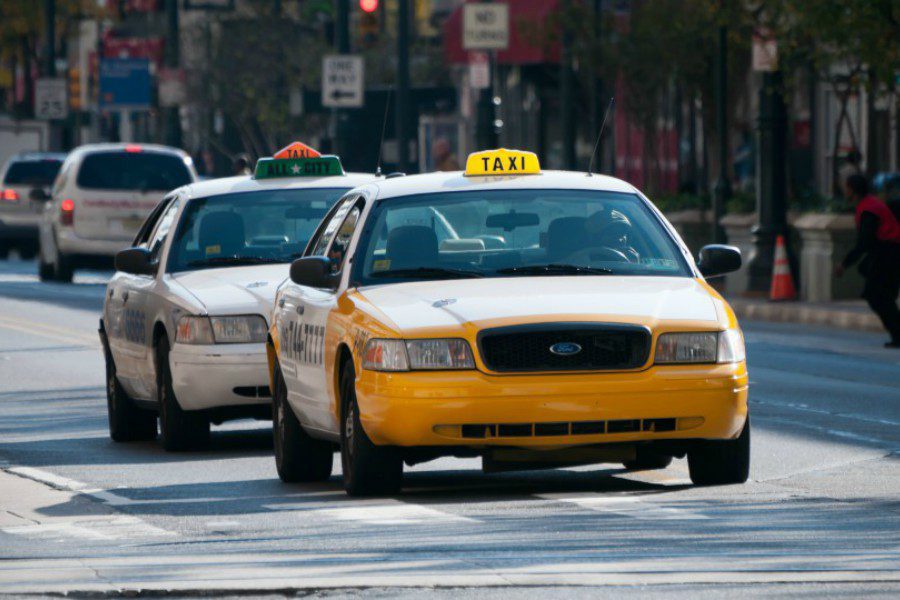 Cost of a Philadelphia Taxi
Philadelphia taxis are among the cheapest taxis in the U.S. The base fee of a Philly cab comes to $2.70 (€2.47), whilst the price per km after that comes to $1.44 (€1.32), with the minimum charge being $4.20 (€3.85). Prices remain the same during the nighttime, so you don't need to worry about paying more if you're out late.
Although there are many different Philadelphia taxi companies, they all work under a regulated pricing system. Your fare will be calculated based on the distance you travel and the taximeter will indicate your final taxi cost.
Base Fare – $2.70 (€2.47)
Rate/km daytime (05:00 to :00) – $1.44 (€1.32)
Rate/km nighttime (24:00 to 05:00)- $1.44 (€1.32)
Philadelphia taxis don't charge extra for each luggage item you may have, but there is a set 1-hour wait time, that comes to $22.00 (€20) and a fuel surcharge of $1.10 (€1) per trip. Tolls are paid by the customer.
What our customers say about Welcome
How to get a taxi in Philadelphia
Philadelphia is a big and busy city and that makes Philly cabs a fantastic transfer option to get you around. You can choose to simply hail a taxi from the street, walk to the nearest taxi rank, call one of the many local companies or use a taxi app. 
You can find taxi ranks near the busiest points of the city; some of them are at the airport, the suburban station at 16th St and on Aramingo Ave. Of course, you might also come across a Philadelphia taxi driving around the city. It's easy to spot a rank as you will see the bright yellow cars with the signature 'TAXI' light on top, lining up at the side of the road. All you have to do is walk to the front of the line and enter the first free taxi. Once inside, before starting your journey, make sure the taximeter is set to the base fare.
With around 1.600 cabs currently operating in Philadelphia, availability may be limited during peak hours, resulting in increased wait times. If you want to travel easily and confidently, without having to wait around for a free taxi, it might be best to pre-book your Philly cab. By pre-booking your Philadelphia taxi, you won't need to worry about running late, wasting precious time on your trip, or feeling unsafe when it's dark outside. Instead, you can wait for your friendly local driver indoors.
Benefits of Booking a Philadelphia transfer with Welcome
Knowing that cabs in Philadelphia are limited due to the high demand, booking your Philadelphia Taxi transfer in advance can save you time and effort. By pre-booking your private transfer with Welcome, your taxi will be there waiting right when you need it, whilst you're guaranteed a personalised trip at a fair price, without any hidden fees. That's what everyone wants when visiting a new and exciting city.
By booking your ride in advance, you get to plan and budget with ease. It also gives you peace of mind knowing you won't need to haggle with drivers or get lost trying to find a taxi rank.
Philadelphia Taxi tips
Before beginning your journey, make sure your taxi driver sets the meter to the base fare of $2.70 (€2.47)
Always be mindful and keep an eye on Google Maps for directions if you feel that the driver has taken a longer route than they should.
Philadelphia taxis don't provide baby seats, but you can bring and fit your own.
In Philadelphia, card and cash payments are both accepted. However, some taxi drivers are known for their dislike towards card payments. Make sure that your driver is keen to accept card payments prior to entering the vehicle.
All taxis should be clean and tidy before a new customer enters. If your taxi doesn't follow the hygiene and safety regulations, you may report it.
Wheelchair Accessible Taxis in Philadelphia
Philadelphia as a whole is an extremely wheelchair accessible city. However, the regular taxis you will find driving in the street don't have any special ramps or seating for wheelchair users. If you're comfortable folding up your wheelchair, there's plenty of space to store it in the regular taxis. However, if you need a fully accessible vehicle, you can visit Wheelers to rent an accessible van, or you can call Freedom Taxi on (215) 222-9999 to get a fully accessible cab.
Safety and Complaints
Philadelphia taxis can be a headache if the driver is not cooperating. If you feel unsafe during your trip, or if your driver sets the meter at a different base fare without informing you, takes a longer route etc., you should write down the taxi number and the driver's unique ID number (this should always be on display in the taxi) and ask for your receipt. You can then call the company that you travelled with to discuss your experience, or fill out a Philapark form directly, as they are responsible for the public's safe and fair transportation in Philadelphia.