Pittsburgh Taxi
Pittsburgh has transitioned from an industrial "Steel City" to a vibrant and exciting place to visit all year around. With a keen focus on tourism the City of Pittsburgh offers numerous original attractions, breathtaking sights and an up-and-coming food scene. Navigating Pittsburgh can be difficult due to its triangular arrangement, however using a Pittsburgh taxi can help you get around the city easily and efficiently.
TRAINED DRIVERS
Hand picked & english speaking drivers
LOW PRICES
Same price as a regular Taxi from the line
FLIGHT MONITORING
Drivers are always on time
QUALITY SUPPORT
24/7 Email & Phone support
How much does a taxi cost?
Night time


(00:00 - 05:00)
From Downtown to Pittsburgh Zoo (Zoological Society of Pittsburgh)
From Downtown to Carnegie Museum of Art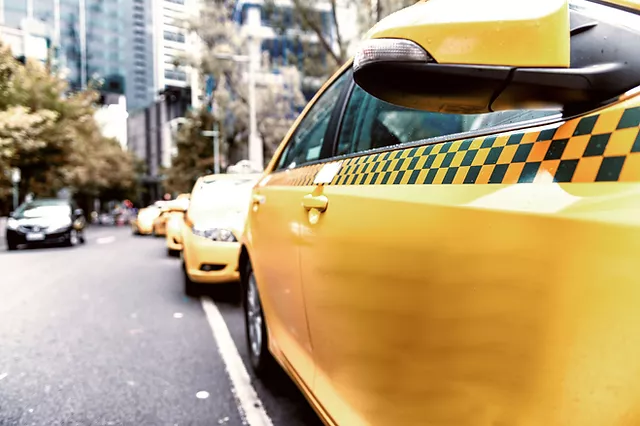 Pittsburgh Taxi Prices
Taxi prices in Pittsburgh are set by the city and these tariffs were most recently updated in January 2019. The Pittsburgh taxi tariff is calculated and consists of a basic charge, a kilometer price and a time-dependent charge for standing and waiting times. This tariff is automatically calculated by the use of official calibrated taximeters installed in all taxis. 
Base fee – $4.00 (€3.60)
Kilometer rate per km – $1.55 (€1.40)
Standing / Waiting time per hour – $ 21.00 (€19.10)
There is no separate or different rate for using a taxi at night, therefore day and night taxi costs are the same.
Please be aware that there may be extra charges when travelling to and from the airport, travelling on a Sunday or a holiday and when using a toll road.
What our customers say about Welcome
How to get a Pittsburgh cab
There are numerous taxi companies offering transfer services in downtown Pittsburgh like the black-and-white taxis, dubbed "Pittsburgh City Cab" which you can hail from the street and will transport you to nearby neighbourhoods. All major hotels offer easy access to taxis, which you will find waiting outside their main entrances. Alternatively you can pick up a Pittsburgh cab from one of the many taxi-stands dotted around the city or call one of the many Pittsburgh taxi service companies that operate in the city. Some of these include:
zTrip Taxi Services: +1 (412) 777-7777
Classy Cab: +1 (412) 322-5080
Eagle Cab Co.: +1 (412) 765-1555
Booking your Pittsburgh Taxi Transfer in Advance
Booking your Pittsburgh transfer in advance is always the safest way to make sure that you have access to a taxi when you need it. Using a trusted company like Welcome Pickups allows you to conveniently pre-book your transfer on-line at a low cost fixed price and enjoy the benefits of a personalised ride. Whether you're in Pittsburgh for business or pleasure, let Welcome Pickups take care of your transport needs and get you to your destination promptly and safely.
Pittsburgh Taxi Tips
It's customary to tip your Pittsburgh cab driver 15% of your total fare.
Taxi fares in Pittsburgh don't increase during the night.
There is a $1 additional charge for trips to and from the airport.