Ponta Delgada taxi
Ponta Delgada is the capital and largest city in the Azores archipelago. Located on the Sao Miguel island it also holds the main airport (João Paulo II), serving as the gateway to all the neighbouring islands and receives international flights from many different countries. 
The small city is a beautiful mix of traditional buildings, cobbled streets and a cosmopolitan lifestyle. There are endless attractions and places to see and even though the island is relatively small, the easiest way to travel around and see its villages and attractions is by taxi. Taxis are widely available on the island, with most cabs concentrated in the Ponta Delgada centre, but you can always pre-book your transfers in advance with a reliable company like Welcome Pickups and have your rides from point A to B organised; that way, you'll avoid delays and you won't have to risk not finding a cab when and where you need it.
TRAINED DRIVERS
Hand picked & english speaking drivers
LOW PRICES
Same price as a regular Taxi from the line
FLIGHT MONITORING
Drivers are always on time
QUALITY SUPPORT
24/7 Email & Phone support
How much does a taxi cost?
Night time


(00:00 - 05:00)
Ponta Delgada to Sete Cidades
Ponta Delgada to Parque Terra Nostra,Furnas
Ponta Delgada to Lagoa do Fogo
Ponta Delgada to Ponta da Ferraria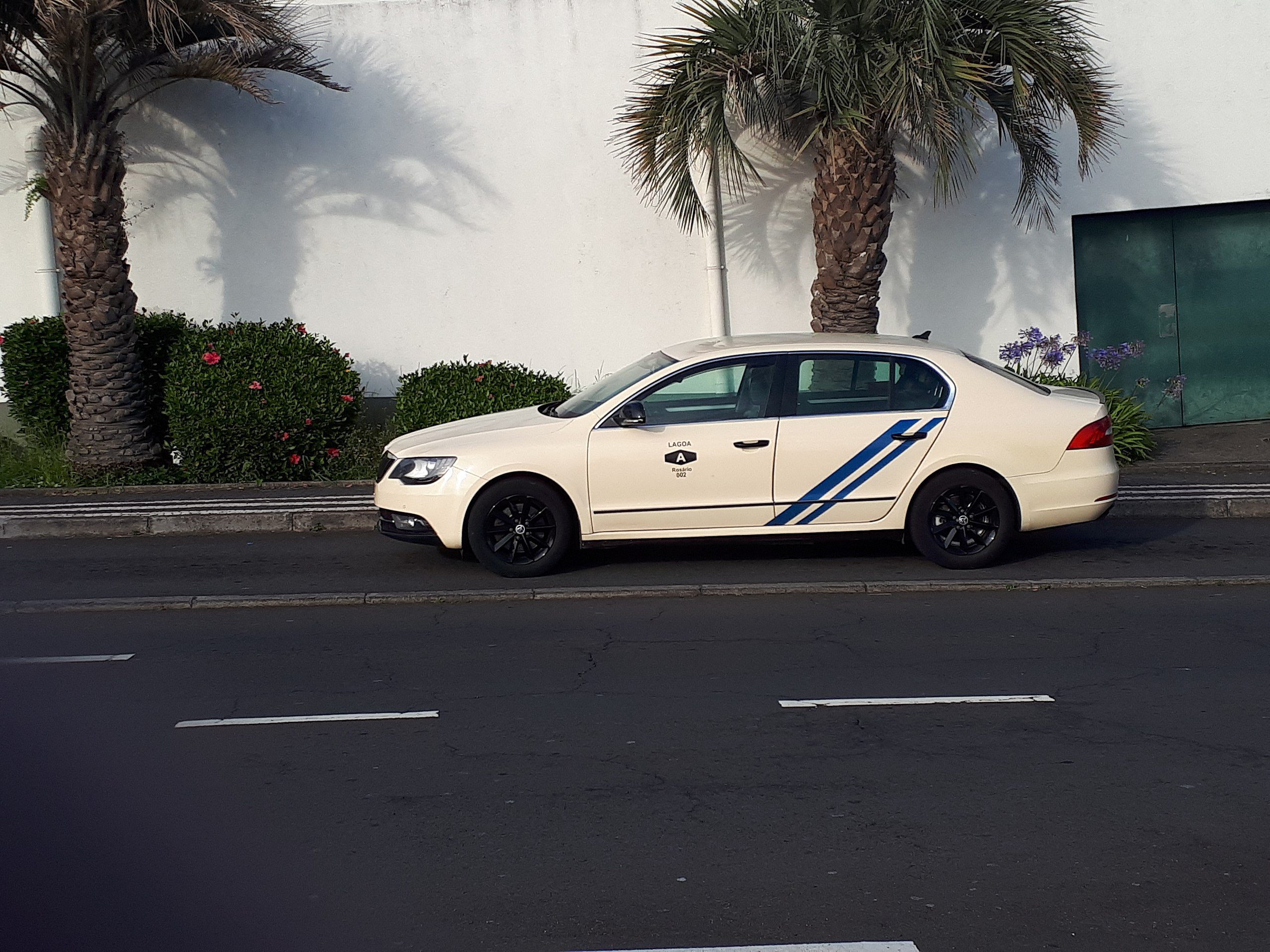 Taxi prices in Ponta Delgada
Taxis in Ponta Delgada usually utilise fixed-fare pricing. Transfers are therefore quoted based on the distance to your desired destination and the current taxi rate per km. The taxi rates in Ponta Delgada were most recently revised in 2022, and are as follows:
Initial charge: €3.60
Additional per-km cost: €0.74 
Waiting time – charge per hour: €12
These are the day rates and are applicable from 6:00 to 21:00. Night rates are charged from 21:00 to 6:00 and all day Sunday at a 20% increased cost. Taxis only accept cash payments.
What our customers say about Welcome
Getting a taxi in Ponta Delgada
There are a number of different ways to get a taxi in Ponta Delgada. One of the most common ones is to ask your hotel receptionist to book you a taxi directly. If you are staying in an Airbnb or private accommodation, you can also ask your accommodation contact to recommend a taxi driver, they will give you the contact details of the driver and you can then make arrangements directly. A few Ponta Delgada taxi stands are available downtown but you may not always find a taxi available when you need it and may have to wait a while. The consensus in making it easy to find a taxi is to acquire the contact details of a taxi driver and request a pickup. For even better results it would be recommended to book in advance in order to ensure availability. Some of the most commonly used taxi companies you can phone for pickup service are the following:
Taxi Link Ponta Delgada: +351 962 959 255, +351 296 382 000
Taxis Ponta Delgada: +351 913 100 446
Local Tours Azores: +351 910 366 450
In any case, you can also pre-book a private transfer if you know when and where you'll be needing a driver, to eliminate any wait times and frustration.
Benefits of booking a Ponta Delgada taxi in advance
There are many benefits to booking your Ponta Delgada taxi in advance. Firstly, it will help you avoid having to wait in line at a rank or stand by a busy road for a long time waiting for a cab that isn't occupied. Moreover, if you book your transfer with a reliable company like Welcome Pickups you are guaranteed a fixed-rate fare with no hidden costs and a fair cancellation policy, if needed. Booking is easy using Welcome's user-friendly mobile app and by arranging your ride ahead of time, you can benefit from round-the-clock customer support and a prompt and friendly local professional driver.
Ponta Delgada taxi tips
If you are going to be using a taxi make sure you have cash available, as card payments are not accepted.
Taxis after 23:00 become harder to find so keep that in mind when making travel arrangements.
If you are travelling during the busy time of the year (June, July, August), book your taxi well in advance as there may be taxi shortages due to high demand.
A way of saving on the cost of a taxi is to make multiple bookings with the same driver.
Wheelchair-accessible taxis in Ponta Delgada
Wheelchair-accessible taxis in Ponta Delgada are available but always need to be requested in advance so that an appropriately sized and equipped vehicle is dispatched for the transfer. You will, therefore, not find a wheelchair-accessible vehicle at a taxi stand or roaming the street. Azores For All is one of the local providers offering wheelchair-accessible vehicles for short or long transfers and tours.
Ponta Delgada taxi safety and complaints
Ponta Delgada taxis are a very safe means of transportation. In the unlikely event that you have a negative experience when taking a taxi, make a note of the driver and vehicle details and contact the taxi company you used directly, informing them that you want to initiate a formal complaint. Serious incidents should be reported directly to the nearest police station.