Taking a taxi in Providenciales
Providenciales is the most popular island in Turks and Caicos and attracts tourists from all around the world. It's home to beautiful, sandy beaches, luxury resorts, and fine-dining restaurants, making it an ideal destination for a relaxing vacation.
There is no public transport available on the island, so unless you're renting a car, taking a taxi in Providenciales is the best way to enjoy as much as possible during your trip. Taxis are a bit pricey; to avoid stressing over Providenciales taxi rates, you can pre-book your transfers and know how much the fare will be in advance. There are taxis available 24/7 and often, they're larger vans instead of the standard sedan taxis. In Providenciales, it's common for drivers to pick up passengers heading in the same direction. If you don't see any taxis around, you can order one online or call one of the several taxi operators available on the island.
TRAINED DRIVERS
Hand picked & english speaking drivers
LOW PRICES
Same price as a regular Taxi from the line
FLIGHT MONITORING
Drivers are always on time
QUALITY SUPPORT
24/7 Email & Phone support
How much does a taxi cost?
Night time


(00:00 - 05:00)
PROVIDENCIALES CITY CENTRE/GRACE BAY ➙
PROVIDENCIALES CITY CENTRE/GRACE BAY ➙ TAYLOR BAY BEACH
PROVIDENCIALES CITY CENTRE/GRACE BAY ➙ KIMCHA VILLAGE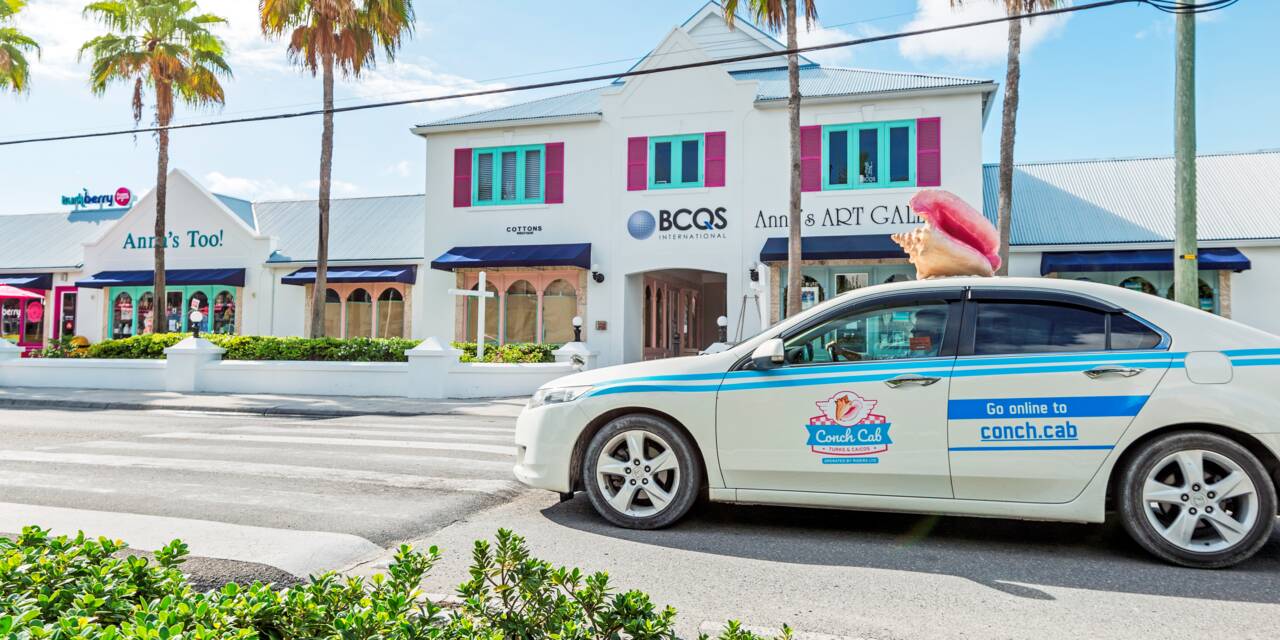 Providenciales taxi rates
Turks and Caicos Road Traffic Ordinance has set fixed Providenciales taxi rates to ensure reliable service. Taximeters aren't used on the island and there are certain operators that don't adhere to the official fixed rates, providing their own set fares instead. Also, Providenciales taxi fares can vary depending on the number of passengers. You should keep in mind that it's common for passengers to share the ride if they're heading in the same direction; it's best to always confirm the total trip price, including all passengers and luggage beforehand to avoid surprises. 
The following fares have been set for these routes for up to 2 passengers:
Providenciales Airport to Grace Bay Resorts: $28 (€25)
Providenciales Airport to Turtle Cove: $16 (€14.25)
Providenciales Airport to Shore Club at Long Bay: $45 (€40)
If you want to avoid stressing over taxi rates in Providenciales, you can pre-book your taxi in Providenciales with Welcome Pickups.
What our customers say about Welcome
How to find a Providenciales taxi
There are many taxis in Providenciales operating 24/7, so it should be easy to find one no matter where you are. In many cases, you won't come across the standard sedan taxis found in most cities but minivans that can accommodate more passengers at a time. Rides are shared in Providenciales so you can hail a taxi that is already occupied.
There are many operators providing taxi services on the island and you can order a taxi over the phone. A reliable operator is Sea Breeze Taxi and you can call them at +1 649 347 6595, or you can order a taxi through your smartphone instead. If none of the above is an option for you, you can always ask your hotel to help you book a taxi whenever you need one, or plan ahead and book your private transfers in advance.
Pre-book your taxi in Providenciales
A quick and convenient option to make the most of your trip is to pre-book your Providenciales taxi with Welcome Pickups. Whether you're looking for convenient transportation to get from the airport to your accommodation and vice versa, or a private ride to other destinations around the island, Welcome will provide reliable service and ensure your peace of mind. You will enjoy professional door-to-door service with a friendly driver, without worrying about how much the fare will be. What is more, you can make your booking as early as you like through an easy booking flow, whilst Welcome also has a flexible cancellation policy that allows you to easily arrange all your transportation needs in advance even if your plans aren't 100% finalised.
Providenciales taxi tips
Many taxis in Providenciales are vans that can accommodate numerous passengers; it's common practice to share the taxi with other passengers going in the same direction.
Not all taxis in Providenciales accept card payments; make sure to carry a few dollars on you in various notes.
Before you enter the taxi, make sure to ask how much the total fare will be, including all passengers and luggage, to avoid any surprises at the end of the ride.
Tipping your taxi driver is customary in Providenciales; a 10% to 20% of the total fare should do.
It's common for taxi drivers in Providenciales to exceed the speed limit; if you feel uncomfortable or unsafe, you can ask the driver to slow down and remain within the speed limit.
Finding wheelchair-accessible taxi in Providenciales
Providenciales, like all Turks and Caicos Islands, is not the most wheelchair-friendly destination and lacks the necessary infrastructure for accessible transportation and accommodation. With proper planning and a bit of research, it's still possible to enjoy your trip and find local businesses that are accessible to wheelchair users. Standard taxis in Providenciales that you'll find on the street aren't equipped with ramps but they're able to fit a foldable wheelchair. If you need a fully accessible vehicle, it's best to pre-arrange all your transportation needs with a travel agency or tour operator providing tailored services. There are also wheelchair-accessible vans for rental if anyone in your travel party has a driver's license and you wish to be more independent.
Providenciales taxi safety and complaints
Providenciales taxi service is a popular transportation option for tourists as there is no public transport on the island. In most cases, fixed fares apply, so scams aren't a common occurrence. If you think you've been overcharged or you need to report the driver for inappropriate behaviour or reckless driving, you can contact the taxi company directly. It will help to write down as much information as possible, including the driver's name, registration number, and license plate. In case the issue isn't resolved, you can also reach out to the local police; they will advise you accordingly on what further steps you can take.