Using a taxi in Rabat
Rabat is Morocco's capital and rests along the shores of the Bouregreg River and the Atlantic Ocean. If you're visiting Morocco, visiting Rabat is a must. It has been declared a UNESCO World Heritage Site and it's a city with rich history and culture.
Moving around using a taxi in Rabat is the best way to explore as much as possible during your trip. It's a reliable and good value-for-money option if you do your research and know which type of taxi to choose and you're ready to negotiate the fare. For quick and comfortable transportation anytime during the day, a Rabat taxi is the best choice. You can hail a taxi from the street or head to the nearest taxi rank, usually next to busy locations or tourist attractions. Alternatively, you can download any available taxi app in Rabat to order a taxi online using your mobile or call an official operator and have a taxi sent to your location. If you have your activities planned beforehand, a great option is to pre-book a private taxi in Rabat to save time and enjoy peace of mind during your trip.
TRAINED DRIVERS
Hand picked & english speaking drivers
LOW PRICES
Same price as a regular Taxi from the line
FLIGHT MONITORING
Drivers are always on time
QUALITY SUPPORT
24/7 Email & Phone support
How much does a taxi cost?
Night time


(00:00 - 05:00)
RABAT CITY CENTRE TO NATIONAL ZOO
RABAT CITY CENTRE TO QUARTIER HASSAN
RABAT CITY CENTRE TO SALÉ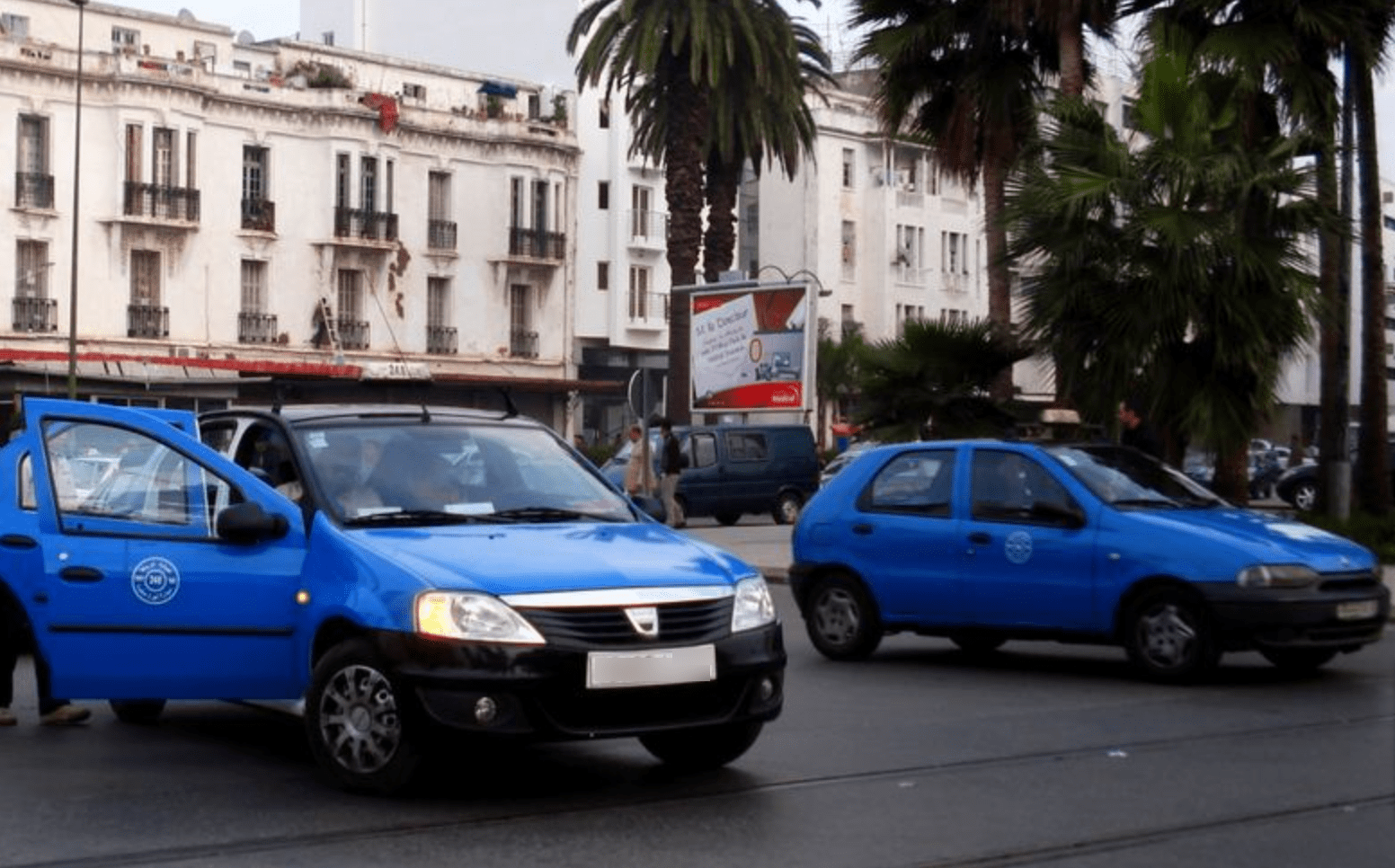 Rabat taxi prices
Using a taxi in Rabat is a good value-for-money option to get around quickly and local authorities regulate official taxis to prevent scams. Rabat taxi fares can be confusing if you don't know the distinction between the two types that operate around the city.
Petit taxis that can take up to 3 passengers are metered and can operate routes only within city limits. The base fare is €0.45 (5 MAN) and the rate per km is €0.80 (9 MAN). The waiting time fee for petit taxis is €3.60 (40 MAN) per hour.
Grand taxis, on the other hand, can take up to 6 passengers and operate both in and outside the city at fixed rates, depending on various factors. The charge is usually per person as the driver may wish to fill all seats along the way. If the taxi is full, you can expect to pay around €1.40 (15 MAN) per person for a short route. If the taxi is empty, you can still use the taxi but you'll end up paying a lot more.
In any case, it's best to ask the driver how much the ride will cost to be on the safe side and to specify if the cost is per person or for the ride. If that sounds like too much of a hassle, you can pre-book your taxi in Rabat with Welcome Pickups; fixed fares and no hidden fees guaranteed!
What our customers say about Welcome
How to get a taxi in Rabat
Rabat taxi service is a popular transportation choice both for locals and tourists; it's available 24/7 all around the city and is good value for money if you're looking to move around quickly. There are two types of official taxis; Petit taxis which are usually blue, and Grand taxis which are usually yellow or white.
It's common to hail a taxi in Rabat from the street even if there are already passengers in it; just wave over to the driver and they'll pull over to pick you up. You can also usually find taxis lined up near busy locations or tourist attractions. Another popular option is to use a taxi app in Rabat and order a taxi online using your mobile or call an operator directly and order a taxi over the phone; some reliable operators you can call for a Grand taxi are:
Taxis Rabat Maroc: +212 661 590 432
Station Taxi Khemisset: +212 642 288 322
If you prefer to have all your transportation needs pre-arranged, you can always book a totally personalised Rabat taxi in advance with Welcome Pickups and secure a driver and a private taxi in Rabat whenever you need it.
Benefits of booking a Rabat taxi in advance
Moving around by taxi in Rabat is by far the most convenient option to avoid the heat and the crowds and enjoy stress-free transportation during your trip. To take your experience to the next level with top-rated service, you can pre-book your private taxi in Rabat with Welcome Pickups.
With Welcome, you will not only get reliable and personalised transportation but also a friend on the ground – from the moment you land at Rabat Airport and throughout your trip. All Welcome drivers are English-speaking, hand-picked professionals, trained to provide the best possible service and a memorable experience to you and your travel party.
It only takes a few minutes to pre-book and pre-pay your ride online and it's a great option if you wish to budget your trip beforehand; you'll know exactly how much each ride will cost without any hidden fees or additional costs. You can also pre-book your transfers as early as you like without worrying about cancellation penalties; Welcome's flexible cancellation policy allows for last-minute changes.
Rabat taxi tips
Many Rabat taxi drivers don't speak English; make sure to have any important information written down in Arabic.
In most cases, card payment isn't possible; always carry cash in the local currency in various notes.
Tipping your taxi driver is customary in Rabat and greatly appreciated. For good service, you can round up or tip 10% of the total fare for long-distance trips.
Grand taxis are usually shared with other passengers; there's no reason to be alarmed if this happens to you, and as long as you don't mind the lack of privacy, your ride will cost less per person.
Wheelchair accessible taxi in Rabat
Rabat can be a challenging destination for wheelchair users as it lacks accommodation options and infrastructure compared to other cities in Morocco. However, with a bit of research and planning you should be able to enjoy a memorable trip.
Taxis that you will find on the street are usually not suitable for passengers who require to use a wheelchair during the ride. Grand taxis should be able to fit a foldable wheelchair in the trunk but Petit taxis won't have enough space. 
To ensure reliable transportation and enjoy all you have planned during your trip, you can make arrangements with a travel agency that either owns or works with drivers who have fully accessible vans.
Rabat taxi safety and complaints
Using a Rabat taxi is a safe option for tourists. Taxi prices and services in general are regulated by the local authorities; as long as you choose an official taxi and you're ready to negotiate the fare, you shouldn't have any issues.
If for any reason you wish to file a complaint or report the driver for inappropriate behaviour or reckless driving, you can first address the company that they work for and they should be able to come up with a solution. If you don't know which company the driver works for or they can't help you resolve the issue, you can escalate it to the local police. Make sure to write down as much information as possible, including the driver's name, license plate, and registration number, to support your claim.