Taking a Reno taxi
Reno is a city in the northwest section of the U.S. State of Nevada, nicknamed the 'Biggest Little City' in the World. It became known for its gaming and entertainment industry but in the past decade, visitors can enjoy the arts, culture and foodie scenes that have massively developed, offering a myriad of activities and experiences.
It might be a small city but there's a lot to see, so to explore as much as possible during your trip, moving around with a Reno taxi can save you valuable time. You can even pre-book your personalised transfer for reliable door-to-door service. Taking a taxi in Reno is a popular transportation option, that both locals and tourists use in order to reach their destination quickly and comfortably. Taxi service in Reno is available 24/7 all around the city and you can hail a cab from the street, find one at a taxi rank, order one online using the available applications or request one over the phone by calling one of the many taxi providers.
TRAINED DRIVERS
Hand picked & english speaking drivers
LOW PRICES
Same price as a regular Taxi from the line
FLIGHT MONITORING
Drivers are always on time
QUALITY SUPPORT
24/7 Email & Phone support
How much does a taxi cost?
Night time


(00:00 - 05:00)
RENO CITY CENTRE ➙ MIDTOWN
RENO CITY CENTRE ➙ PEPPERMILL CASINO
RENO CITY CENTRE ➙ HIDDEN VALLEY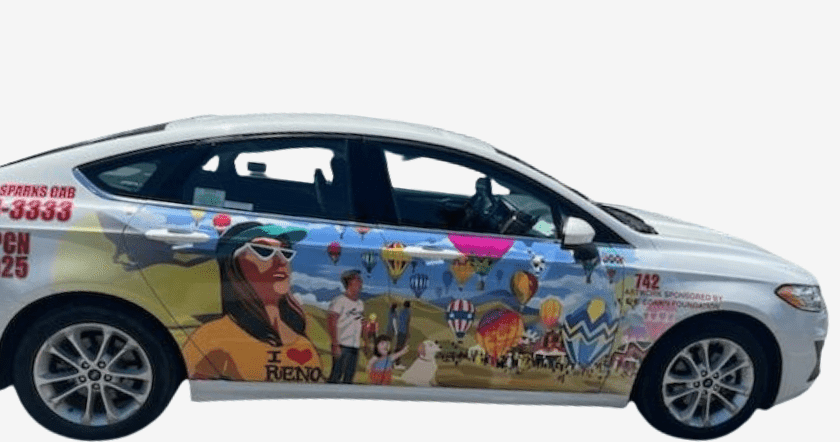 Reno taxi fares
Taking an official taxi in Reno is a reliable and convenient transportation option. The state of Reno is responsible for regulating all operators, ensuring reasonable rates and preventing scams. The most common way the fare of a Reno taxi is calculated is by using a taximeter. However, the rates aren't fixed throughout the city and can differ from one provider to the next. 
Avg. Base fare – $3 (€2.75)
Avg. Rate/km – $3 (€2.75)
Keep in mind that each operator might charge additional fees like airport pickup fees or baggage fees. To ensure a competitive, fixed rate, you can always book your Reno taxi service in advance with Welcome Pickups.
What our customers say about Welcome
How to find a taxi in Reno
Most Reno taxi service providers are available 24/7 so it should be easy to find a taxi all around the city or even in more remote areas. The simplest way to get a Reno taxi is to wave over to the driver, signalling that you wish to be picked up. Depending on the operator, the vehicle colour and type might differ but you'll usually see the typical TAXI sign on the roof, which is lit if the taxi is available. If you don't see any taxis on the street, you can look for the nearest taxi rank close to popular locations around the city, such as bus stations, hotels and tourist attractions. Another option is to order a taxi online or call one of the many providers offering taxi services in the city. Some of the better-rated providers you can phone are:
Reno Ryde: +1 (775) 400 3009
Reno-Sparks Cab: +1 (775) 333 3333
Yellow Cab of Reno: +1 (775) 355 5555
If you prefer to have all your transportation needs pre-arranged, a great option is to book your Reno taxi in advance with a company like Welcome Pickups.
Pre-book your taxi in Reno
If you wish to enjoy peace of mind during your trip, it's a good idea to pre-book your Reno taxi with Welcome Pickups. Besides the reliable and personalised door-to-door service, Welcome will be your friend on the ground from the moment you land at the airport until it's time to catch your flight back home. The booking process is very simple and it will take you only a couple of minutes to book as many transfers as you need. You can also make your booking as early as you like, without worrying about what happens if your plans change; Welcome offers a flexible cancellation policy that takes last-minute changes into account.
All Welcome drivers are hand-picked, trained professionals who will ensure comfortable and friendly transportation to your accommodation or any other places you wish to visit in or around Reno. Another great benefit of booking a Welcome transfer is that you ensure a competitive, fixed rate; that way, your transfer will be pre-paid and you won't need to worry about how much the cost will be, or if the taxi will accept card payments.
Reno taxi tips
Not all taxis in Reno accept card payments; make sure to carry a few dollars on you in a variety of notes.
If the taxi you choose uses a taximeter, make sure that it's turned on and reset to the base fare.
Tipping your driver around 15% of the total fare is expected in Reno, depending on the level of service.
If possible, ask for a receipt at the end of the ride; it will help in case you leave any personal items behind.
Finding wheelchair-accessible taxi service in Reno
Reno in Nevada is a wheelchair-friendly city, offering accommodation options, public transportation, and attractions that are fully accessible. If you're looking to move around the city with privacy, standard taxis that you'll find on the street or at taxi ranks aren't the most convenient option; they can hold a foldable wheelchair in the trunk but in most cases, they're not equipped with ramps that allow to enter the vehicle while seated on a wheelchair or mobility aid.
There are certain companies offering wheelchair-accessible vans for non-emergency transportation, like GMTCare and Med-Express Transport so you might be able to arrange transportation with them. Alternatively, it's best to arrange your trip via a travel agency or tour operator to secure a suitable and comfortable vehicle for your transportation.
Reno taxi service safety and complaints
Using a taxi service in Reno is perfectly safe and reliable both for tourists and locals. Official operators are regulated by the state so scams aren't very common.
However, if you think you've been overcharged or you want to report the driver for unprofessional behaviour or reckless driving, the first thing you can do is contact the taxi company directly and file a complaint. It's best to write down as much information as possible, especially the driver's name, registration number, and license plate; this will help resolve the issue. If the taxi company doesn't offer a solution, you can call Reno Direct, a non-emergency service centre, at +1 (775) 334 4636; they will assist you with what steps you can take next.