Taxi Service in San Jose, CA
San Jose is the largest city in Northern California and a major cultural, financial, and political centre of Silicon Valley. Having a busy, international airport, it's a great destination to start exploring the wider San Fransisco Bay area.
Taxi service in San Jose, CA is a great way to quickly get from one destination to the next and make the most of your trip. Especially if you pre-book your San Jose taxi, you can ensure a personalised and reliable ride as soon as you land at the airport. Taxis are available 24/7 at the airport and near busy locations in the city or you can hail a taxi down the street. Alternatively, you can call one of the official operators or use one of the available providers online to book your transfer.
TRAINED DRIVERS
Hand picked & english speaking drivers
LOW PRICES
Same price as a regular Taxi from the line
FLIGHT MONITORING
Drivers are always on time
QUALITY SUPPORT
24/7 Email & Phone support
How much does a taxi cost?
Night time


(00:00 - 05:00)
SAN JOSE CITY CENTRE ➙ KELLEY PARK
SAN JOSE CITY CENTRE ➙ THE VILLAS
SAN JOSE CITY CENTRE ➙ PALO ALTO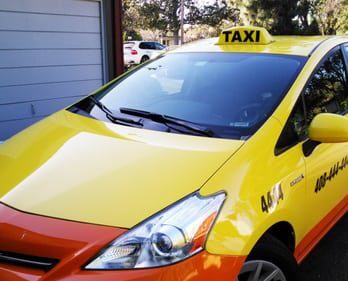 San Jose, CA Taxi Fares
Official taxis in San Jose, CA are regulated by the state and are required to use a taximeter to calculate their total fares. There aren't fixed fares for specific routes and rates might vary among the different operators. Also, keep in mind that your final fare depends on traffic conditions and the total distance driven.
Avg. flag drop fee – $3.50 (€2.80)
Avg. rate/km – $3 (€3.30)
Besides the standard charges, you should also note that there can be additional costs such as baggage and airport pickup fees or a surcharge for each additional passenger after the first one. To ensure a competitive, fixed rate and enjoy peace of mind, you can always pre-book your San Jose transfers with Welcome Pickups.
What our customers say about Welcome
How to Get a Taxi in San Jose, CA
Choosing a San Jose taxi will get you to your destination quickly and comfortably, no matter the time, ensuring you'll enjoy the city day and night. Most official local taxis in San Jose, CA are yellow with the typical sign on the roof and you can hail one down the street if the available sign is up. If you don't see one nearby, try moving to a more busy area, as it's common for taxis to line up outside popular locations, like train stations or airports. If that's also not an option, you can always order a taxi online via the available apps, pre-book your transfer or request a pickup over the phone by calling one of the official operators that are available 24/7.
Yellow Checker Cab: +1 (408) 777 7777
Taxi San Jose: +1 (408) 459 8010
Pre-Book your Taxi Service in San Jose, CA
If you prefer to keep things simple and comfortable while travelling and avoid the hassle of waiting in line for a taxi or looking for the nearest bus station, the best choice is to book your San Jose taxi in advance with Welcome Pickups. Your booking will be pre-paid so you won't need to worry about carrying cash and you'll know how much the ride will cost beforehand, ensuring peace of mind. From the moment you land at San Jose Airport, you'll be greeted by a handpicked, professional, friendly driver, who will take you directly to your destination in a modern, private vehicle. Even if your travel plans change, Welcome's flexible cancellation policy has got you covered; you can change or cancel your booking as needed.
San Jose Taxi Tips
Different rates apply among the different taxi companies so if you don't book your taxi in advance, you can ask the driver what the rate is before you start the ride.
Most taxis in San Jose accept card payments but it's best to carry some cash on you just in case.
Tipping your driver is at your discretion; a 10% tip is customary in San Jose.
Make sure to ask for a receipt at the end of the ride in case you leave any personal items behind or wish to file a complaint.
Wheelchair Accessible Taxis in San Jose, CA
San Jose, like most of California, is among the most wheelchair-friendly places in the US. Getting around the city and enjoying all San Jose offers should be easy if you plan your transportation in advance. Regular taxis found on the street can hold a foldable wheelchair in the trunk, but they're rarely fully accessible to wheelchair users. To ensure a comfortable ride to your destination, you can pre-book your fully accessible San Jose taxi with a company like Yellow Checker Cab online or by calling +1 (408) 777 7777.
San Jose, CA Taxi Safety and Complaints
Taxi service in San Jose CA is overall reliable and a common transportation option both for locals and tourists. If you choose one of the official taxi operators, it's unlikely to encounter any issues. If, however, you think you have been overcharged or need to report inappropriate behaviour on behalf of the driver, you can address the California Public Utilities Commission and fill in the appropriate Transportation Complaint form. Make sure to write down as much information as possible about the incident, including the driver's name, registration number, and license plate.