The quickest way to travel; a taxi in Santiago de Compostela
Santiago de Compostela is the capital of Spain's Galicia region. The historical Old Town of Santiago de Compostela is contained within Medieval walls and is filled with historic monuments, such as the Catedral de Santiago de Compostela. Constructed in 1211, this impressive cathedral is the supposed burial place of the Biblical apostle St. James. To get around this inspiring city, the quickest way to travel is by taking a taxi. You can easily hail one in the street, call a radio taxi of Santiago de Compostela or book your rides in advance with a trusted company.
TRAINED DRIVERS
Hand picked & english speaking drivers
LOW PRICES
Same price as a regular Taxi from the line
FLIGHT MONITORING
Drivers are always on time
QUALITY SUPPORT
24/7 Email & Phone support
How much does a taxi cost?
Night time


(00:00 - 05:00)
FROM CATHEDRAL TO PLAZA ROJA
FROM CITY CENTRE TO AIRPORT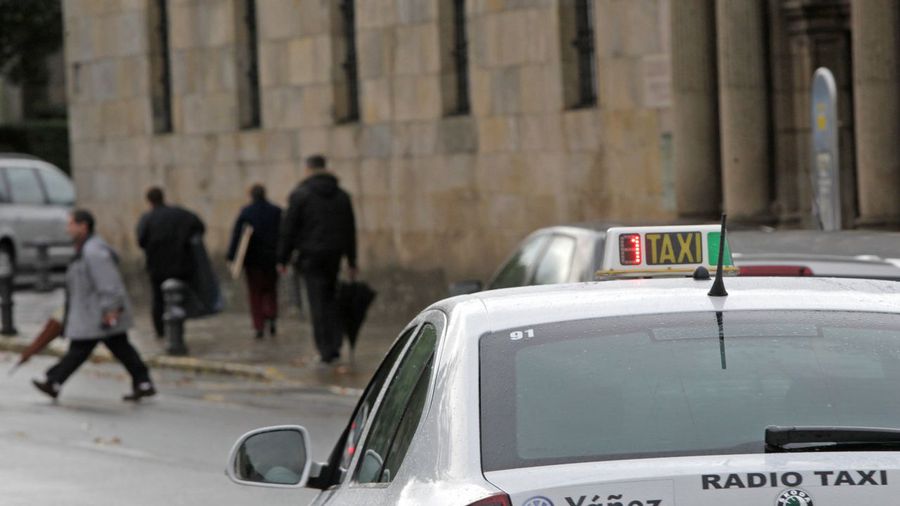 Cost of a Santiago de Compostela taxi
The price for taking a taxi in Santiago de Compostela will be calculated by a taximeter. The taximeter will record the distance you travel and the time taken to get to your destination. The cost of a taxi around the city centre will be around €5 to €10, depending on the length of your journey. The taxi fares are calculated as follows; 
Base fare: €3.75
Price per km: €1.10
Waiting cost / per hour: €20.00
What our customers say about Welcome
How to get a taxi in Santiago de Compostela
If you're in the city centre of Santiago de Compostela, you can easily hail a taxi in the street or walk to one of the many taxi ranks located near the city's main transport hubs, popular tourist areas and major shopping centres.
If you're travelling at night or from outside the city centre ring, we suggest picking a radio taxi in Santiago de Compostela or booking a private transfer. Some of the top-rated radio taxis in Santiago de Compostela are;
Radio Taxi Compestela: +34 (981) 569 292
Teletaxi Compostela: +34 (981) 943 333
Servitaxi Santiago: +34 (619) 185 575
Booking your taxi in Santiago de Compostela with Welcome
There are many different Santiago de Compostela taxi companies available throughout the city, so the level of service may vary. The local drivers don't offer fixed-rate fares, which can be difficult and stressful if you're not a frequent and experienced traveller. To avoid these issues, you can book with Welcome Pickups, a reliable company that offers personalised transfers worldwide. We have English-speaking drivers, guaranteed on-time pickups, fixed rates you can totally rely on and a 24-hour customer service team that's there to ensure each and every one of your transfers is smooth and hassle-free. 
Santiago de Compostela taxi tips
Ensure your driver resets the taximeter to the base fare before you benign your journey.
Not all Santiago de Compostela taxi drivers speak English, so be sure to write down your hotel's address; that way, you can always make it back to your accommodation.
When calling a radio taxi in Santiago de Compostela, expect an extra fee to be added to your fare for the pickup service.
You can fit up to 4 people in a standard taxi in Santiago de Compostela.
Wheelchair-accessible taxi in Santiago de Compostela
Although the standard taxis in Santiago de Compostela aren't wheelchair accessible, there are a few private tour companies that offer this service. If you're in need of a taxi in Santiago de Compostela with a hydraulic lift or ramp, we recommend pre-booking with a specialist company before landing in Spain.
Santiago de Compostela taxi safety and complaints
In general, taking a taxi in Santiago de Compostela is a safe and reliable experience. However, if you do face any issues during your journey, such as being overcharged or having a rude, unsafe driver, you can report it to the local tourist police by calling +34 (981) 542 323. Try to note your taxi's licence plate number and/or your driver's ID number before calling.