Shenzhen Taxi, the Fastest Way to Travel
Shenzhen is a modern metropolis located between mainland China and Hong Kong. This sprawling city is known for its amazing skyscrapers, and world-class shopping and dining experiences. To make sure you can get from A to B in this huge place, we recommend taking a quick and reliable Shenzhen taxi. There are over 22,600 taxis in Shenzhen, 99% of which are now fully electric vehicles. As you can imagine, getting a taxi in Shenzhen couldn't be easier. You can hail one in the street, call a local taxi company, walk to a taxi rank or book your Shenzhen taxi in advance. 
TRAINED DRIVERS
Hand picked & english speaking drivers
LOW PRICES
Same price as a regular Taxi from the line
FLIGHT MONITORING
Drivers are always on time
QUALITY SUPPORT
24/7 Email & Phone support
How much does a taxi cost?
Night time


(00:00 - 05:00)
FROM CITY TO SHENZHEN AIRPORT
FROM AIRPORT TO GUANGZHOU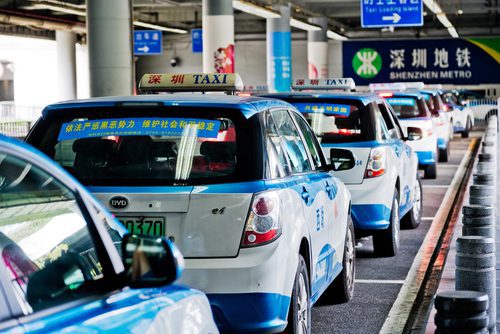 Cost of a Taxi in Shenzhen
The official Shenzhen taxi tariff was set in May 2017 and is legally binding for all taxi drivers in the city. All drivers must have an officially calibrated taximeter in the car, which they must use to calculate their fare based on distance, time taken and the time of day.
Day Tariff (06:00 to 23:00)
Base fare / inc 2km: €1.40 (CNY 10)
Price per km: €0.40 (CNY 2.60)
1 hour wait: €6.80 (CNY 48)
Night Tariff (23:00 to 06:00)
Base fare / inc 2km: €1.85 (CNY 13)
Price per km: €0.50 (CNY 3.38)
1 hour wait: €6.80 (CNY 48)
It's worth noting that any toll fees incurred during your journey will be added to your fare. There's also a surcharge for pickups from the airport of €0.40 (CNY 3).
What our customers say about Welcome
How to get a Shenzhen Taxi
There are four types of taxis in Shenzhen, red, yellow, green and blue. The blue cars are electric and serve the main city ring and suburban areas, the yellow and red Shenzhen taxis can be hailed in the urban and suburban areas, and the green taxis only operate in the Baoan and Longgang suburban districts. Aside from hailing a Shenzhen taxi, you can also walk to one of the taxi ranks in the city centre, found outside large hotels, shopping centres and tourist attractions.
If you're travelling late at night or during bad weather and don't want to wait in the street for a taxi, you can call the 24-hour taxi hotline and request a car on +86 96880.
Why book your Shenzhen Taxi with Welcome Pickups?
Even though there are many taxis available in Shenzhen, during bad weather, public holidays or peak travel times, it can be difficult to find an empty taxi. However, if you pre-book your taxi in Shenzhen with Welcome Pickups, you can enjoy guaranteed on-time pickups, personalised transfers, English-speaking drivers and 24/7 customer service. Let Welcome take care of all your Shenzhen taxi needs so you can concentrate on making the most out of your time in this modern city. 
Shenzhen Taxi Tips
Shenzhen taxi drivers don't speak any English, be sure to have the address of your hotel or destination written in Chinese.
Ensure your driver turns on your taximeter before you begin your journey to avoid overcharging.
Travelling at night will be 30% more expensive than during the day.
The 24-hour hotline for requesting a Shenzhen taxi is +86 96880.
Wheelchair Accessible Taxi in Shenzhen
Unfortunately, the standard Shenzhen taxis aren't wheelchair accessible as there are no vehicles with ramps or hydraulic lifts, so if this is what you need, you will need to book with a private company. As it stands, only one company offers fully wheelchair-accessible vehicles, but you need to place your booking 12-48 hours in advance. To book, you can call the Electric Cab hotline on +86 12385.
Shenzhen Taxi Safety and Complaints
Although taking a taxi in Shenzhen is usually reliable and safe, the standards may not be up to par compared with your home country. If you experience any issues, such as an excessively rude driver or overcharging, you can report it to the company you're travelling with. Ask for your receipt or take a photo of the taxi license plate and taxi number, then call the phone number on the side of the car to file your complaint with the company.