Taxis in Sioux Falls
Sioux Falls is South Dakota's largest city and it's a great destination for all things entertainment; you can enjoy the local culture, tasty food, shopping and adventure all in one place.
Taking a taxi in Sioux Falls is the best and most comfortable way to move around and experience as much as possible during your trip. An even more convenient option is to pre-book your personalised transfer for professional and reliable door-to-door service. Taxis in Sioux Falls are ideal both for short trips and longer routes beyond the downtown area. You will find taxis available 24/7 all around the city for on-demand service. If there are no available taxis around or you're in a more remote area, you can order a taxi online through any of the available applications or over the phone by calling one of the many providers.
TRAINED DRIVERS
Hand picked & english speaking drivers
LOW PRICES
Same price as a regular Taxi from the line
FLIGHT MONITORING
Drivers are always on time
QUALITY SUPPORT
24/7 Email & Phone support
How much does a taxi cost?
Night time


(00:00 - 05:00)
SIOUX FALLS CITY CENTRE ➙ FALLS PARK
SIOUX FALLS CITY CENTRE ➙ MINNEHAHA COUNTRY CLUB
SIOUX FALLS CITY CENTRE ➙ BUTTERFLY HOUSE & AQUARIUM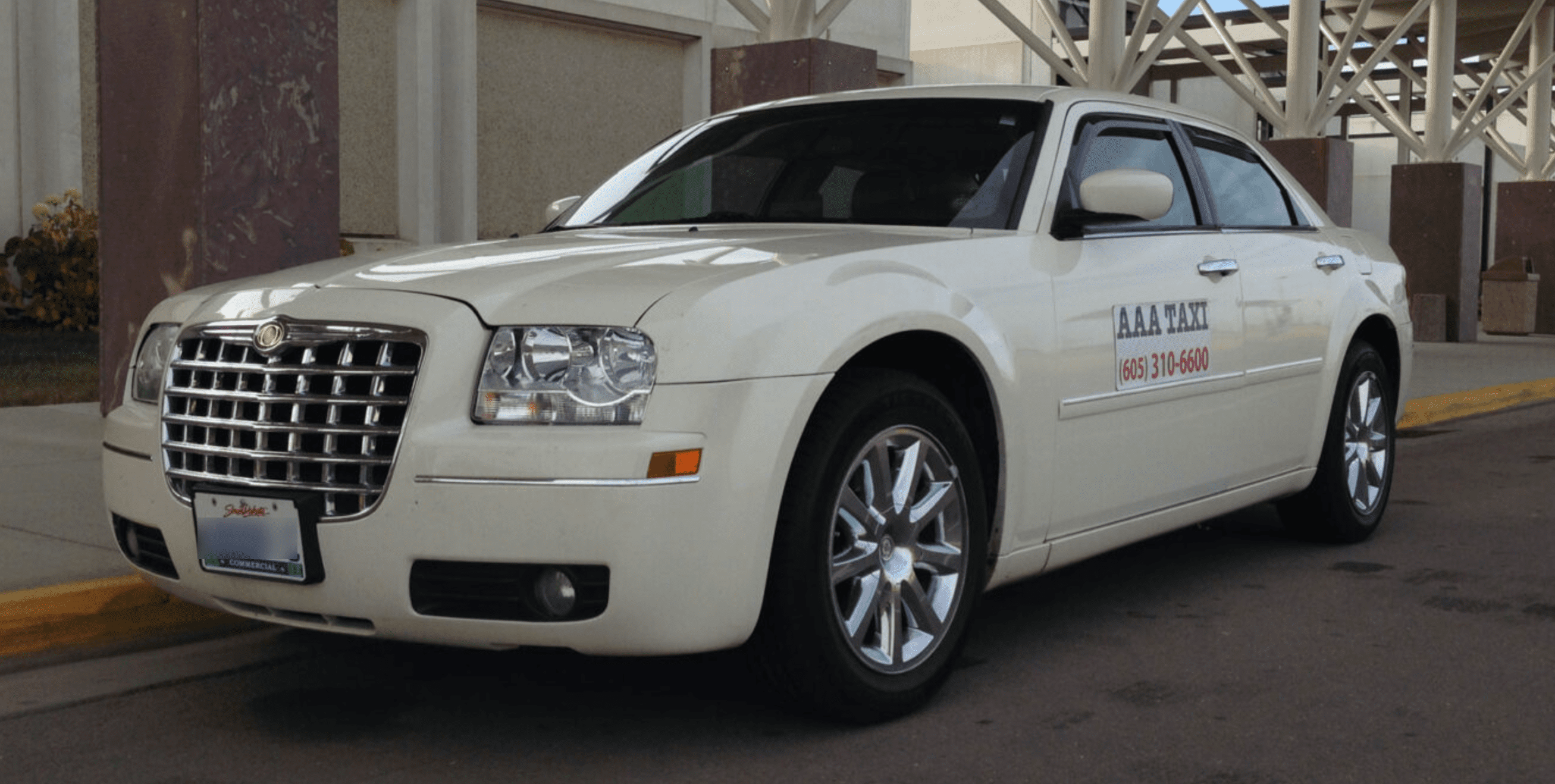 Sioux Falls taxi fares
Taxis in Sioux Falls are a reliable transportation option, used both by locals and tourists for shorter or longer routes. Official providers set their own rates but they're still regulated by the state to prevent scams. Some providers might operate with fixed fares but in the downtown area, most providers use taximeters to calculate the fare based on the total distance driven.
Avg. base fare – $2.45 (€2.25)
Avg. rate/km – $2.90 (€2.70)
Keep in mind that there can be additional charges like baggage fees, tolls, airport fees or other charges depending on the operator. The average waiting time fee is $30 (€26.65) per hour.
What our customers say about Welcome
How to get a taxi in Sioux Falls
Getting around Sioux Falls by taxi is a reliable and convenient transportation option for exploring the downtown area and beyond. Sioux Falls taxi service is available 24/7 and most official taxis have the typical TAXI sign on the roof, which is lit if the taxi is available; in that case, you can wave over to the driver to pick you up. You can also find taxi ranks near busy or popular locations, like the airport, bus stations, malls, and tourist attractions. If you don't see any taxis around, you can order one online through the available applications or by calling one of the many providers offering taxi services in the city. Some of the better-rated ones you can phone are:
Reliable Taxi: +1 (605) 496 1739
Best Taxi: +1 (605) 496 3751
Ibex Taxi: +1 (605) 759 6397
If you have specific activities planned, you can also pre-book your Sioux Falls taxi to ensure professional door-to-door service whenever you need it.
Pre-book your Sioux Falls taxi
Booking your Sioux Falls taxi in advance with Welcome Pickups is a great way to save valuable time during your trip but also enjoy peace of mind and a hassle-free travel experience. You'll only need to spend a few minutes to book your transfers and you can do so as early as you like as Welcome's flexible cancellation policy allows for last-minute changes. All Welcome Pickups drivers are hand-picked professionals who will ensure you're warmly greeted; whether they're picking you up from the airport, dropping you off for your flight or providing in-city transportation, they'll make you feel at home. Also, having all your transportation needs pre-arranged, ensures a competitive, fixed rate that you'll know and pay for in advance; no more worrying about how much your ride will cost or if the taxi accepts card payments!
Tips for Sioux Falls taxi service
Not all taxis in Sioux Falls accept card payments, so make sure to carry a few dollars on you; the smaller the note the better.
If the operator you'll choose uses a taximeter to calculate the fare, make sure that it's turned on and reset to the base fare.
Tipping your driver around 10% - 15% of the total fare is expected in Sioux Falls.
Make sure to ask for a receipt at the end of the ride; it will help in case you leave any personal items behind.
Wheelchair-accessible taxis in Sioux Falls
Sioux Falls in South Dakota is a wheelchair-friendly city with fully accessible accommodation options, public transportation, and attractions. The majority of standard taxis that you'll find on the street or at taxi ranks can hold a foldable wheelchair in the trunk but they're most likely not equipped with accessibility ramps. To move around Sioux Falls comfortably during your trip and enjoy all the activities you have planned, you can pre-arrange your transportation needs with a company like Sioux Falls Wheelchair Transit Plus; they offer rides with fully accessible vehicles and you can contact them online or by calling +1 (605) 336 9625 to book.
Sioux Falls taxi safety and complaints
Official taxis in Sioux Falls are a reliable transportation option, day and night. Taxi fares are regulated by the state to prevent scams and drivers must be licensed. In case you need to file a complaint concerning overcharging, inappropriate behaviour on behalf of the driver or poor standards of driving, you can contact the service provider directly. Make sure to write down as much information about the incident as possible, including the driver's name, registration number, and license plate. If the issue isn't resolved or you're not satisfied with the solution offered, you can contact the local police for further assistance on what steps you need to take.