Tips for taxis in Southampton
Situated on the United Kingdom's south coast, Southampton is a culturally rich city known for its maritime heritage, water sports and an array of museums, shops and restaurants. When it comes to convenient and reliable transportation in Southampton, taxi services are the top choice. Whether you're searching for a local cab in the centre, or need a taxi number in Southampton to call for a pickup, you'll find a wide selection of trusted providers to meet your travel needs.
TRAINED DRIVERS
Hand picked & english speaking drivers
LOW PRICES
Same price as a regular Taxi from the line
FLIGHT MONITORING
Drivers are always on time
QUALITY SUPPORT
24/7 Email & Phone support
How much does a taxi cost?
Night time


(00:00 - 05:00)
SOUTHAMPTON CITY CENTRE ➙ PORTSMOUTH
SOUTHAMPTON CITY CENTRE ➙ BOURNEMOUTH
SOUTHAMPTON CITY CENTRE ➙ STONEHENGE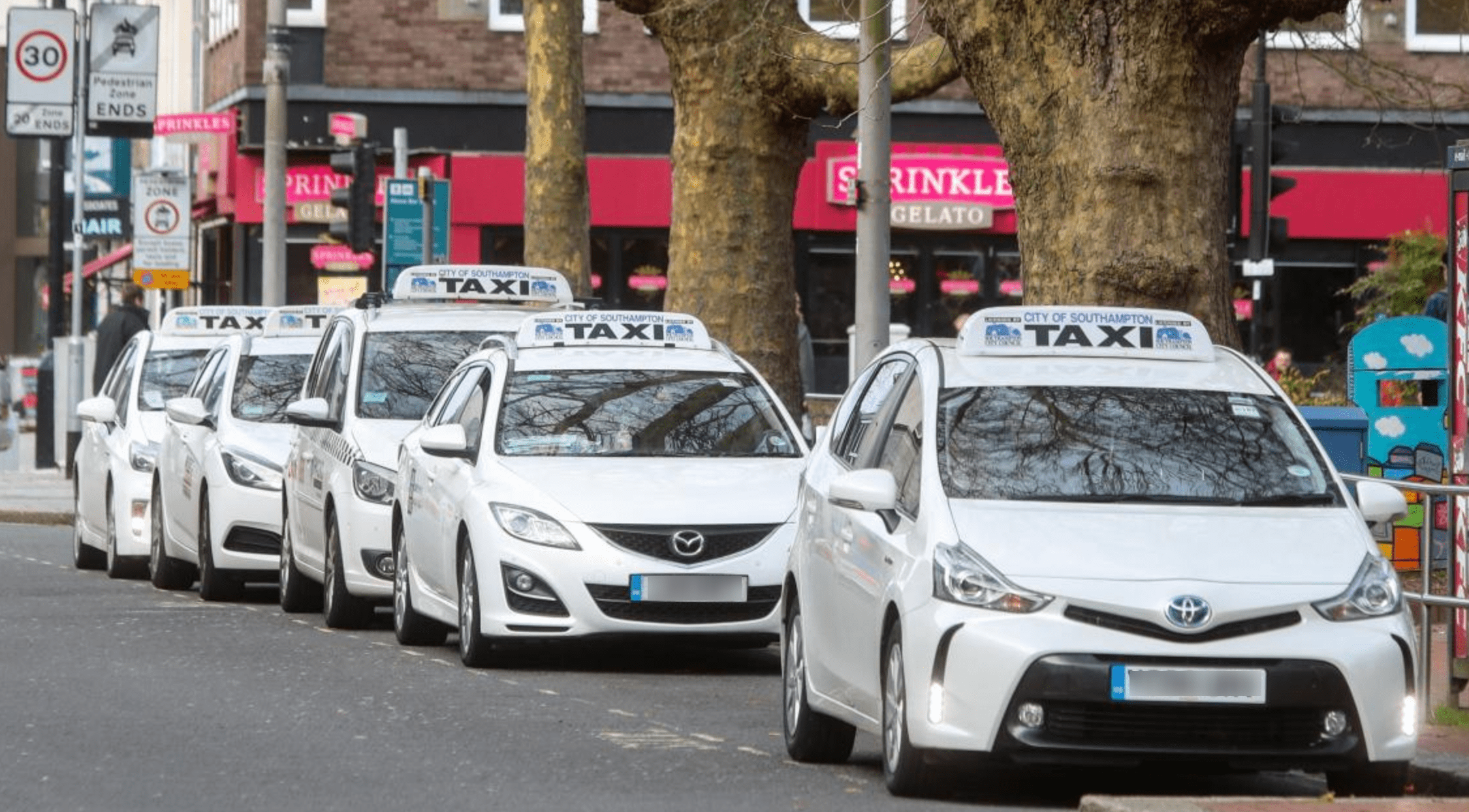 Southampton taxi prices
Southampton taxis operate on a metered-fare system, calculating the cost based on the time travelled and distance between the pickup and drop-off points. The maximum fares, as set by the council, are as follows:
Tariff 1 fares start at £3.20 (€3.70) for the first one-sixteenth of a mile, with subsequent charges of £0.20 (€0.23) per one-sixteenth of a mile and £0.20 (€0.23) per one-tenth of a mile.
Tariff 2 rates apply between 23:00 and 06:00. Fares start at £4 (€4.65) for the first one-sixteenth of a mile, with subsequent charges of £0.25 (€0.30) per one-sixteenth of a mile and £0.25 (€0.30) per one-tenth of a mile.
Additional charges may apply for waiting times, specific drop-off locations or for cabs taken from taxi ranks, while on Sundays and on Bank Holidays, there is a £1.00 (€1.15) surcharge in addition to the Tariff 1 and Tariff 2 fares. For a convenient, fixed-rate transfer you can rely on, we recommend pre-booking with Welcome Pickups to avoid hidden fees and unpleasant surprises!
What our customers say about Welcome
How to get a taxi in Southampton
Getting a Southampton taxi is incredibly convenient as there are numerous taxis available throughout the city. You have multiple options for getting a taxi in Southampton, including hailing one from the street, visiting designated taxi ranks, or contacting a local Southampton taxi company. If you're on a busy street, simply wait for an empty taxi to pass by and raise your arm to hail it. If you prefer to head to a designated taxi rank, you'll find them along popular shopping streets, near shopping centres, and major roads, as well as at the airport, train stations, bus stations, and tourist attractions. For a full list of Southampton taxi ranks, you can check out the Licensed Premises map.
Alternatively, you can call a phone dispatch company for a pickup. There are several local taxi operators providing that service; here are some of the most popular companies and their taxi numbers: Southampton Taxis, reachable at +44 23 8192 0677, and Radio Taxi Southampton, reachable at +44 23 8066 6666.
Whether you need a ride to the airport, a business meeting, or a night out, Southampton taxi services are available 24/7 to meet your transportation needs. As another option, you can always pre-book your ride online if you know when and where you'll be needing a cab.
Book your Southampton taxi cab in advance
Although there are many different taxis in Southampton, during peak times of the day or inclement weather conditions, it can be challenging to find an available taxi on the street.
As a more convenient option, we recommend pre-booking your Southampton taxi. By booking in advance, you can secure a fixed rate without any hidden costs or additional booking fees. This is especially recommended if you are travelling from Southampton Airport, as taxi queues can be long, and traffic congestion may result in significant delays and hence increased fares. To avoid any inconvenience, we advise planning ahead and arranging your Southampton taxi with Welcome Pickups.
Tips for hiring a taxi in Southampton
There are no extra charges for luggage, number of passengers or assistance dogs.
Consider pre-booking your taxi from Southampton Airport to avoid long queues and potential delays.
If travelling in a group, ensure the taxi can accommodate the number of passengers to avoid any inconvenience.
Tipping for taxi cabs in the UK is usually around 10% of the fare.
Wheelchair accessible taxis in Southampton
Wheelchair-accessible taxis in Southampton are available and can be booked in advance through companies like Transmobility. These taxis are specially designed to accommodate passengers with reduced mobility, offering spacious and safe transportation options.
When booking a wheelchair-accessible taxi, it is essential to communicate your specific accessibility needs, such as the requirement for ramps or lifts, to ensure a comfortable and convenient journey. Pre-booking will guarantee the correct vehicle availability and ensure that the allocated driver is properly equipped to meet your requirements.
Southampton taxi cab safety and complaints
If you face any issues during your taxi journey, such as unprofessional driver behaviour, fare disputes, or poor vehicle conditions, you can file a complaint through the official complaint procedure outlined on the Southampton City Council website. They have a comprehensive process in place to thoroughly investigate complaints and take appropriate actions to resolve them.