Taxis in Ulaanbaatar
Ulaanbaatar – affectionately referred to as UB, is Mongolia's fast-growing capital city and is home to half of the country's population. It may be surprising then that there are less than 700 official taxis in Ulaanbaatar, but for visitors, a taxi is still the quickest and easiest way to explore this sprawling city. Despite the lack of competition, prices remain affordable and a taxi can be flagged down in the street, arranged over the phone or through your hotel, booked using a Ulaanbaatar taxi app, picked up at one of the dedicated taxi ranks throughout the city, or booked in advance with a top-rated private transfer provider like Welcome Pickups.
TRAINED DRIVERS
Hand picked & english speaking drivers
LOW PRICES
Same price as a regular Taxi from the line
FLIGHT MONITORING
Drivers are always on time
QUALITY SUPPORT
24/7 Email & Phone support
How much does a taxi cost?
Night time


(00:00 - 05:00)
CITY CENTRE TO TERELJ NATIONAL PARK
FROM ULAANBAATAR TO CHINGGIS KHAN STATUE
CITY CENTRE TO GANDAN KHIID MONASTERY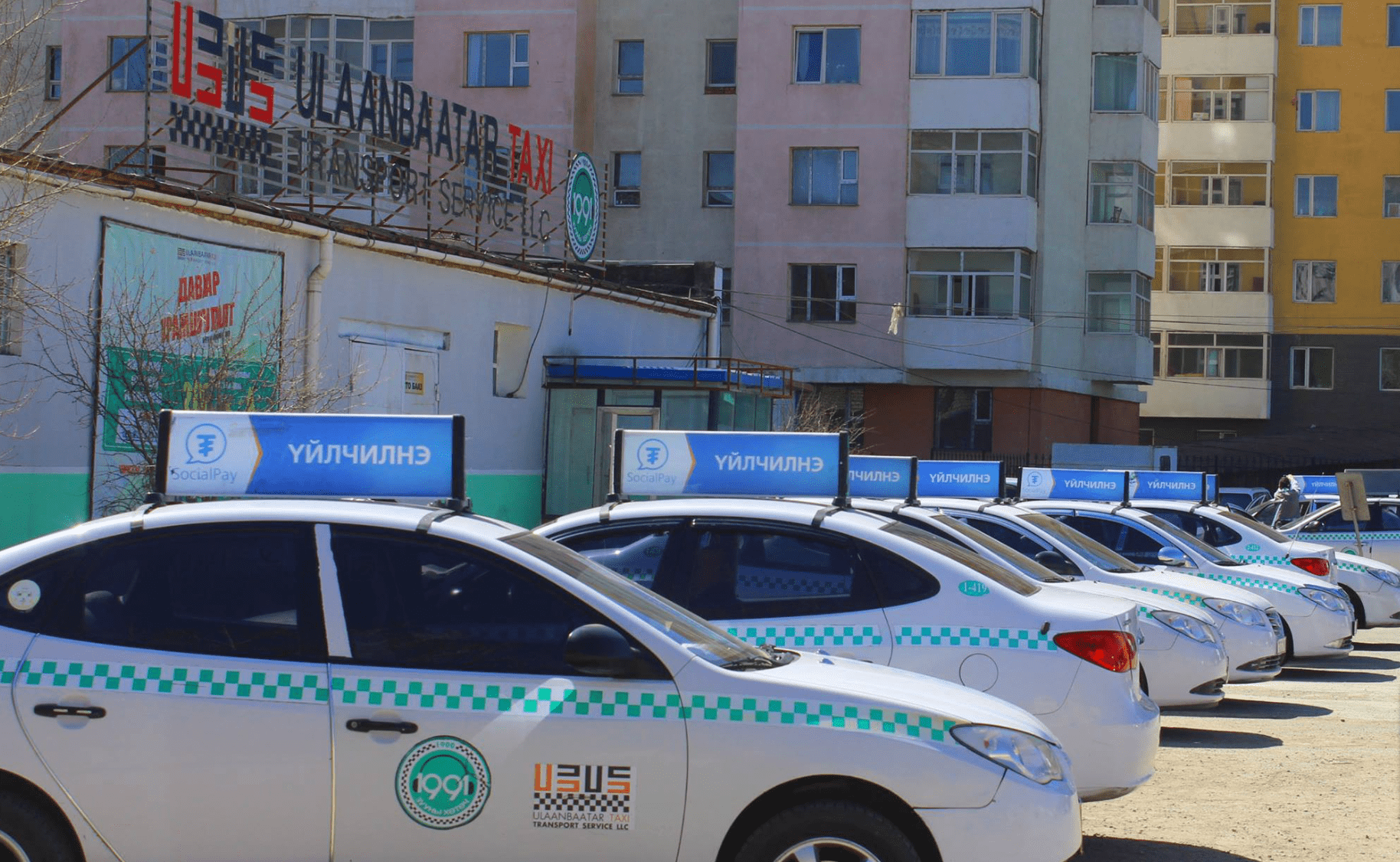 Ulaanbaatar taxi prices
Ulaanbaatar taxi costs are kept pretty low considering that in order to compensate for the small number of official taxis in the city, it is possible to hail private vehicles to take you where you need to go. These private vehicles are not registered and while they provide lower trip fares, they are not regulated and drivers are known to charge non-locals more than what is considered normal. Fares between official taxi companies may vary slightly but charges should be calculated using a taximeter based on the distance travelled. You can estimate your journey's cost based on the following rates:
Base fare: €0.45 (MNT 1,500)
Price per km: €0.45 (MNT 1,500)
Waiting time fee per minute: €0.15 (MNT 500)
Extra charges may also be applied to your fare if you book a local taxi in advance, are collected from or dropped off at an airport, use a toll road, travel at night, or if the driver is kept waiting. You should also assume that all fares will need to be paid for in cash as most drivers don't accept credit or debit cards.
What our customers say about Welcome
How to get a taxi in Ulaanbaatar
Ulaanbaatar is a bustling and expansive city that is most easily explored by taxi. There are two main types of taxis in Ulaanbataar; official taxis which are identified by a taxi logo and signage; and private taxis which are private vehicles providing taxi services. Hailing a taxi from the street is very simple since both official and private taxis will pull up as soon as you wave at them, although only the official taxis are required to use a taximeter. Whilst this is the quickest way to grab a taxi in Ulaanbaatar, unless you can speak Mongolian and are able to negotiate a fare upfront, it is best to avoid taking a private ride from the street. 
Designated taxi ranks can be found throughout the city, mostly at railway stations, department stores and larger hotels, as well as the airport. Ulaanbaatar taxi apps such as UBCab and ABA Taxi Mongolia are very popular for ordering taxis throughout the city. They have an English app version, the prices are the same as hailing a cab off the street, and drivers must be registered. 
If you don't want to wait on the street for a taxi or if you prefer to plan ahead, you or your hotel can call one of the local taxi companies to arrange for a Ulaanbaatar taxi to come directly to you. Although there are a dozen different taxi companies in Ulaanbaatar, the most widely used are UB Cab (+976 7780 7780) and VIP Taxi (+976 7000 4499). Keep in mind that there will be an additional charge for this service but for the added convenience of being able to wait indoors, especially in the extremely cold winter temperatures, it is worth the small extra cost.
Book your Ulaanbaatar taxi transfer in advance
When you're new to a destination, there's nothing better than knowing you're in safe hands and that you're going to get to exactly where you need to go as quickly as possible. Booking a private Ulaanbaatar taxi transfer in advance allows you to not only plan out your budget and sightseeing trips but also saves you the hassle of flagging down a cab in the street as your driver will be there at a time that suits you. Welcome Pickups can provide you with an English taxi service in Ulaanbaatar so that you can experience all the tourist hotspots throughout the city at a set rate with no hidden fees.
Ulaanbaatar taxi tips
Taxis in Ulaanbaatar only accept cash so be sure to carry some notes and change in the local currency.
Most taxi drivers in Ulaanbaatar don't speak English so you'll need to show them the directions to your destination on Google Maps or have them written out in advance by your hotel.
Take note of your driver's details and registration or request a receipt in case you leave something behind.
Check that the taximeter has been reset before you start your journey.
If you do use a local private taxi provider, track your journey on Google Maps to avoid being overcharged.
Wheelchair accessible taxis in Ulaanbaatar
Navigating Ulaanbaatar can be difficult for anyone with reduced mobility since regular taxis don't provide ramps, lifts, or specialised seating for wheelchair users. However, if you need help taking a taxi in Ulaanbaatar, UBCab taxi service has a number of trained members of staff, who can assist customers with disabilities by helping passengers into the vehicle and folding and storing their wheelchairs.
Ulaanbaatar taxi safety and complaints
To ensure that you feel safe in your taxi in Ulaanbaatar, it is better to take an official taxi, rather than a private vehicle off the street. There have been reports of local private taxi drivers overcharging customers or taking longer routes to increase the fare and if you leave anything behind, they are difficult to track down. If you do find yourself in this position, even when taking an official taxi, or if you feel unsafe in any way during your journey, it is important to note down the driver's details, and the vehicle registration number, and request a receipt if possible. You can then file a complaint with the taxi company directly or by calling the local police.