Readily available taxis in Varna
Varna is a unique holiday destination on the coast of Bulgaria. With impressive beaches and awe-inspiring cultural sights, you and your loved ones will adore exploring this eclectic resort town. As a tourist, a Varna taxi is the safest and easiest way of getting around. You can hail one in the street, call a local taxi number, or pre-book a private transfer for totally stress-free travel.
TRAINED DRIVERS
Hand picked & english speaking drivers
LOW PRICES
Same price as a regular Taxi from the line
FLIGHT MONITORING
Drivers are always on time
QUALITY SUPPORT
24/7 Email & Phone support
How much does a taxi cost?
Night time


(00:00 - 05:00)
VARNA AIRPORT TO CITY CENTRE
CITY CENTRE TO GOLDEN SANDS RESORT
CITY CENTRE TO STONE FOREST
CITY CENTRE TO SUNNY BEACH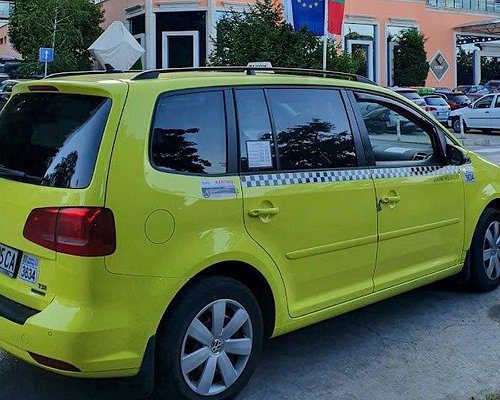 Varna taxi prices
When you take a local taxi in Varna, there should be a visible taximeter. That taximeter will calculate your final fare depending on the distance to your destination and the time of day. For instance, a taxi from Varna Airport to Varna city centre will likely cost you €10 (BGN 20). That journey is roughly 9 km and takes 10 minutes in light traffic. On the other hand, a taxi from Varna city centre to the Golden Sands resort will likely cost €25.50 (BGN 50) as it is a 17 km trip.
The base rate to start the journey is €1 (BGN 2) and the per km rate after that is €0.50 (BGN 1.10). These rates increase during night hours which are 22:00 to 06:00. More specifically, the base rate at night is €1.20 (BGN 2.30) and the per km rate rises to €0.60 (BGN 1.20).
As overcharging is quite common in Varna, it's helpful to ask the driver for a rough estimation of the price before you get into the taxi. It's also important you can see the taximeter throughout the ride. Alternatively, you can book a private transfer in advance so that you can secure a reasonable set-rate fare for all of your travels in and around Varna.
What our customers say about Welcome
How to get a taxi in Varna
When you want to explore Varna, there are plenty of taxis around. They are most commonly found in tourist areas and transport hubs like the airport. You can also hail a Varna taxi in the street, however, as a tourist, it's safer to pre-book a local taxi in Varna or a private transfer to ensure you're riding only with licensed drivers. 
Here are the more popular local Varna taxi numbers you can phone for a pickup: 
Triumf Taxi: +359 (52) 644 444
Omega Trans Taxi: +359 (52) 388 888
Hippo Taxi: +359 (52) 344 444
JoyTaxi: +359 (52) 303 030
Why book a Varna private transfer in advance?
Booking a private transfer in advance to help you explore Varna makes your holiday run much smoother. You won't have to worry about unlicensed drivers or struggling to communicate. With Welcome, you're guaranteed competitive fixed rates, 24/7 customer service and friendly English-speaking drivers. Efficient and reliable door-to-door service means you won't need to wait for a phone taxi to be dispatched or risk hailing an unlicensed taxi driver on the street. Instead, you can secure on-time pickups from wherever you are in Varna to wherever you need to go.
Varna Taxi tips
Some taxi drivers accept euros but this is rare. So make sure you have cash in the local currency, Bulgarian Lev, before getting into a taxi.
Avoid hailing a taxi in the street. Instead, pre-book a private transfer or call a local taxi number for your safety and convenience.
Most taxis in Varna don't come with a baby seat as standard. It's best to pre-book a taxi or transfer if you need a car seat.
Wheelchair-accessibility taxis in Varna
Wheelchair-accessible taxis are available in Varna but not as common; most cabs are standard 4-seater sedans. We recommend pre-arranging a private transfer ahead of time with a specialised company or travel agency, to ensure your accessibility needs are catered for. Just be sure to mention that you need a wheelchair-accessible cab when you book.
Varna Taxi safety and complaints
Varna as a whole is considered a relatively safe city. The taxis in Varna are no different. However, like in most cities, dishonest drivers and taxi scams do exist. If you have any issues with local taxis in Varna, you can contact the following numbers for guidance:
Varna regional police: +359 (52) 615 166
Varna transport police: +359 (52) 502 550
Make sure you have noted down the driver's registration number, details of your journey and your taxi's license plate to help with your complaint.