Taxis in Waterloo
The Region of Waterloo in Southern Ontario is where the country meets the city. Famous for one of the largest farmer's markets in Canada and numerous festivals throughout the year, there are so many reasons to plan a trip to this pocket of the world. The area is serviced by a handful of official taxi companies with around 350 Waterloo cabs available to help you explore the wider region of Cambridge, Kitchener and Waterloo with ease and comfort, and to quickly get you to and from the airport. Waterloo taxis and private transfers can be taken any time of day or night by booking one in advance over the phone, online or through a taxi app, by flagging one down from the street, or by picking one up at the dedicated taxi ranks located throughout the area.
TRAINED DRIVERS
Hand picked & english speaking drivers
LOW PRICES
Same price as a regular Taxi from the line
FLIGHT MONITORING
Drivers are always on time
QUALITY SUPPORT
24/7 Email & Phone support
How much does a taxi cost?
Night time


(00:00 - 05:00)
FROM WATERLOO CITY CENTRE TO VICTORIA PARK
FROM KITCHENER CITY CENTRE TO KEN SEILING WATERLOO REGION MUSEUM
FROM KITCHENER CITY CENTRE TO HURON NATURAL AREA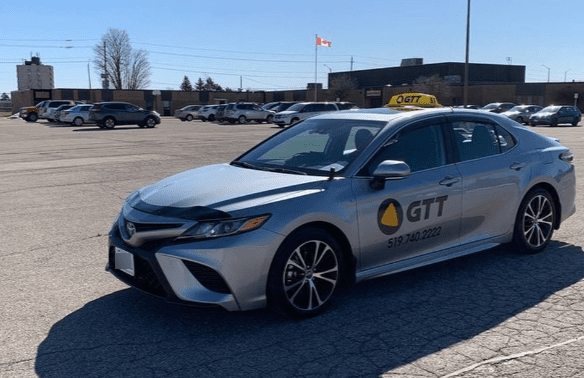 Waterloo taxi prices
Waterloo taxi tariffs have been set by the Regional Municipality of Waterloo so you can expect the same affordable rates throughout the entire region. Most companies will provide a flat fee for out-of-town journeys but for trips within each of the main cities, drivers typically use a taximeter to determine the final price. All Waterloo taxi drivers must display the metered fare prices where passengers can read them.
Base fare:  €2.40 (CAD 3.50)
Per km price:  €1.70 (CAD 2.50)
Taxis in Waterloo also charge €27.10 (CAD 40) per hour for keeping a driver waiting if you've booked a service for a specific time and place, and they can choose to start the meter while you are still loading or unloading luggage.
What our customers say about Welcome
How to get a taxi in Waterloo
The Region of Waterloo is spread out across four different cities and several townships all within close proximity to one another so choosing a taxi to transport you from A to B makes travelling super easy. You can take a taxi directly from the street by flagging one down whenever the 'TAXI' sign on the roof is illuminated, or you can choose to take one from a Waterloo taxi rank which is most commonly found at bus and train stations, large hotels, and shopping centres. If you choose to take a taxi off the street, be sure to check that the taximeter has been reset before heading to your destination.
If you prefer to plan in advance or if the weather isn't ideal for walking the streets to find an available taxi, you can place a call directly to one of the official taxi companies within the region, or book one through their respective taxi apps. Keep in mind that there may be additional charges for the added convenience and keeping your driver waiting will also incur extra charges. For an on-time pickup without any hidden costs, you might like to book a private door-to-doot transfer instead, with a trusted company like Welcome Pickups.
The four Waterloo taxi companies you can phone are –
Waterloo Taxi: +1 (519) 888 7777 
Golden Triangle: +1 (519) 621 1211 
United Taxi: +1 (519) 888 9999 
City Cabs: +1 (519) 747 7777 
Book your Waterloo taxi transfer in advance
It takes less than a minute to pre-book your personalised Welcome transfer, instantly giving you peace of mind that one of our friendly and reliable drivers will be waiting for you at a time and place of your choosing.
With a guaranteed fixed fare you can confidently plan and budget for your trip in advance, and relax knowing that our customer support team will be on hand 24/7 to answer any of your questions so that you can enjoy a hassle-free journey as you explore the Region of Waterloo.
Tips for your taxi in Waterloo
All taxis in Waterloo are required to accept credit/debit card payments without an additional fee but it is good to check that the machine is working before starting your journey.
It is expected that you tip your driver 10% of the total fare.
Check that the taximeter has been reset to the base fare before starting your trip.
Request a receipt at the end of your journey in case you leave any personal items behind.
Wheelchair-accessible taxis in Waterloo
Thankfully you won't have any trouble finding a wheelchair-accessible taxi while in the Region of Waterloo since the Ontario government mandated that all taxi companies provide services for people with a disability or mobility issues. The four official taxi companies of Waterloo have at least one specialised van within their fleet that you can request at the time of booking, so just make sure you specify your needs when you call.
Safety and complaints for Waterloo taxis
Most Waterloo taxis are equipped with cameras for the safety of both the driver and the passenger and using a taxi service is generally considered very safe. However, if you think that your driver has purposely taken a longer route or tried to overcharge you, if they behaved inappropriately at any point or if you felt unsafe in any way, you can submit an online report to the Waterloo City Council or contact the local police. If you find yourself in this situation, be sure to take down the driver's name and registration number and request a receipt.