Fast and reliable Aqaba taxi
When visiting Jordan, Aqaba is a must-see stop. Aqaba is a picturesque port city located on the Red Sea. It has a perfect mix of beaches, a modern downtown and historic monuments, such as the Islamic-era Aqaba Fort. For watersport enthusiasts, Aqaba also has incredible windsurfing and scuba diving spots. The quickest and easiest way to get around the city and fit all sorts of activities in your itinerary is to take an Aqaba taxi. You can easily hail a taxi in Aqaba in the street, call for a pickup or book your transfers in advance.
TRAINED DRIVERS
Hand picked & english speaking drivers
LOW PRICES
Same price as a regular Taxi from the line
FLIGHT MONITORING
Drivers are always on time
QUALITY SUPPORT
24/7 Email & Phone support
How much does a taxi cost?
Night time


(00:00 - 05:00)
FROM HOTELS TO AQABA SHOPPING MALL
FROM CITY CENTRE TO AQABA FORT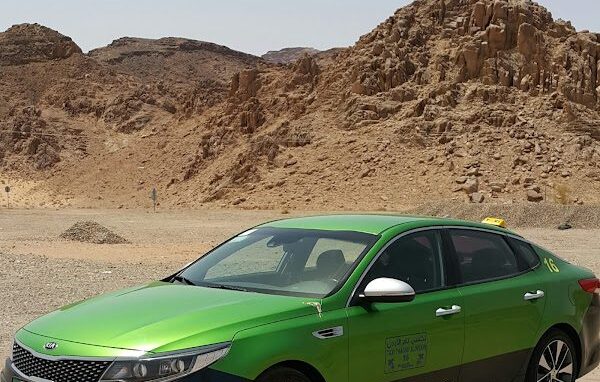 What are the Aqaba taxi prices?
The Aqaba taxi prices aren't set; instead, your driver will decide on a price after you tell them where you wish to travel to. For journeys around the city centre, you can expect to pay around €3 (JOD 2), and for journeys just out of the city or to nearby beaches, you will be charged around €7 (JOD 5). Ensure you agree on a price with your driver before getting in an Aqaba taxi vehicle to avoid unpleasant surprises and overcharges.
What our customers say about Welcome
How to get a taxi in Aqaba
The easiest way to get a taxi in Aqaba is to hail one on the street. While most taxis in Jordan are yellow in colour, the taxis in the Aqaba city centre are green and blue. As there are no Aqaba taxi apps available, for a more personalised transfer option, you can also book your taxi online in Aqaba in advance or call one of the local Aqaba taxi phone dispatch companies;
Taxi Aqaba Jordan: +962 8555 8586
Aqaba Tourist Taxi: +962 777 15 2996
Taxi Ziad: +962 772 61 5599
Why book your taxi in Aqaba with Welcome?
As most taxis in Aqaba are privately owned, there can be extremely varied levels of customer service between the different providers. If you're looking for a reliable transfer company that always puts the customer first, we recommend pre-booking with Welcome Pickups.
All of our drivers are handpicked local professionals and speak fluent English. We also guarantee an on-time pickup every time, competitive fixed-rate fares you can rely on, and a dedicated 24-hour customer service line.
Aqaba taxi tips
Be sure to agree on a price with your driver before beginning your journey.
Clarify that the price your Aqaba taxi driver gives you is for the journey, not per person.
You will need to pay for your taxi in Aqaba in cash, the local drivers don't accept card payments.
There's no Aqaba taxi app available, you will need to pre-book your transfer or call a local company for a pickup.
Wheelchair-accessible taxi in Aqaba
Unfortunately, there aren't any wheelchair-accessible taxis in Aqaba. If you require a specialised vehicle with a ramp or hydraulic lift, you will need to pre-book this service with a private tour operator before you land in Jordan.
Aqaba taxi safety and complaints
To ensure a safe and pleasant journey in a taxi in Aqaba, be sure to only take rides with a licensed vehicle. You can check this by checking if the taxi has a clearly marked taxi number, and that your driver is showing their ID card in the vehicle. Another option is to pre-book your Aqaba taxi rides with a world-renowned and trusted company such as Welcome Pickups instead.