Tangier taxi - the most stress-free way to explore the city
Tangier is a historical melting pot of civilisations, cultures, and people. Sitting right across the Gibraltar Straits, this exotic oriental city bears, at the same time, solid Western influences. It is the perfect gateway to the exciting country called Morocco.
Once you set foot at the northern tip of the African continent, a Tangier taxi is the easiest and most convenient way to get around and explore the city. Taxis in Tangier are affordable, safe, and reliable. Two kinds are roaming the streets: "small taxis" (petit taxis) and "big taxis" (grand taxis). Small taxis are metered and can accommodate up to three passengers. They operate within city limits. On the other hand, big taxis operate on fixed routes and rates, much like bus lines do. Each of the six people boarding the vehicle pays a pre-determined fare per person. They are usually used to travel to distant/opposite parts of the city, or other cities.
TRAINED DRIVERS
Hand picked & english speaking drivers
LOW PRICES
Same price as a regular Taxi from the line
FLIGHT MONITORING
Drivers are always on time
QUALITY SUPPORT
24/7 Email & Phone support
How much does a taxi cost?
Night time


(00:00 - 05:00)
TANGIER CITY CENTRE ➙ TETOUAN
TANGIER CITY CENTRE ➙ HERCULE'S CAVE
TANGIER CITY CENTRE ➙ TANGIER RAILWAY STATION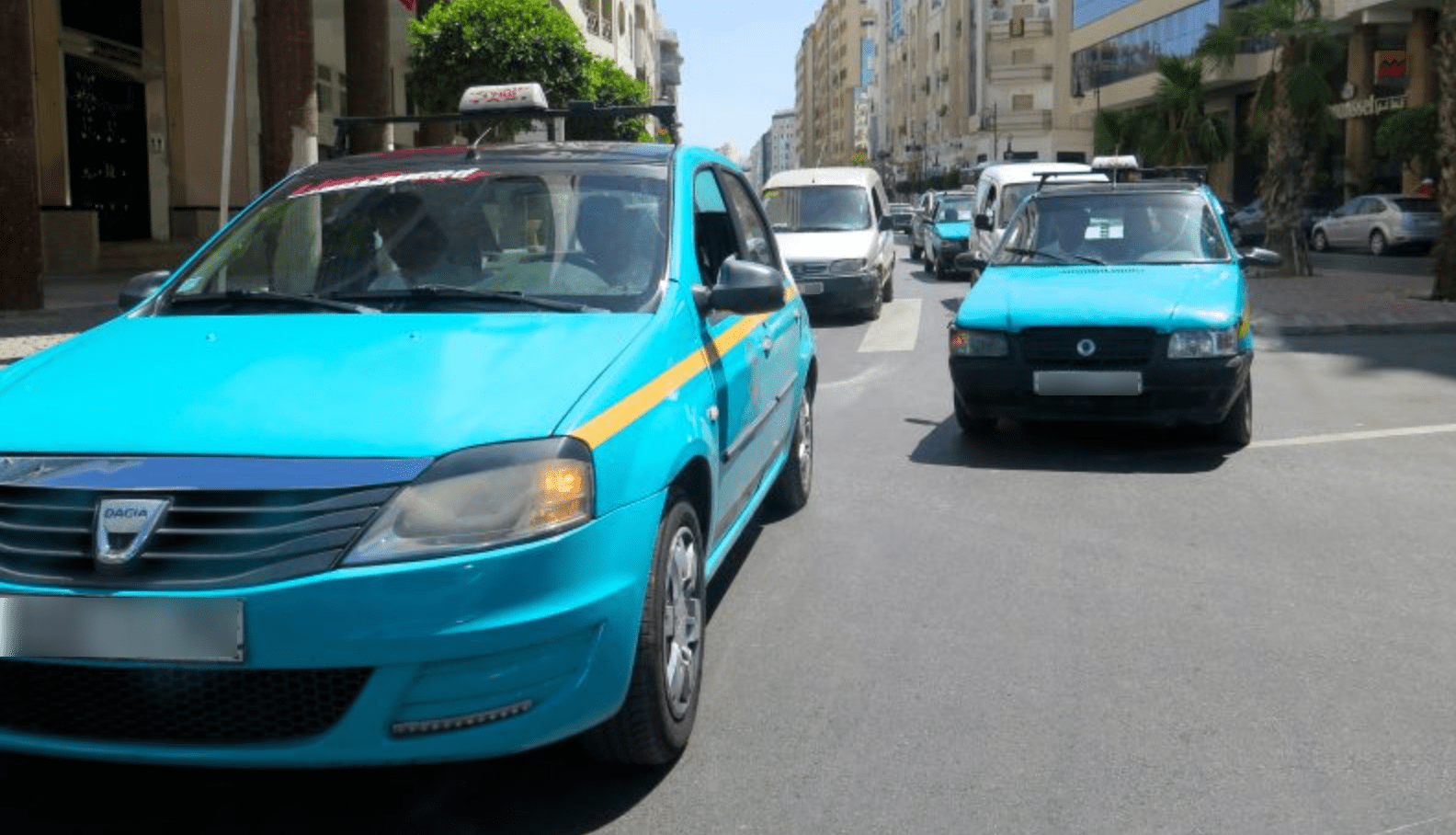 Tangier taxi fares
In Morocco, taxi fares are government-controlled. There might be slight differences regarding extra charges for luggage etc., but the basic rates are the same and universally applied by all drivers. In Tangier, the metered small taxis have the following prices:
Base fare – €0.45 (MAD 5)
Avg. rate/km: €0.55 (MAD 6)
Waiting/hour: €6.40 (MAD 70)
Keep in mind that at nighttime (22:30-05:30), rates are about 50% higher. If you decide to take a big taxi, the average fare is €0.90 (MAD 10) per person.
What our customers say about Welcome
How to get a taxi in Tangier
Catching a taxi in Tangier is easy and quick. Small taxis are light blue with a yellow horizontal line. They can carry up to three passengers simultaneously, so depending on the size of your party, you can all board the same vehicle or split up. If you want to hail a cab on the street, hold out your arm and raise two or three fingers to indicate the number of people riding together. For instance, if a seat in the car is already taken and there are 2 of you, the driver will let you in if your destination is on their way.
Big taxis are shared and depart from designated ranks, depending on the destination. In that case, you can ask where taxis for your desired location leave from and go there. Be prepared to wait for all six places to fill up. If you don't want to wait, you can buy all the available places, which will cost much more.
To get a taxi, you can hail one on the street, use the local Careem taxi app or book your ride in advance with a reliable company such as Welcome Pickups, for a seamless door-to-door transfer. Some providers also offer on-demand service from your location upon giving them a call. If that's the type of service you're looking for you can phone one of the better-rated local providers, TAXITANGER – Hamid at +212 662 375 453.
Booking your Tangier taxi in advance
The charm of a much-awaited holiday lies in relaxation and the lack of stress. Welcome Pickups and its 5-star service are dedicated to providing precisely that by taking the hassle out of the picture.
From your initial transfer to the city centre from the airport to your daily visits to local attractions around town, you can forget all about haggling with taxi drivers and worrying about possible no-shows if you pre-book your ride with Welcome. Every single time, one of our rigorously selected, English-speaking drivers will be at your doorstep on time, waiting to take you to your destination with a smile and in complete convenience. Plus, you are guaranteed a competitive, fixed price, all combined with a swift booking process!
Tips for taxis in Tangier
Be sure to keep small change with you, as banknotes of a high value are more difficult to "break down".
Payments by card are a rarity in Moroccan taxis. Keep cash with you.
The taximeters of small taxis can keep track of different trips. Ask the driver to reset it as soon as you board the vehicle. If you find trouble achieving that, ask beforehand about the final fare you will pay at dropoff.
Depending on your destination, especially for transfers outside the city, you might have to wait for all places to be filled if you choose a big taxi.
Wheelchair-accessible taxis in Tangier
Due to the relative oldness of the fleet, most regular licensed taxis in Tangier are not adequately equipped to accommodate persons with reduced mobility. Newer vehicles might be able to fit a folded wheelchair in the trunk, but if your needs require a ramp or a lift, you will have to seek the services of a specialised company.
In Tangier, you can contact Tamaris Golden Tours (+212 (0) 661 941 111). The company has adapted minibuses and vans with a loading winch at the rear or side. Call them in advance and arrange your transfer.
Safety and complaints for Tangier taxis
In general, taxis in Tangier are very safe and reliable. Drivers are courteous, and the worst incidents you could encounter are attempts to overcharge tourists or denial to turn on the taximeter.
However, if you feel that your safety has been at stake during one of your rides, note down the taxi's license plate number and contact the police or government officials to report the case. For the past few years, local authorities have constantly struggled to eradicate bad behaviours or mentalities of the past, so a filed complaint would be a good step in that direction.
As always, the quality of service depends solely on the company and individual you come across, so it's recommended to choose highly-rated providers only.