Tips for Taxis in Tashkent
Tashkent taxi services are definitely the most convenient way to travel around this bustling metropolis. With its rich history and culture, visitors will want to explore every corner of the capital city of Uzbekistan. While public transportation options are available, hopping in a taxi in Tashkent is one of the most convenient, cheap and comfortable ways to get around. You'll find plenty of Tashkent taxi services, all offering a private, quick and easy way to reach your destination. Whether you're heading to a popular tourist spot, visiting friends and family, or going to a business meeting, using a Tashkent taxi is the best choice for your transportation needs.
TRAINED DRIVERS
Hand picked & english speaking drivers
LOW PRICES
Same price as a regular Taxi from the line
FLIGHT MONITORING
Drivers are always on time
QUALITY SUPPORT
24/7 Email & Phone support
How much does a taxi cost?
Night time


(00:00 - 05:00)
TASHKENT CITY CENTRE ➙ Chorsu Bazaar
TASHKENT CITY CENTRE ➙ SAIRAM-UGAM
TASHKENT CITY CENTRE ➙ SAMARKAND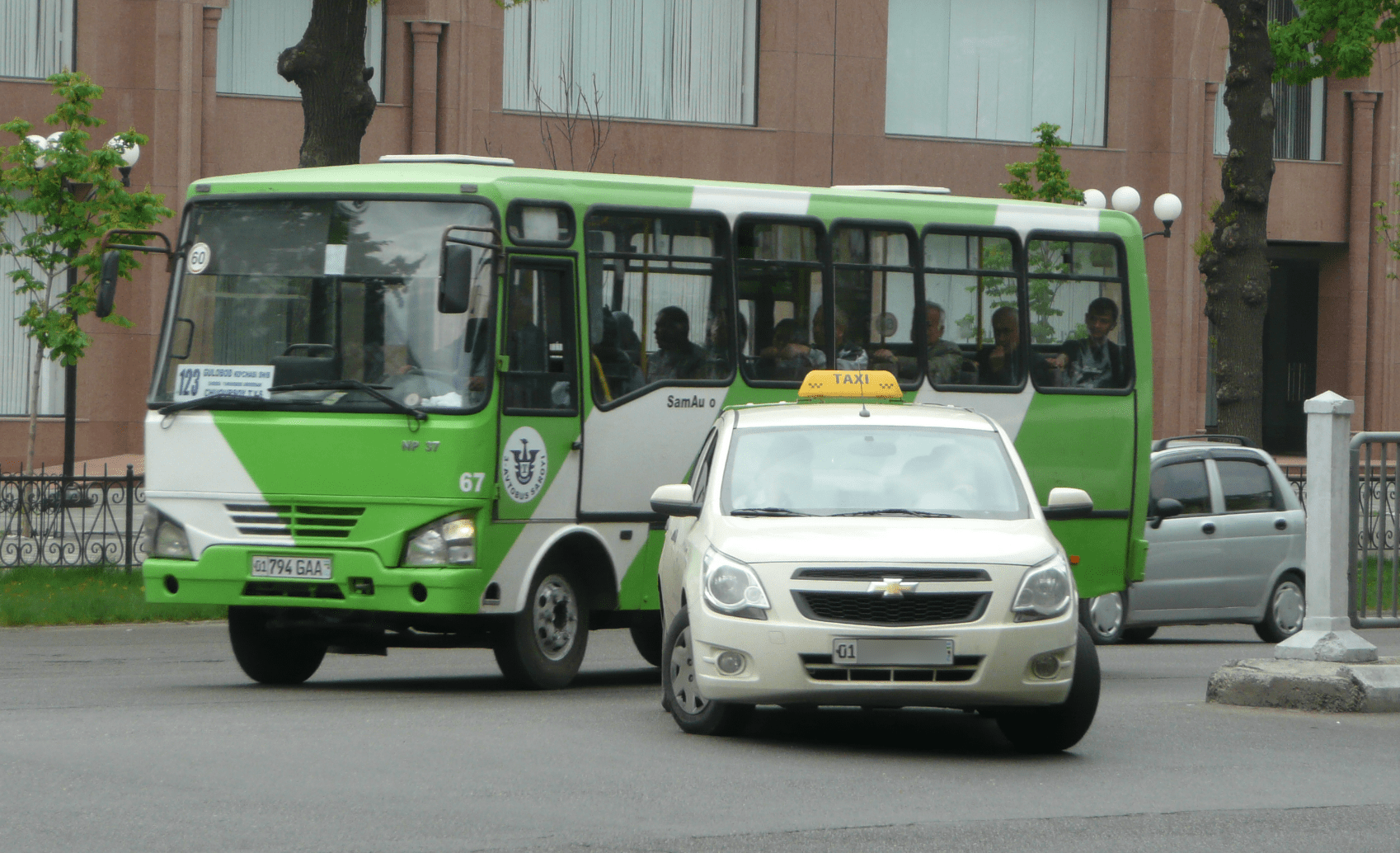 Tashkent Taxi Prices
The prices for taxis in Tashkent may vary depending on the taxi provider, distance travelled, the number of passengers, and traffic conditions. When it comes to Tashkent taxi fares, expect to pay around €0.25 (SUM 3,033) per km, with a starting fee of €0.50 (SUM 6,066) and a waiting fee of €4.72 (SUM 57,272) per hour.
To ensure a smooth and hassle-free ride, we recommend choosing an official taxi company and agreeing on the fare with the driver before starting your journey. This will help you avoid any confusion or misunderstandings regarding the pricing. Alternatively, you can always pre-book your transfers in and around the city centre of Tashkent with a reliable, English-speaking Welcome Pickups driver at a flat, competitive fare.
What our customers say about Welcome
How to get a taxi in Tashkent
Getting a taxi in Tashkent is an easy and convenient process. However, it is recommended to use official taxi companies to ensure a safe and reliable journey. You can find designated taxi ranks located in busy areas such as tourist attractions, hotels, and transportation hubs throughout the city.
Look out for vacant taxi vehicles with a lit rooftop sign, and you can hail a taxi directly from the street. Alternatively, you can pre-book your ride or call a phone dispatch company for a pickup. Some of the most popular local taxi providers in Tashkent are; Taxi Airport Tashkent – reachable at +998 33 140 28 01 or Taxi Perevozchik, reachable at +998 71 200 77 07.
Whether you need a ride to the airport, a business meeting, or a night out, Tashkent taxi services are available 24/7 to meet your transportation needs. Alternatively, you can always pre-book your ride online if you know when and where you'll be needing a cab.
Booking your taxi in Tashkent
If you're looking to arrange your transportation in Tashkent, Uzbekistan, it is recommended to pre-book a taxi to ensure a smooth and hassle-free journey. This is particularly important for longer journeys or during peak hours. By booking your taxi with Welcome Pickups in advance, you can be assured of a reliable, experienced, and knowledgeable local driver who will be waiting for you at the specified location and ready to transport you to your desired destination at a competitive and fixed price, with no hidden fees. Additionally, our 24/7 customer support team is always available to assist you with any questions or concerns you may have, ensuring a stress-free travel experience.
Tips for booking a taxi in Tashkent
Always confirm the price and any additional fees, such as tolls or taxes, before starting your journey to avoid any surprises.
If you are taking a taxi at night, sit in the back seat and keep your belongings close to you.
Make sure to ask for your receipt after your journey is complete in case you leave anything in the taxi.
Wheelchair-accessiblet Tashkent taxi service
Wheelchair-accessible taxis in Tashkent are available and can be booked in advance through several local taxi companies. VMA Assistance is a company that provides fully wheelchair-accessible vehicles to accommodate passengers with reduced mobility. These taxis are spacious and designed to provide comfort and safety for wheelchair users.
It's important to pre-book your wheelchair-accessible taxi in advance to ensure availability and to confirm that the vehicle is fully equipped to meet your specific accessibility needs. Moreover, be sure to communicate any special requirements, such as the need for a ramp or lift, to the taxi company when making your booking.
Safety and complaints for taxis in Tashkent
When it comes to safety and complaints about Tashkent taxi services, the first advice is to always choose taxi companies that are well-known and have a good reputation to avoid any problems.
If, however, your Tashkent taxi journey did not go well and you would like to file a complaint, you must first contact the taxi company you used. If your complaint is left unanswered or you're not satisfied with the solution that was provided, then you may refer to the Tourist Police by calling +998 1173 (tourist hotline) +998 1102 (police helpline) or +998 102 (police emergency call centre).
Please, always remember to ask for your receipt at the end of your taxi ride as your driver's information is on the slip.