Taxi Service in Kingston
Kingston, the capital of Jamaica, is definitely worth exploring if you're visiting the island. From stunning landscapes and exquisite cuisine to the reggae culture, Kingston offers numerous activities and you can have a great vacation there.
Taxi service in Kingston is perfectly safe and reliable and it's a very convenient option to get from one activity you have planned to the next quickly and comfortably. You will find two different types of taxis, the so-called route taxis and chartered taxis. Route taxis cover pre-defined routes for a fixed fare, similar to a bus line. Chartered taxis are regular taxis in Kingston operated by official companies that provide on-demand service. Hopping in a Kingston taxi or pre-booking your personalised Kingston transfer is the best way to move around the city. You can find a taxi all around the city, especially in popular areas, and if you see one available you can wave over to the driver to stop. There are also various applications that allow you to order a taxi online or you can call one of the many official operators providing taxi service in Kingston.
TRAINED DRIVERS
Hand picked & english speaking drivers
LOW PRICES
Same price as a regular Taxi from the line
FLIGHT MONITORING
Drivers are always on time
QUALITY SUPPORT
24/7 Email & Phone support
How much does a taxi cost?
Night time


(00:00 - 05:00)
KINGSTON CITY CENTRE ➙ EMANCIPATION PARK
KINGSTON CITY CENTRE ➙ TRENCH TOWN
KINGSTON CITY CENTRE ➙ HOPE BOTANICAL GARDENS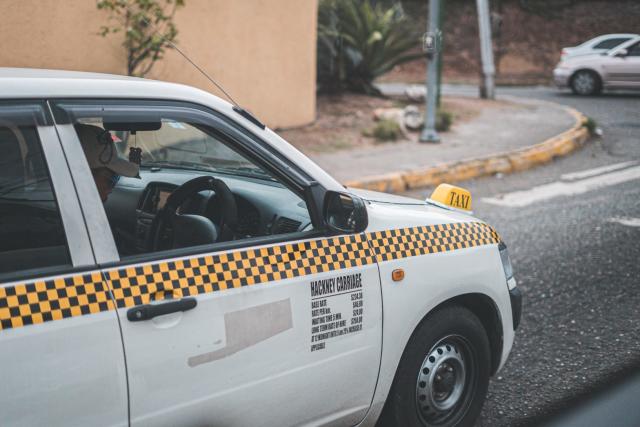 Kingston Taxi Fares
Using a taxi in Kingston is safe for locals and tourists alike, as they're regulated by the Transport Authority. Despite the different rates among the various operators, scams aren't common and you shouldn't encounter any issues. Most chartered taxis are metered and calculate the fare based on the total distance driven.
Avg. base fare – €2.40 (JMD 400)
Avg. rate/km – €2.70 (JMD 450)
Keep in mind that each operator might have additional fees for luggage or additional passengers. Also, you shouldn't confuse chartered taxis with route taxis, which run specific routes and have a fixed fare. If you want to know the exact fare in advance and enjoy peace of mind, you can pre-book your Kingston taxi with Welcome and ensure a flat, competitive price.
What our customers say about Welcome
How to Get a Taxi in Kingston
Taxi service in Kingston, Jamaica is a popular transportation option, used both by locals and foreigners. There are two different types of taxis in Kingston; route taxis and chartered taxis. Route taxis operate the same way as local buses; they run a specific route from point A to point B and have a set fare. You can distinguish route taxis by the words "Route Taxi" that are written on both sides of the vehicle. Chartered taxis are the regular official operators that provide on-demand service. These taxis can usually come with a taxi sign on the roof and red plates and can be hailed on the street. You can also order a taxi online using the various app-based operators or over the phone by calling the contact centre of each company. Some operators you can phone that provide reliable pickup service are:
876 On The Go: +1 (876) 648 1346
Ontime Taxi: +1 (876) 926 3866
Express Taxi Service: +1 (876) 923 7253
In any case, if you know when and where you'll be needing a ride, you may also choose to pre-book your transfer online.
Pre-booking your Taxi in Kingston
If you prefer to start your trip in Jamaica in the smoothest way possible, pre-booking your Kingston taxi with Welcome Pickups will provide stress-free transportation from the moment you land at Kingston Airport. Instead of waiting in line, worrying about cash or wondering how much the final fare will be, you'll enjoy the full Welcome Pickups experience. That includes a driver holding a sign with your name on it waiting for you upon arrival, a competitive fixed rate which you'll know and pay in advance, and professional door-to-door service to reach your accommodation quickly and comfortably. Moreover, even for your in-city routes, Welcome provides a flexible cancellation policy so instead of looking for a taxi each time you wish to move around the city, you can pre-arrange all your transportation needs for the entire duration of your trip and make any necessary adjustments freely if there is a change of plans.
Kingston Taxi Tips
Before you start the ride, it's best to ask your driver about the rate as fares may vary among the various operators in the city.
If the taxi is metered, make sure that the taximeter is set to the base fare and that it's in use for the entire ride.
Most taxis don't accept card payments so always carry cash in the local currency, preferably in small notes; in some cases, you might be able to pay in US dollars.
If you hail a taxi from the street, make sure to check if it's a chartered or a route taxi; route taxis only operate specific routes from point A to point B and can take multiple passengers along the way.
Wheelchair Accessible Taxi Service in Kingston
Being the capital of Jamaica, Kingston is more wheelchair-friendly compared to other remote destinations on the island, offering accessible accommodation, attractions, and transportation. Regular taxis can fit a foldable wheelchair in the trunk but they're not suitable for passengers who need to remain seated on the mobility aid during the ride. If that's the service you require, you can arrange all your transfers with a company like Jamaica Wheelchair Taxi by calling +1 (876) 974 2063; they provide vans that are equipped with a ramp, allowing full access to wheelchair users. It's best to make your arrangements in advance to ensure availability for all the trips and activities you have planned in Kingston or the surrounding areas.
Kingston Taxi Safety and Complaints
Taxis in Kingston and Jamaica in general are a reliable transportation option. The rates for official taxis are regulated by the Transport Authority and scams aren't a common occurrence. If you wish to report any incident concerning either an unreasonably high fare or unprofessional behaviour on behalf of the driver, you can submit a complaint form to the Jamaica Transport Authority or contact them via phone, toll-free at +1 (888) 991 5687. It will help to have as much information as possible, including the driver's name, registration number, and license plate.