Fast and reliable Biarritz taxi service
Whether you're looking for an exciting surfer holiday or a relaxing luxury beach vacation, Biarritz won't disappoint you. This elegant seaside town is located on France's Basque coast. Over the years, Biarritz has been frequented by many European royals and celebrities, due to its world-class restaurants, boutique shops and luxury hotels. To get around this luxe town, the easiest and most comfortable way to travel is to take a Biarritz taxi. There are many different Biarritz taxi companies operating throughout the town, which you can hail in the street, find at taxi ranks, book in advance or call on the phone.
TRAINED DRIVERS
Hand picked & english speaking drivers
LOW PRICES
Same price as a regular Taxi from the line
FLIGHT MONITORING
Drivers are always on time
QUALITY SUPPORT
24/7 Email & Phone support
How much does a taxi cost?
Night time


(00:00 - 05:00)
FROM BIARRITZ BEACH TO BIARRITZ AQUARIUM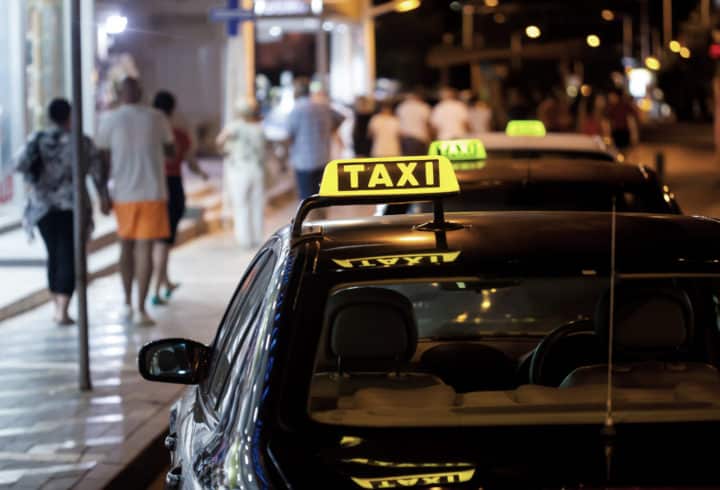 What's the cost of a taxi in Biarritz?
Taking a taxi in Biarritz will be slightly more expensive than many other French cities. They operate using taximeters which have quite a high government-set maximum. Each Biarritz taxi company will decide on its own fares, but these are the average costs you can expect for rides calculated using a taximeter;
Base fare: €5
Additional price per km: €1.70
Waiting fee – per 1 hour: €38
It's also important to note that extra charges for things such as bringing more than 4 passengers onboard, airport surcharges or heavy item loading will also be added to your final fare.
What our customers say about Welcome
How to get a Biarritz taxi
From local taxis to private companies and pre-booked vehicles, there are many choices when it comes to taking a taxi in Biarritz. If you're in the town centre, you can hail a taxi in the street or walk to a taxi rank; ranks are usually located outside of the main tourist attractions, the airport, along the main beaches and by the train station. 
If you're staying outside of the town centre or are looking to take a longer journey, you can pre-book your transfer or call a phone dispatch Biarritz taxi company for a pickup. Some of the top-rated phone dispatch taxi companies in Biarritz are; 
Sud Taxi: +33 564 271 010
BJB Chauffeur: +33 622 117 251
Atlantic Radio Taxi: +33 559 031 818
Chauffeur VTC: +33 672 018 774
Why book your taxi in Biarritz with Welcome Pickups?
As there are no fixed rates for taking a local taxi in Biarritz, you can end up paying much more than you wanted for your journeys around town. To ensure you get a fair and set rate every time, we suggest pre-booking your taxi in Biarritz with Welcome Pickups. We offer competitive fixed-rate fares, have fluent English-speaking local drivers, modern vehicles and a 24/7 customer support line, should you need any transport help during your stay in the beautiful seaside town of Biarritz.
Biarritz taxi tips
Ensure your driver turns on and resets their taximeter before you begin your journey.
Only use officially registered taxis in Biarritz by looking for the ID badge and clearly marked taxi number on the front windshield.
A standard Biarritz taxi can take up to 4 passengers.
Tipping your Biarritz taxi driver is expected. You can add around 10% to your final fare.
Wheelchair-accessible taxi in Biarritz
Although the standard sedan-style taxis in Biarritz aren't fully wheelchair accessible, there are a few private companies that offer this service. For example, both Holiday Taxis and Sun Transfers have vehicles equipped with either ramps or lifts for wheelchair users. Be sure to book these services in advance though, as they don't offer immediate pickups.
Biarritz taxi safety and complaints
Due to the high levels of service in the region, taking a taxi in Biarritz is usually a safe and pleasant experience. However, quite a few private companies are operating throughout the town so, naturally, the quality of service may vary. If you do have any serious issues during your journey, you can report the matter directly to the company you used – or, if needed, escalate it to the local police by calling +33 559 012 222.