Taxis in Bahrain
Bahrain consists of a small archipelago of over 80 natural and artificial islands along the Persian Gulf. Desert landscapes, ancient ruins, and modern architecture come together in the Arab state. Bahrain has had a rich history as a trade centre since antiquity, and today, the city of Manama is a major financial hub. While visiting Bahrain, you can see artefacts from the Dilmun civilization in the Bahrain National Museum, explore the traditional markets, or have some fun in the sun at one of the state's many beaches.
While travelling around Bahrain, taking a Bahrain taxi is the easiest way to get to wherever you are going. Several taxi companies offer taxi services in Bahrain. If you need a lift, you can take a taxi from a taxi stand, hail a taxi from the street, call to request a ride, or use an app to book a driver. The taxi cost is based on a metered rate, with fares costing more at night and on Fridays, Saturdays, and holidays. For a competitive flat rate you can rely on, you can also book your ride in advance with a professional English-speaking Welcome Pickups driver.
TRAINED DRIVERS
Hand picked & english speaking drivers
LOW PRICES
Same price as a regular Taxi from the line
FLIGHT MONITORING
Drivers are always on time
QUALITY SUPPORT
24/7 Email & Phone support
How much does a taxi cost?
Night time


(00:00 - 05:00)
BAHRAIN AIRPORT TO MANAMA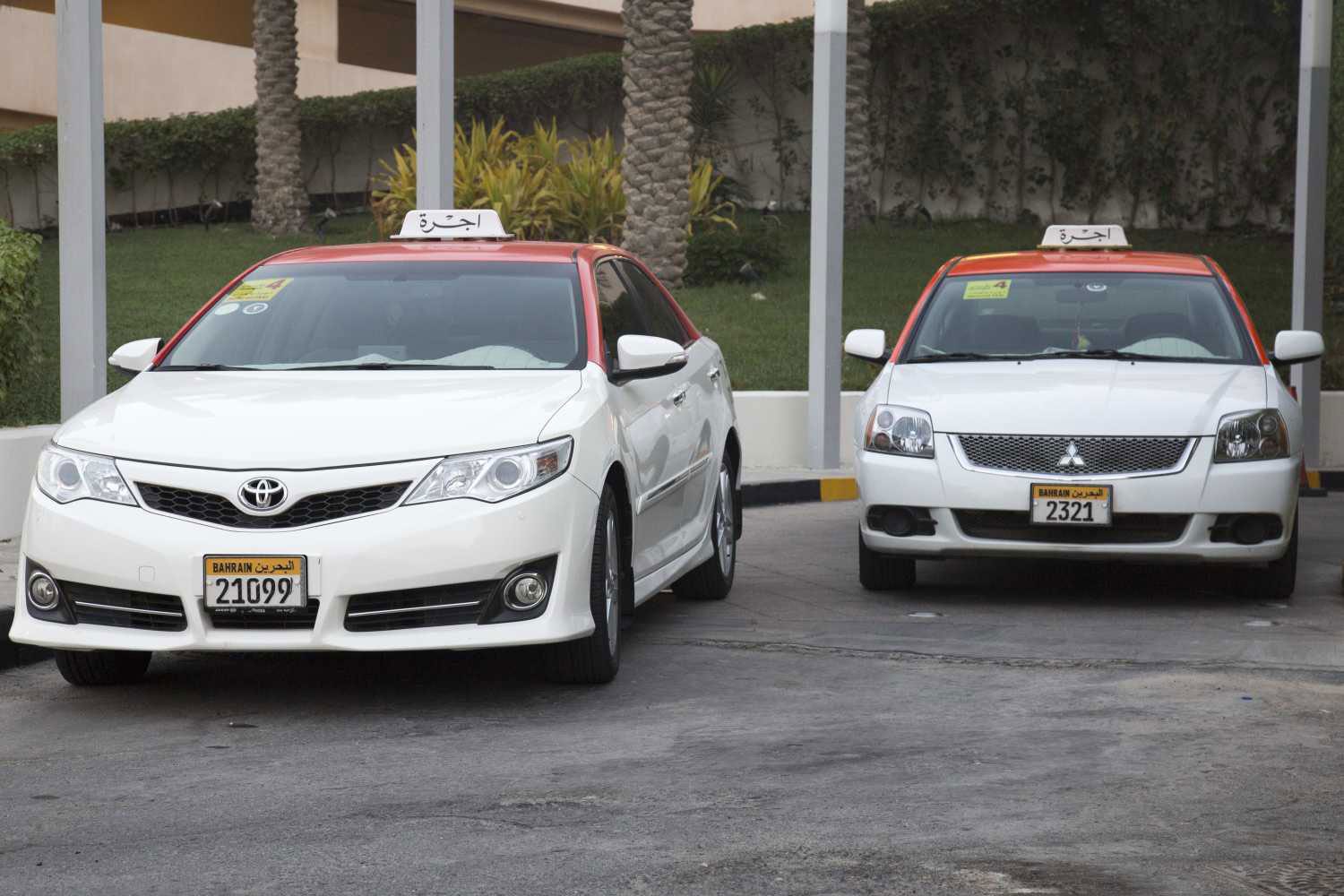 Bahrain Taxi Prices
Bahrain taxis charge their fares based on a metered rate regulated by the government. The fare is determined by a base rate, a price per kilometre, and an hourly rate for standing or waiting. The base fare is higher from 22:00 to 6:00 daily and on Fridays, Saturdays, and public holidays. There are also surcharges for airport or hotel pickups. The metered fare can generally be estimated based on the following rates:
Standard base fare: €2.60 (BDH 1.00)
Base fare from 22:00 to 6:00 and on Fridays, Saturdays, and Public Holidays: €3.30 (BDH 1.25)
Price per kilometre: €1.30 (BDH 0.50)
Hourly rate for standing or waiting: €7.80 (BDH 3.00)
The fare for a taxi service from Bahrain airport to Manama costs at least €16.09 (BHD 6). For a competitive flat rate without any hidden charges, you can book your Bahrain cab in advance with Welcome Pickups.
What our customers say about Welcome
How to get a Taxi in Bahrain
Over 1400 taxis operate in Bahrain. Taxis can be hailed from the street and can be found at taxi ranks near shopping malls and major hotels. You can also call a Bahrain taxi company to request a ride or pre-book your transfer online for a pickup. Official taxis are easy to identify thanks to their distinct orange/white or orange/gold colour, whilst some Bahraini taxis also have checkered roofs. A list of Bahrain taxi companies and their phone numbers can be found on the Bahrain Ministry of Transportation website. To avoid spending time looking for a taxi on the street or phoning for a cab and waiting for a driver to pick you up, it's worth considering booking a personalised transfer with a guaranteed on-time pickup in advance with one of Welcome's professional English-speaking drivers.
Booking your Bahrain Taxi Transfer in Advance
If you know where and when you'll be needing a ride, you can save some time and hassle by booking your Bahrain taxi ahead of time. When you book with Welcome Pickups, you know your prompt driver will be there as soon as you need to be picked up. What's more, you will be charged a competitive flat rate, so you won't have to worry about what a taxi meter will add up to or about additional fees.
Tips for your taxi in Bahrain
A 10% tip for a good taxi driver is standard in Bahrain.
Taxi drivers in Bahrain are supposed to use their taximeter during each trip. Double-check that the driver has it turned their on and set it to the correct base fare when you hop in the taxi.
There is often a surcharge for luggage items and for any passengers after the first 4 of €5.85 (BHD 2.20).
Wheelchair Accessible Taxis in Bahrain
Public buses can accommodate one passenger in a wheelchair and have a ramp to enable easy boarding. There are also a couple of companies that offer wheelchair-accessible taxi rides. For an accessible Bahrain taxi transfer, you can book with Arabian Taxi by calling + 973 1746 1746, or you can book online with Airport Collections.
Bahrain Taxi Safety and Complaints
Bahrain taxis are a safe, comfortable, and fast way to get around Bahrain during your stay. Taxi drivers are reliable and cabs are well regulated by the government. If an issue does come up during your taxi trip, keep a note of what happened, when, and where along with the driver's name and taxi license plate number. You can report any issues through Tawasul (The National Suggestion & Complaint System) online, by email, or via phone (+973 1733 7856 / +973 1733 7801).