Taxi in Tahiti
Tahiti, located in the South Pacific Ocean, is part of French Polynesia. It is known for its pristine white-sand beaches, crystal-clear waters, vibrant coral reefs, and luscious rainforests. The island offers a dreamlike setting for relaxation, adventure, and cultural immersion, and the best way to get around is by taking a Tahiti taxi.
TRAINED DRIVERS
Hand picked & english speaking drivers
LOW PRICES
Same price as a regular Taxi from the line
FLIGHT MONITORING
Drivers are always on time
QUALITY SUPPORT
24/7 Email & Phone support
How much does a taxi cost?
Night time


(00:00 - 05:00)
FROM PAPEETE TO PUNA'AUIA
FROM PAPEETE TO HITIAA O TE RA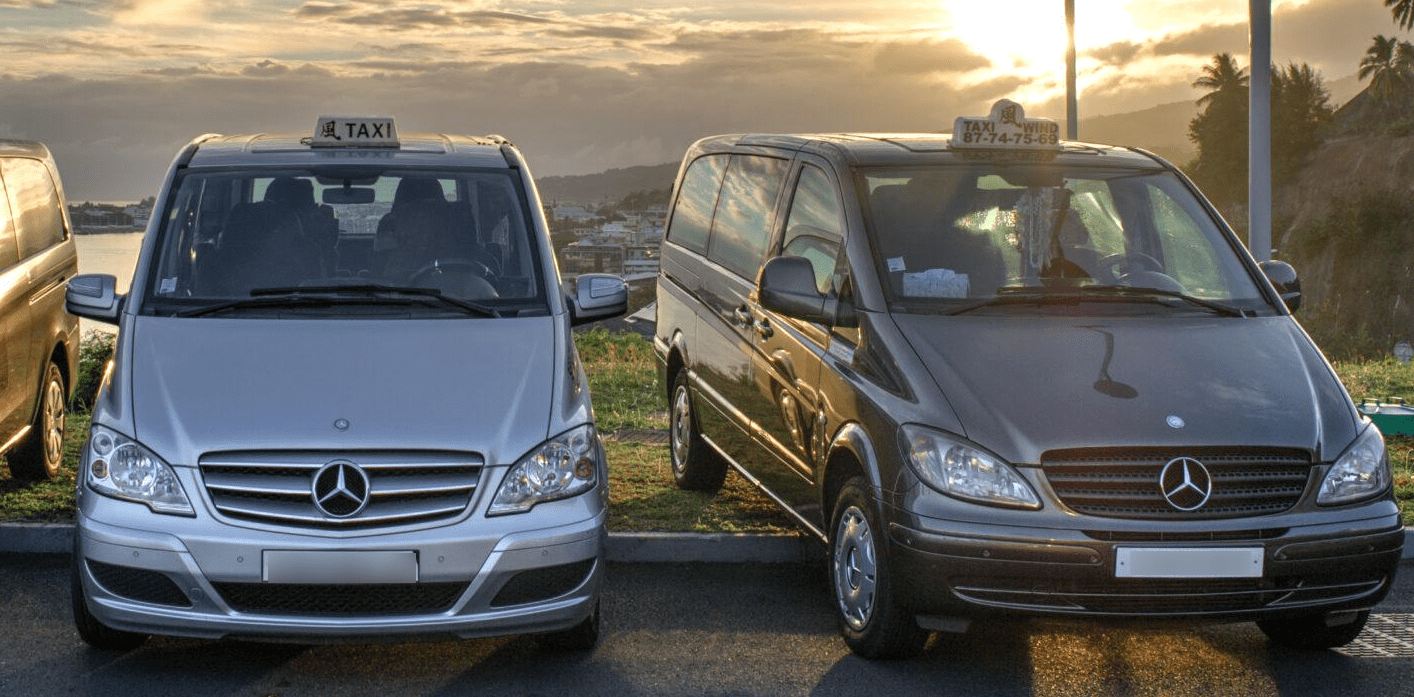 Tahiti taxi prices
Tahiti taxi service providers calculate their fares using a taximeter based on the time and distance travelled, with a price increase at night (20:00 and 06:00) and on weekends.
Tariff 1:
Initial fee: €8.34 (XPF 1,000)
Price per km: €1.08 (XPF 130)
Waiting time per hour: €20.85 (XPF 2,500)
Tariff 2: 
Initial fee: €8.34 (XPF 1,000)
Price per km: €1.92 (XPF 230)
Waiting time per hour: €20.85 (XPF 2,500)
Nevertheless, if you prefer travelling at a fixed price with a local English-speaking driver, it is recommended to pre-book your Tahiti taxi online.
What our customers say about Welcome
How to get a taxi in Tahiti
Getting a taxi in Tahiti is easy as they're widely available 24/7! You can head to a taxi stand in popular areas such as airports, hotels, and major tourist spots or hail a cab straight from the street. Alternatively, you can pre-book your transfers, or contact a local taxi provider over the phone and request a pickup at your preferred location. A few popular Tahiti taxi providers you can call for on-demand service are below;
Taxi Bob: +689 (87) 78 08 82
Taxi Françoise: +689 (87) 77 01 60
Taxi Sandra: +689 (87) 29 02 50
Benefits of booking your Tahiti taxi transfer with Welcome
Exploring new destinations can be overwhelming, especially when travelling with children or in a larger group. Navigating unfamiliar public transportation systems and communicating in a foreign language can also amplify the stress of travelling. That is why opting for a pre-booked private transfer with a local English-speaking driver is the best way to travel.
Welcome Pickups guarantees stellar customer service, 24/7 personalised door-to-door transfers, a wide selection of vehicles and on-time pickups. Additionally, our drivers undergo meticulous selection and training, ensuring a reliable, enjoyable and memorable ride every time. So start your holiday with great peace of mind and book your Tahiti taxi transfer in under 60 seconds with Welcome.
Tahiti taxi tips
Tipping your taxi driver in Tahiti is not mandatory or expected. Although, you can always leave a 5 to 10% tip if you enjoyed your ride.
Please note that there is a price surcharge between 20:00 and 06:00, and on weekends and holidays.
Some taxis in Tahiti accept card payments; however, cash is typically preferred. It is recommended to ask your driver to avoid surprises.
A baggage supplement of €0.83 (XPF 1,000) will be charged per baggage (weighing 5 kgs or more).
Wheelchair-accessible taxis in Tahiti
Regrettably, regular Tahiti taxis cannot accommodate wheelchairs. However, some larger taxi vehicles can. One of the main local taxi providers that can is Taxi Bob – you can reach the company at +689 (87) 78 08 82. It is best to book and confirm your trip details and requirements with the driver in advance.
Tahiti taxi safety and complaints
Tahiti taxis are known for being safe and reliable. Still, if you encounter a bad experience, you can file a complaint with the Taxi Syndicats Coordination of Tahiti by calling +689 89 40 10 30 or filling in their online form. Please notify them of your experience and ensure you keep your transfer receipt, as it contains valuable information you may be asked for.