Astana Taxi Service
Astana, most recently named Nur-Sultan, is the capital of Kazakhstan and a modern city with a truly unique skyline. It is home to many futuristic buildings and monuments, including the Palace of Peace and Reconciliation, the Khan Shatyr Entertainment Centre, the Astana Opera House, and the Bayterek Tower. The city also boasts an impressive city park and the Quay Astana – a pedestrian area that offers a range of activities, including sightseeing boats, active leisure centres, restaurants, and more.
With so many attractions worth exploring, it's important to maximise your time in the city. An Astana taxi or private transfer is the quickest and easiest way to get around. You will not need to look far to find a taxi in Astana, but as they are not very well regulated and the cost and quality of service can vary, we recommend you book your private transfer with a reliable provider.
TRAINED DRIVERS
Hand picked & english speaking drivers
LOW PRICES
Same price as a regular Taxi from the line
FLIGHT MONITORING
Drivers are always on time
QUALITY SUPPORT
24/7 Email & Phone support
How much does a taxi cost?
Night time


(00:00 - 05:00)
Astana Opera House to Atyrau Bridge
Palace of Peace and Reconciliation to Central Park
Bayterek Tower to National Museum of the Republic of Kazakhstan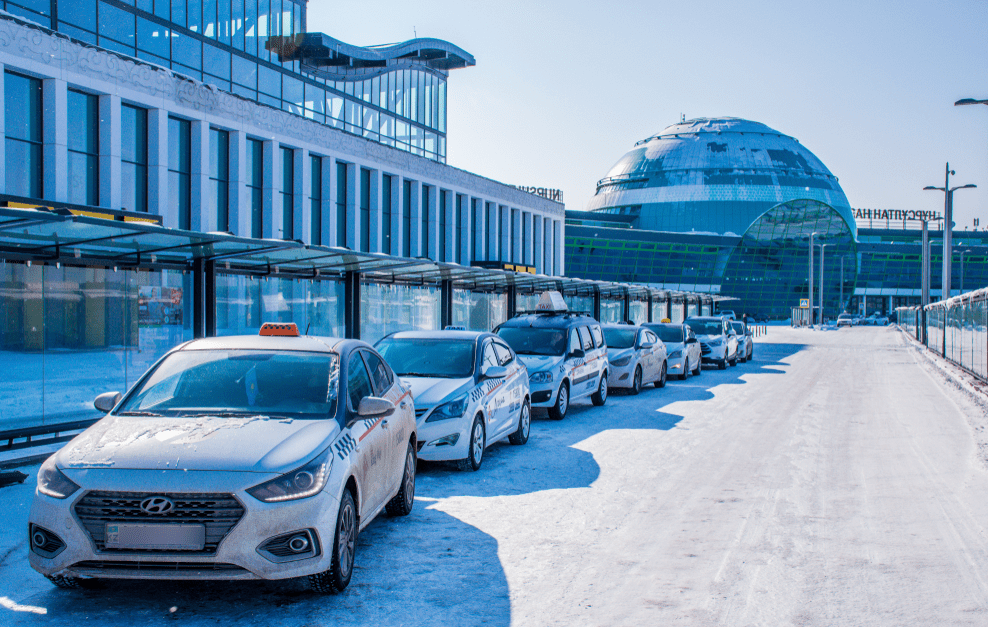 Astana taxi prices
There are numerous taxi services in Astana, Kazakhstan, which can provide convenient and affordable transportation for visitors. Most taxis do not use a taximeter and instead rely on negotiating the price of a ride before setting off. Therefore, to ensure a fair rate for your taxi in Astana, it's best to research average prices to your chosen destination before your trip and agree on the estimated fare and route with the driver. You can also inquire with your hotel concierge.
Although local taxi tariffs are not set, Astana taxis are known to operate with several tariff settings throughout the day, depending on how busy it is. The average local day rates are as follows:
Initial fare:  €1.20 (KZT 600)
Price per km: €0.30 (KZT 150)
Waiting tariff per hour: €3 (KZT 1,500)
These local taxi rates are indicative and subject to change; use these rates as rough estimates only. If you would like to secure a fixed and competitive rate for your private transfer, we recommend booking in advance with Welcome for peace of mind.
What our customers say about Welcome
How to get a taxi in Astana
An Astana taxi can be hailed from the street or called for using a radio taxi company or an online app such as Yandex. Due to a lack of strict regulation, visitors are advised to avoid hailing a cab from the street and to use registered, trustworthy companies instead to ensure a fair price and decent level of service.
Using a more international service or an app is especially recommended for anyone uncomfortable speaking the local language, as many taxi drivers in Astana do not speak much English, making communication quite difficult. To get a taxi in Astana, you can contact one of the highly-rated taxi services in Astana, Kazakstan, by calling them directly on the numbers below. You can also book in advance with Welcome to secure a flat fee for a private transfer with a professional, English-speaking local driver. 
Tez Taxi: +99 (7) 701 779 5968
Trezvyy Voditel' Astana: +99 (7) 705 424 2828
Taksi Mezhgorod Astana: +99 (7) 777 914 8080
Pre-book your Astana taxi service
Booking your airport transfer in advance with Welcome Pickups is the most convenient way to start your vacation in Astana and get around in style. Moroever, if you know when and where you'll be needing a ride during your stay, you can pre-arrange and pre-pay for your in-city trips too, quickly and effortlessly. Our service guarantees on-time pickups, personalised door-to-door transfers, and 24/7 customer support to ensure you have a comfortable and enjoyable experience in this bustling city from the moment you land until you're ready to return home.
Astana taxi tips
It is recommended that travellers avoid flagging down taxis on the street and instead opt for booking with a trustworthy taxi company to prevent any surprises.
To use a taxi in Astana, you'll need to pay with cash in the local currency, as credit or debit cards are not usually accepted. 
Tipping your taxi driver is not required or customary in Astana, but it is becoming more commonplace with the growth of tourism. Should you wish to, you can add about 10% of the fare as your tip. 
A lot of Astana taxi drivers do not speak English, so make sure you have a way of communicating with them and you have your address written down.
Wheelchair-accessible taxis in Astana
Unfortunately, at this time, there is no information available online about wheelchair-accessible taxis in Astana. However, it's worth contacting some of the more established taxi services in Astana, Kazakhstan, to ask if they can accommodate your needs, or book your rides with your chosen tour operator.
Astana taxi safety and complaints
Taking a taxi in Astana is considered safe when using a registered company and, ideally, when booked in advance. Street taxis are considered far less safe as there is a lack of regulation, and many drivers on the road are unlicensed and may be driving vehicles that do not meet national safety standards. Should you need to file a complaint about a taxi or a driver, you will need to contact the associated taxi company directly.
For urgent and serious matters, you can reach the Kazakh police at 102. As always, try to obtain as much information as possible, such as the name of the driver and the licence plates, and once you have filed the complaint, make sure you receive a copy of the police report.