Taxis in Cochin
Cochin, also known as Kochi or the Queen of the Arabian Sea, is one of India's finest natural harbours and was the centre of the world spice trade for centuries. Settled in Kerala, this cultural melting pot brings in around 18 million travellers yearly. Cochin is an incredible holiday destination, and that is why taking a Cochin Taxi is the best way to explore the city.
TRAINED DRIVERS
Hand picked & english speaking drivers
LOW PRICES
Same price as a regular Taxi from the line
FLIGHT MONITORING
Drivers are always on time
QUALITY SUPPORT
24/7 Email & Phone support
How much does a taxi cost?
Night time


(00:00 - 05:00)
FROM COCHIN TO CHERAI BEACH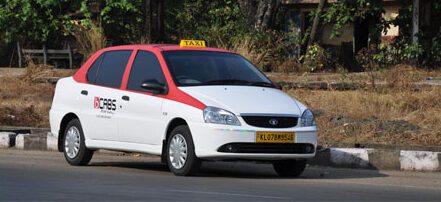 Cochin Taxi Prices
Taxi services in Cochin calculate their fares using a taximeter based on the time and distance travelled to your exact location.
There is only one tariff (see below) as there are no price differences for day, night and weekend journeys:
Base fee: €1.78 (INR 145)
Per Km: €0.40 (INR 32.50)
Waiting time per hour: €0.74 (INR 60)
What our customers say about Welcome
How to get a cab in Cochin
Finding a Cochin taxi service is very easy as many different taxi companies wander the roads. Therefore, you can easily hail a taxi straight from the streets, go to an official taxi rank at any major tourist area or hotel, book a cab on the company's website or call the company directly. Some of the taxi dispatch companies you can reach via phone are:
Call Taxi Cochin: +91 95620 55444
Cochin Royara Cabs: +92 078 00085
B-Cabs Ride Easy: +91 98951 18877
Kerala Taxis: +91 96569 62225
Sobha Cab Services: +91 99613 35449
It is always advised to book a trusted taxi service where possible, as service may vary massively between different companies and drivers. If you wish to travel with a friendly, local English-speaking driver at a competitive fixed price, you can pre-book your Cochin taxi with Welcome Pickups.
The Benefits of Booking a Cochin Transfer in Advance
Travelling around India can be overwhelming, as cities are loud and busy. The last thing you want to do is find your way around Cochin's public transportation, especially if you are travelling with children. You can pre-book your Cochin transfer with Welcome Pickups for a stress-free solution.
Welcome ensures on-time pickups, personalised door-to-door transfers, premium 24/7 customer service, and local English-speaking drivers hand-picked and trained by us.
So, avoid long waits by pre-booking your safe and reliable Cochin taxi in under 60 seconds with Welcome Pickups.
Cochin Taxi Tips
Many taxi companies overcharge tourists in Cochin - some charge over the double government-approved fare, so only book your rides with reliable companies.
It is not mandatory to tip your Cochin taxi driver, although it is always appreciated. Most travellers leave a 10% tip.
Most taxis do not accept credit card payments, although you can always check this with your driver beforehand.
Ensure that your driver turns on and resets the taximeter before starting your journey to avoid surprises.
Cochin Wheelchair Accessible Taxis and Transfers
Regrettably, standard taxis in Cochin cannot accommodate wheelchairs; for that reason, a few specialised Cochin taxi services are available to book, such as:
S N Taxi Service: +91 963 344 5546
Kumar World Travels: +91 484 237 2888
Please note that it is important to book your specialised taxi in advance to ensure availability.
Cochin Taxi Safety and Complaints
If you have experienced a bad taxi encounter, you can file a complaint and report your taxi driver; you will need to keep the taxi receipt that contains all necessary information.
The Motor Vehicle Department in Kerala has introduced complaint lines on +91 854 763 9000 and +91 944 603 3314. Alternatively, you can file a complaint via email directly to [email protected].