Taxis in Porto Alegre
Porto Alegre, the rich metropolis in southern Brazil, offers a unique meld of Portuguese and Brazilian cultures. Situated along the banks of the Guaiba River, Porto Alegre translates to "Joyful Harbour." During your stay, you can enjoy the neoclassical architecture featured throughout the city, various museums, a lively art scene and numerous colourful parks.
Licensed taxis are the safest and most convenient mode of transportation in Porto Alegre. Various companies offer licensed taxis, and if you need a lift, you can call to request that a driver comes to pick you up, or you can take a taxi from one of the city's taxi stands. You can also book your ride in advance with a professional, English-speaking Welcome Pickups driver. Unless you book your ride in advance, taxi prices are based on a metered rate, and the cost may vary between the different taxi companies.
TRAINED DRIVERS
Hand picked & english speaking drivers
LOW PRICES
Same price as a regular Taxi from the line
FLIGHT MONITORING
Drivers are always on time
QUALITY SUPPORT
24/7 Email & Phone support
How much does a taxi cost?
Night time


(00:00 - 05:00)
POA TO PORTO ALEGRE HISTORICAL CENTRE
PORTO ALEGRE TO ARENA DO GREMIO
PORTO ALEGRE TO FUNDACAO IBERE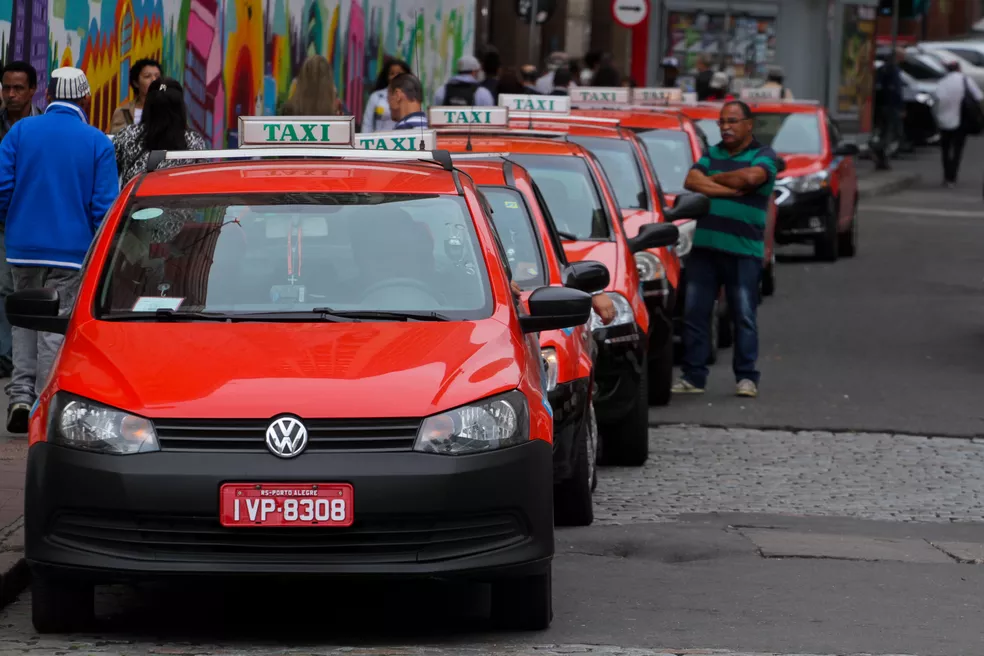 Porto Alegre Taxi Prices
If you take a taxi from one of the Porto Alegre taxi stands, the cost of the taxi fare is based on a metered rate and is determined by a base rate, the number of kilometres travelled and the standing or waiting time. There is no surcharge for travel at night. The fare can be estimated based on the following rates:
Base fare: €0.94 (BRL 5.18)
Price per kilometre: €0.47 (BRL 2.59)
Hourly rate for standing or waiting: €3.33 (BRL 18.31)
The Porto Alegre taxi fare to reach the historical centre from the airport is estimated to be around €5.46 (BRL 30). For a flat competitive rate with no hidden fees, you can also book your transfer in advance with Welcome Pickups.
What our customers say about Welcome
How to get a Taxi in Porto Alegre
Taxis in Porto Alegre can be found in the city centre roaming the streets or waiting at taxi stands. Alternatively, you can call a Porto Alegre taxi company such as COOTAERO (dial +51 3342 5000) to request a ride. To save some time and know your fare upfront, you can also book your ride in advance with Welcome Pickups.
Book your Porto Alegre Taxi Transfer in Advance
Consider booking your Porto Alegre taxi in advance. That way, you know you will get to where you need to go as quickly and comfortably as possible. Your assigned Welcome Pickups' prompt driver will be ready and waiting for you at the allotted time. They will help load your luggage into your pre-selected vehicle and then you can be on your way. You won't have to worry about hauling your luggage around while searching for a taxi stand or trying to navigate public transit in a foreign city. Plus – budgeting is made easy with a flat competitive rate and no hidden fees for your ride.
Tips for your taxi in Porto Alegre
Passengers can pay the taxi fare by cash or card.
White taxis exclusively serve passengers going to or from Porto Alegre airport, while red taxis provide services throughout the city.
Tipping is not obligatory, but often passengers round the fare up to the nearest Brazilian real.
Wheelchair Accessible Taxis in Porto Alegre
There are a couple of companies that offer wheelchair-accessible taxis in Porto Alegre. Exclusivo Taxi Cadeirante is a company dedicated to accessible transportation. They operate at all hours on weekdays, from 5:30 to 14:00 on Saturdays and they are closed on Sundays. You can request a quote for your transfer online, or you can call +51 99702 5543 to book. COOTAERO also has wheelchair-accessible taxis in their fleet. They offer rides 24/7. You can reach COOTAERO by phone at +51 3342 5000, or you can contact them via WhatsApp at +51 98445 9773.
Porto Alegre Taxi Safety and Complaints
Licensed taxis are the safest way to get around Porto Alegre. It is suggested that you take a licensed taxi from a taxi stand or call to request a ride rather than hailing a taxi from the street. If an issue does arise during your taxi trip, keep a note of what happened and when along with the license plate number. You can report the issue directly to the company you used.