Taxis in La Paz
La Paz is a city that offers a unique blend of natural beauty and cultural richness. Its combination of traditional and modern elements makes it a fascinating place to visit and explore. Due to the high altitude of this city, which is over 3,500 meters above sea level, walking can be difficult and tourists often take time to acclimatise. With its steep hills and narrow winding streets, hiring a skilled and experienced driver is essential for convenience and safety reasons. Using a private taxi in La Paz, Bolivia is one of the best options for visiting the city as other means of transport like buses are often packed and finding a seat can be a challenge. Moreover, information on Bolivian public transportation can be hard to find or understand if you do not speak Spanish fluently. To avoid getting lost in the Bolivian capital, and in order to explore the surroundings in comfort, choosing a private taxi in La Paz would be the most suitable option for you.
TRAINED DRIVERS
Hand picked & english speaking drivers
LOW PRICES
Same price as a regular Taxi from the line
FLIGHT MONITORING
Drivers are always on time
QUALITY SUPPORT
24/7 Email & Phone support
How much does a taxi cost?
Night time


(00:00 - 05:00)
LA PAZ CITY CENTRE ➙ VALLE DE LA LUNA
LA PAZ CITY CENTRE ➙ TIWANAKU
LA PAZ CITY CENTRE ➙ HUYANA POTOSI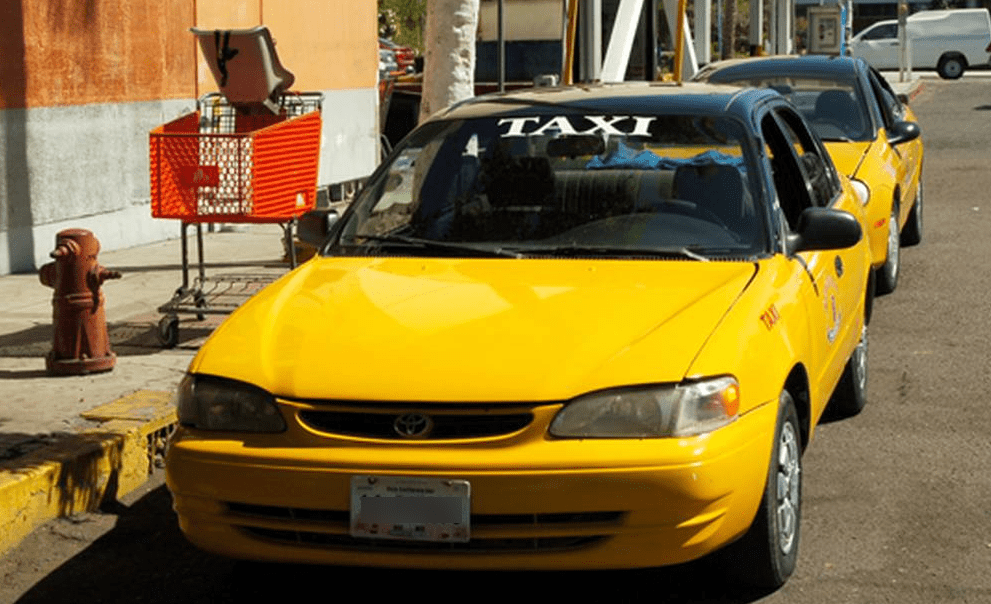 Prices for a Taxi in La Paz, Bolivia
While taxis in La Paz, Bolivia may have taximeters, they are not always used. Typically, taxi drivers will offer a fixed price based on the destination but the fares can vary widely. It's advisable to estimate the cost of the trip beforehand so that you can negotiate a fair price with the driver before entering the taxi. Online searches can give you a general idea of the fares, but as the information can be limited or outdated, it's recommended to ask your driver or even your hotel concierge for a more precise estimate. By being prepared and informed, you can ensure a smooth and fair experience while choosing a taxi in La Paz.
You may find the official Bolivian taxi rates for La Paz presented below. This information can assist you in gaining a better understanding of the potential costs involved, and thereby enable you to negotiate your taxi ride more effectively.
Standard Tariffs:
Initial fee: €1.34 (BOB 10)
Additional fee per km: €1.60 (BOB 12)
Waiting time/hour: €8.10 (BOB 60)
To avoid any surprises or hidden fees and guarantee an on-time pick-up and door-to-door drop-off, you can also pre-book a private transfer online with one of Welcome's trusted local drivers for a fixed price.
What our customers say about Welcome
How to Get a Taxi in La Paz?
Taxis in La Paz are available 24/7 and can be hailed from the roadside with ease. Prior to embarking on a taxi journey, it is advisable to confirm both the intended destination and the corresponding fare. Bear in mind that there are two types of taxis in La Paz: regular and radio. Regular taxis have only a "taxi" sticker, while radio taxis have a bubble sign indicating they belong to an official registered company that can be tracked and are always connected to a central radio station.
It is recommended to choose radio taxis whenever possible. Some of the most popular local taxi providers you can phone are; Radio Taxi City La Paz – reachable at +591 (2) 222 1212, or Radio Taxi Panamericana Alto Obrajes at +591 (2) 223 1313. Alternatively, you can always pre-book your ride online if you know when and where you'll be needing a cab.
Booking your Taxi in La Paz, Bolivia
If you're looking to arrange your transportation in La Paz, Bolivia, it is advisable to have a pre-booked taxi waiting for you at a specific location and at a fixed price, especially for longer routes or for travel during rush hour. By booking your taxi in La Paz with Welcome Pickups in advance, you can ensure that you have a reliable, trustworthy and experienced local driver waiting to pick you up and transport you to the door of your desired destination at a competitive, predetermined price with no hidden fees or surcharges. Moreover, should you have any questions or issues, you can always reach out to our 24/7 customer support team.
Tips for Booking a Taxi in La Paz
Be wary of unmarked taxis, as they can be unsafe. Stick to official taxis or use the Welcome app, which allows you to manage your booking effortlessly and communicate with your driver in real-time.
Always confirm the destination and the cost of the ride with the driver before starting the journey. Consider negotiating the fare upfront to avoid any misunderstandings.
If you are taking a taxi at night, sit in the back seat and keep your belongings close to you.
Avoid taking taxis during rush hour, as the traffic can be heavy and the journey can take much longer than expected.
Wheelchair Accessible Taxi in La Paz, Bolivia
Unfortunately, there are no fully wheelchair-accessible taxis in La Paz, Bolivia. Although some standard taxis may have room for a folded wheelchair in their trunk, if you require a more comfortable transportation option for your local transfers, it may be worth contacting your preferred tour provider to enquire if they can offer any suitable alternatives upon request.
Safety and Complaints for Taxis in La Paz, Bolivia
When using a taxi in La Paz, Bolivia, it's important to take some basic safety precautions and know how to address any complaints or issues that may arise during your ride. The best practice for safety is to only use official taxi companies rather than hailing a random taxi off the street.
If you have a complaint or issue with a taxi driver, try to address it with them directly first. Calmly and firmly explain the issue and try to come to a resolution. If the issue is not resolved or you feel unsafe, you can ask the driver to stop the vehicle and get out. If necessary, you can reach the local Tourist Police at +591 (2) 222 5016 for assistance.