Buffalo Taxi Service
Buffalo is the second largest city in the state of New York, after NYC, and has a wide range of cultural landmarks and attractions such as the Canalside area, the Albright–Knox Art Gallery, Shea's Performing Arts Center, the Buffalo Museum of Science, and the Darwin D. Martin House, designed by world-famous architect Frank Lloyd Wright. Interestingly, Buffalo also boasts the oldest system of public parks and parkways in the entire country. From the impressive Buffalo and Erie County Botanical Gardens and the picturesque Forest Lawn Cemetery to Delaware Park and Buffalo Zoo, this is an especially rewarding city to explore for anyone who loves nature and green spaces.
With so many fascinating and beautiful places to visit in Buffalo, it's important to have a quick and reliable way to get around and one of the most convenient transportation options available is a Buffalo cab. If you know when and where you'll be needing a ride, we recommend booking in advance with a trusted company for a comfortable and reliable transfer at a guaranteed set fare. Alternatively, taxis in Buffalo NY are widely available 24/7 so you should still be able to find a cab without long waits.
TRAINED DRIVERS
Hand picked & english speaking drivers
LOW PRICES
Same price as a regular Taxi from the line
FLIGHT MONITORING
Drivers are always on time
QUALITY SUPPORT
24/7 Email & Phone support
How much does a taxi cost?
Night time


(00:00 - 05:00)
Buffalo Philharmonic Orchestra to Albright–Knox Art Gallery
Shea's Buffalo Theatre to Buffalo Museum of Science
Buffalo Niagara Airport to Downtown Buffalo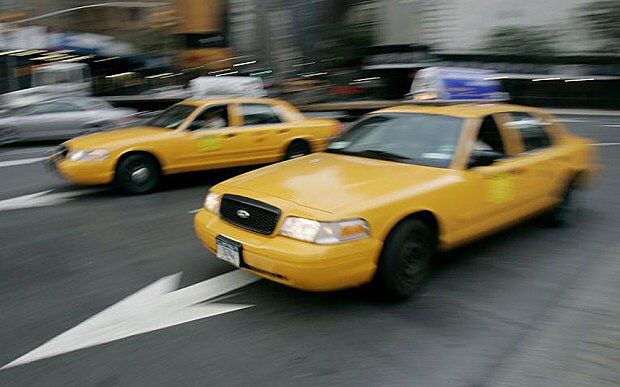 Buffalo Taxi Prices
Cabs operate as private companies in Buffalo, so rates vary depending on the operator. Some companies charge based on distance, and others have set rates for specific routes. Taxis can easily be found at the airport and, often, in places that are particularly busy such as the Metropolitan Transportation Center, the entertainment district, and train stations.
Although the average price from Buffalo International Airport to downtown is around $37 (€35.60), if you want to use a cab service in Buffalo, your best bet to get an accurate price estimation is to call one of the many private companies and enquire about their rates and surcharges. Alternatively, you can book your transfers in advance with Welcome for a reliable and comfortable experience at a fixed rate. 
What our customers say about Welcome
How to Get a Taxi in Buffalo
In Buffalo, you will have to use a private cab company to get around so be sure to inquire about the operator's specific base rates and costs per km, fixed fares – if available, and potential surcharges before booking. To request a pickup via taxi in Buffalo NY, you can contact one of the companies below via phone:
Liberty Yellow Cab Buffalo Taxi: +1 (716) 877 7111
BUF Buffalo Taxi Cab: +1 (716) 400 3018
Surma Taxi: +1 (716) 400 2800
Pre-book your Buffalo Taxi Service
The easiest, fastest, and most stress-free way to enjoy your holiday in Buffalo from the moment you get there, is to book your rides in advance with Welcome. Our cab service in Buffalo guarantees reliable, on-time pickups, personalised door-to-door transfers, and customer support that is available 24/7 to ensure that you are assisted even if plans change or issues arise. Whether you're travelling to/from the airport or getting from point A to B downtown, with Welcome you'll secure a ride with no wait times at a competitive set-rate fare.
Buffalo Taxi Tips
Before booking with a private taxi company, make sure you ask about their rates and surcharges.
Different companies may offer fixed rates for specific routes, so enquire about that when you call for a cab as there may be a more budget-friendly option available than the one you had in mind.
You may be able to find a Buffalo taxi at certain busy areas such as the airport, the entertainment district, the MTC, and outside of train stations.
Tipping is standard across the US, so 15 to 20% of the total cab fare is expected in Buffalo as well.
Wheelchair-Accessible Taxis in Buffalo
There are several companies that offer cab services in Buffalo with fully accessible vehicles. To book a wheelchair-accessible ride, you can contact Liberty Yellow Cab of Buffalo at +1 (716) 877 7111 or the Empire Medical Transportation Provider at +1 (716) 400 6900.
Buffalo Cab Safety and Complaints
Taking a taxi in Buffalo is generally considered to be safe. However, visitors are advised to book in advance in order to avoid delays and make sure they reach their destination on time. If for any reason you're not satisfied with the service received and want to file a formal complaint, you will have to contact the taxi company you booked with directly. However, for serious matters, you should contact the Buffalo NY Police Department at +1 (716) 853 2222 for non-emergencies and 911 for emergencies.