Mazatlan Taxi - The Best Way to Travel
Mazatlan is the perfect vacation spot for any beach, culture or nightlife lover. The Centro Historico is filled with historical architecture, museums and amazing local restaurants, while the Golden Zone is lined with modern resorts, beautiful beaches and amazing bars and clubs. To easily get between these two unique areas, the best way to travel is by taking a Mazatlan taxi. You can hail a Mazatlan taxi in the street, walk to a 'Sitio' taxi rank, call one of the ECO Taxi phone dispatch numbers or book your Mazatlan taxi in advance.
TRAINED DRIVERS
Hand picked & english speaking drivers
LOW PRICES
Same price as a regular Taxi from the line
FLIGHT MONITORING
Drivers are always on time
QUALITY SUPPORT
24/7 Email & Phone support
How much does a taxi cost?
Night time


(00:00 - 05:00)
FROM MAZATLAN AIRPORT TO GOLDEN ZONE HOTELS
FROM CENTRO HISTORICO TO GOLDEN ZONE
FROM MAZATLAN AIRPORT TO CENTRO HISTORICO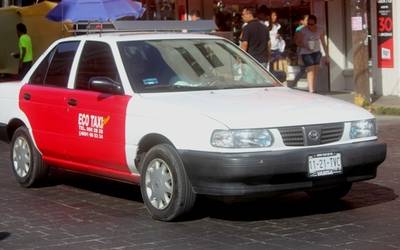 Cost of a Taxi in Mazatlan
The local Mazatlan taxi drivers don't use a taximeter to calculate their fares, nor do they have government-set tariffs. The cost of your taxi in Mazatlan will be determined by your driver. You can haggle with your driver if you feel you are being overcharged, but the average costs for popular journeys are as follows:
Mazatlan Airport to Centro Historico: €15 (MXN 300)
Centro Historico to Golden Zone: €10 (MXN 200)
Golden Zone/Hotel Area to Mazatlan Airport: €25 (MXN 500)
What our customers say about Welcome
How to get a Taxi in Mazatlan
There are three different types of taxis in Mazatlan; Pulmonias, ECO Taxis and Airport Taxis. Pulmonias are basically golf cart taxis that will cover short journeys around the city and they are the cheapest taxis available. ECO Taxis are sedan-like vehicles that are either white and green or white and red in colour. Eco Taxis operate much like a regular taxi you would find in your home town, and are used for longer journeys or for people transporting luggage or larger items. The OMA Mazatlan Airport Taxis are the only local taxi that can pick people up from the airport, these are the most expensive type of taxis. 
You can very easily hail a Mazatlan taxi in the street, walk to a taxi rank (known as a 'Sitio') or call one of the ECO Taxis for phone dispatch. The numbers for the two ECO Taxi companies are as follows:
ECO Taxi Verde: +52 669 986 1111
ECO Taxi Plus: +52 669 985 2828
Benefits of Booking your Mazatlan Taxi with Welcome
If the idea of haggling for a fair price with your driver or trying to explain your destination in Spanish sounds stressful, we've got you covered. At Welcome Pickups, all of our drivers are local experts and speak fluent English. We also offer competitive set-rate prices, guaranteed on-time pickups, 24/7 customer service and fully personalised transfers. Let Welcome Pickups take the stress out of your Mazatlan taxi service, so you can get back to enjoying every second of your Mexican vacation.
Mazatlan Taxi Tips
Be sure to agree on a price with your Mazatlan taxi driver before you begin your journey to avoid any surprises.
Not all Mazatlan taxi drivers speak English, be sure to write down your hotel's address.
Mazatlan taxi drivers accept cash payments only, in both USD and Mexican Pesos.
Luggage or large items that can fit in the trunk of the car can be transported free of charge.
Wheelchair Accessible Taxi in Mazatlan
Unfortunately, the standard Mazatlan taxis aren't wheelchair accessible. Although you can store a folded wheelchair for free, if you have a motorised wheelchair and need a vehicle fitted with a ramp or hydraulic lift, they don't offer this service. If you're looking for a fully wheelchair-accessible vehicle for your Mazatlan taxi service, you will need to book in advance with a private tour company and specify your requirements.
Mazatlan Taxi Safety and Complaints
Generally speaking, taking a licensed taxi in Mazatlan is a safe way to travel. The local taxi drivers are reliable, however as they all work quite independently and decide their own pricing, the level of service and taxi fares may vary considerably. If you feel you have been overcharged or feel unsafe during a ride, you can report it to the individual taxi company, or escalate it to the local police by calling +52 669 986 8126. Just be sure to note your taxi driver's ID number or the taxi number before calling.