Unbeatable service for your taxi in Oaxaca
The colourful city of Oaxaca is the perfect place to explore the rich culture and heritage of Mexico. Their vibrant streets are filled with local crafters selling their wares, tasty eateries where you can sample the famous Oaxacan gastronomy, and historical sites such as the Santo Domingo Temple, the Historic Centro and the Metropolitan Cathedral of Oaxaca. 
Although walking around the historic centre of Oaxaca City is easy, when it comes to exploring more of this sprawling city, you will need a quick and simple way to get around. Taking a taxi in Oaxaca is by far the best way to explore. You can easily hail a local yellow Oaxaca taxi in the street, book your rides in advance or call a phone dispatch taxi company for a pickup.
TRAINED DRIVERS
Hand picked & english speaking drivers
LOW PRICES
Same price as a regular Taxi from the line
FLIGHT MONITORING
Drivers are always on time
QUALITY SUPPORT
24/7 Email & Phone support
How much does a taxi cost?
Night time


(00:00 - 05:00)
FROM AIRPORT TO CITY CENTRE
FROM ADO BUS STATION TO CENTRO HISTORICO
FROM SANTO DOMINGO TEMPLE TO BENITO JUAREZ MARKET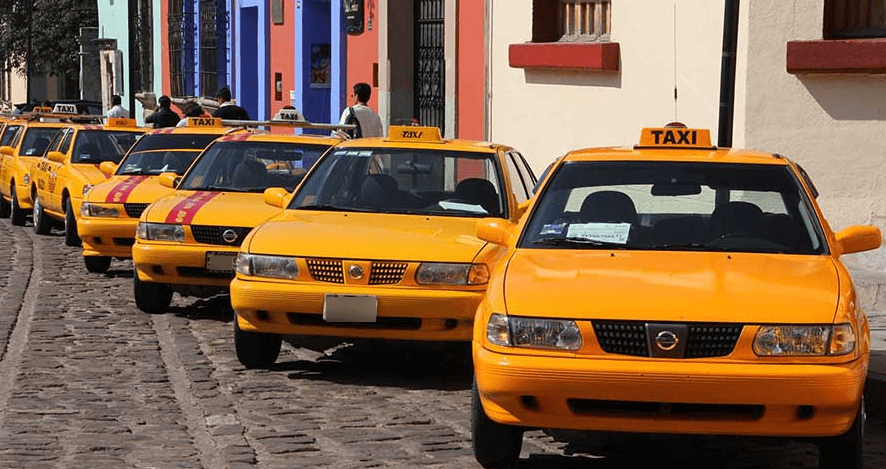 Cost of an Oaxaca taxi
The local taxis in Oaxaca don't use a taximeter to calculate the cost of their journeys, they are supposed to adhere to a zone-based set-fare system. However, most drivers don't use this government-set price guide. Instead, your driver will most likely decide on their own price, based on where you're travelling to. Generally speaking, the cost of an Oaxaca taxi ride in the central area will cost between €2 to €3 (MXN 40 to 60), but prices for tourists may be a little higher.
What our customers say about Welcome
How to get a taxi in Oaxaca
The bright yellow taxis in Oaxaca are easily spotted whizzing around the city centre. You can very easily hail a taxi in Oaxaca if you're in the central area by sticking out your arm when you see an empty vehicle in the street. Taxis also tend to congregate around popular tourist spots, such as the historic plaza, Santo Domingo Temple, the ADO bus station and the main supermarkets. 
If you're travelling late at night or from outside the Centro, it's more convenient to book your Oaxaca taxi transfers in advance or call one of the available private companies that offer pickup service on-demand. Some of the more trusted private taxi companies in Oaxaca are;
Taxi Reforma: +52 (951) 164 0644
Taxi Sitio ADO: +52 (951) 506 0167
Taxi Alameda: +52 (951) 516 2190
Taxis Amarillos: +52 (951) 516 2190
Benefits of booking your Oaxaca taxi with Welcome
As most local Oaxaca taxi drivers don't offer official fares and can change the cost of your taxi journey at a moment's notice, it can be a little stressful to budget your transfers around the city. To avoid having to haggle in a foreign language and unfamiliar city, we recommend pre-booking your taxi in Oaxaca with Welcome Pickups. All of our drivers are fluent English speakers and offer only the most competitive fixed-rate fares. We also have a 24-hour customer helpline and guaranteed on-time pickups, to make your time in Oaxaca as smooth and enjoyable as possible.
Oaxaca taxi tips
Be sure to agree on the cost of your journey with your Oaxaca taxi driver before you begin your journey.
Using a radio taxi in Oaxaca will have a much higher cost than hailing one in the street.
Unofficially, drivers may decide to charge you up to 25% more for travelling at night.
Be sure to only get in a taxi in Oaxaca that has an official taxi number printed on the side.
Wheelchair-accessible taxi in Oaxaca
The standard Oaxaca taxi vehicles are not wheelchair accessible. If you're in need of a fully wheelchair-accessible vehicle that comes complete with a ramp or hydraulic lift, you will need to book in advance with a specialist company. It's important to note that these companies may charge a much higher fee for their services than the standard taxis in Oaxaca.
Oaxaca taxi safety and complaints
Hailing a taxi in Oaxaca is usually very safe and easy. All of the yellow taxis are monitored by the government and must adhere to special licensing and regulations. However, like in any place, you may come across rude individual drivers or overcharging. If this does occur, be sure to note down the unique taxi number and the ID number of your driver. You can then report this incident directly to the transport authority by filing in their online form or calling +1 (800) 111 0185.