Taxis in Beirut
Using a taxi in Beirut is the most common mode of transportation in the city. You'll find many taxis roaming around the streets and looking for their next ride outside major touristic spots. Beirut taxi services are divided into three categories; shared and private taxis, as well as yellow taxis. Shared taxis are the most popular among the locals since their fares are shared between up to four passengers. Private taxis are pre-booked taxis for a specific destination and often are used by tourists. Further, yellow taxis are airport taxis that operate specific routes from and to the airport.
You can easily hail a Beirut taxi from the street during the day, whilst available drivers may also try to get your attention by stopping near you and asking if you need a ride. On the other hand, finding a taxi during nighttime can be challenging, as availability is low. Therefore, it's recommended to pre-book a Beirut taxi if you're travelling late at night. 
TRAINED DRIVERS
Hand picked & english speaking drivers
LOW PRICES
Same price as a regular Taxi from the line
FLIGHT MONITORING
Drivers are always on time
QUALITY SUPPORT
24/7 Email & Phone support
How much does a taxi cost?
Night time


(00:00 - 05:00)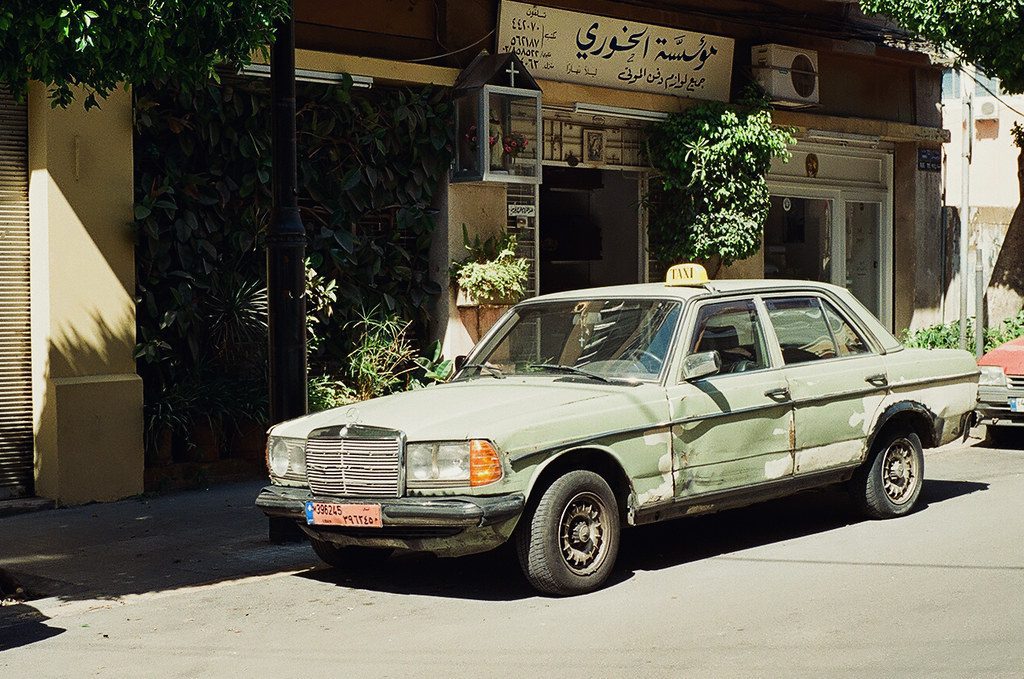 Beirut Taxi Prices
Taxi prices in Beirut are reasonable but not regulated throughout the city, whilst many Beirut taxis don't have a taximeter. The fare is usually agreed upon before the route starts and split with other passengers if any. In general, it's worth noting that negotiating a Beirut taxi fare with drivers is common. You should expect to pay at least around €6 (LBP 9990) for a standard trip within the city, while the fare is double for longer trips or nighttime routes.
Beirut taxis calculate their fares as follows:
Base Fare – €6 (LBP 9990)
Additional price/km – €1.30 (LBP 2145)
Waiting time per hour – €20 (LBP 33000)
For longer routes within the city and nighttime routes, the base fare comes to around €12 (LBP 19.800).
What our customers say about Welcome
How to get a Taxi in Beirut
Finding a Beirut taxi service is easy but can also be challenging as taxis are often shared with other passengers. If another passenger is already in the taxi you hail, drivers will allow you in only if your destination is on their way or if they are willing to make a small diversion. If you prefer to book a private Beirut taxi, you can either call one from your hotel or one of the information counters located near the city's popular tourist spots.
In most cases, whether you are calling up or catching a taxi off the street, you won't have to wait long for your ride to arrive. There are plenty of taxis driving around the city, and all you need to do is look for the official vehicles with their yellow roof light on. Just hold your hand out and wait for the driver to pull over to the side of the road to let you in.
If you find yourself looking for a Beirut taxi late at night, you can request a pickup over the phone. Several companies offer this style of service, though a popular one is Allo Taxi which can be reached on +961 1 517 070.
Book your Beirut Taxi in advance with Welcome
Even though reasonably priced, most Beirut taxis don't use a taximeter. Instead, fares are agreed upon between drivers and passengers. That means there isn't a standard way to calculate your distance travelled and unexpected charges may occur. Further, regular taxis are shared and that may make your trip longer.
If you want to plan your journey's expenses without worrying about hidden fees and surcharges, then you can pre-book your taxi in Beirut and take a lot of weight off your shoulders. For a fixed price, zero waiting time, stellar personalised service and local English speaking drivers, it's recommended to pre-book your Beirut taxi service with Welcome Pickups.
Beirut Taxi Tips
Avoid large notes when paying your fare, as your taxi driver may not have enough change to give you the difference.
Bear in mind that If your destination is a little out of the driver's way or if it's nighttime, the driver might ask for a double fare.
Taxis in Beirut have red plates if they're official. Be mindful and avoid entering taxis with different matriculation plates to ensure a safe ride.
Make sure you hold some cash to pay for your ride as Beirut taxis don't accept card payments.
Beirut taxi drivers are familiar with major destination points within the city. However, you can put your destination on Google Maps or have it written down to ensure things go smoothly.
Beirut is a popular and busy destination, so it might take longer to get from point A to B during peak hours and on Sundays. It's recommended to plan and choose to travel during less busy hours when possible.
Wheelchair Accesible Taxis in Beirut
Unfortunately, there aren't many wheelchair accessible taxis in Beirut yet. However, Wheelchair Taxi Lebanon is a small company that provides minivans with portable ramps and hydraulic lifts making wheelchair transport easy. It's a 24/7 door-to-door service that operates in all areas in Lebanon, as well as Beirut. If you wish to book an accessible minivan with spacious seating, you can call +961 3 385995.
Beirut Taxi Safety and Complaints
Beirut taxi services may vary depending on the company and the driver. If you find your driver rude, if they take a longer route to build up the fare, or if you feel unsafe during your journey, you must note the driver's name or ID number which is visible on their dashboard to make a complaint by calling their company, at your convenience. In general, you may want to avoid independent drivers as those taxis are less regulated.