Wellington Taxi Service
Wellington consistently remains at the top of the list of must-see cities in New Zealand. It's small, compared to other capitals in the world but still has so much to offer. From its stunning harbour to the lush green hills that surround the city, Wellington overflows with creative vigour and cultural diversity.
Even though it's a compact city, taxis in Wellington are a handy option to take you to the numerous attractions dotted around the area. Taxis in Wellington are quite affordable compared to many capitals, so you could also take a taxi to visit attractions in the stunning areas that surround Wellington, like Zealandia and Weta Cave. Taxis are a safe and popular travel option that can be easily found, wherever you might be in the city.
TRAINED DRIVERS
Hand picked & english speaking drivers
LOW PRICES
Same price as a regular Taxi from the line
FLIGHT MONITORING
Drivers are always on time
QUALITY SUPPORT
24/7 Email & Phone support
How much does a taxi cost?
Night time


(00:00 - 05:00)
Wellington City Centre to the Wellington Botanical Gardens
Wellington City Centre to Zealandia
Wellington City Centre to Weta Cave
Wellington City Centre to Mount Victoria Lookout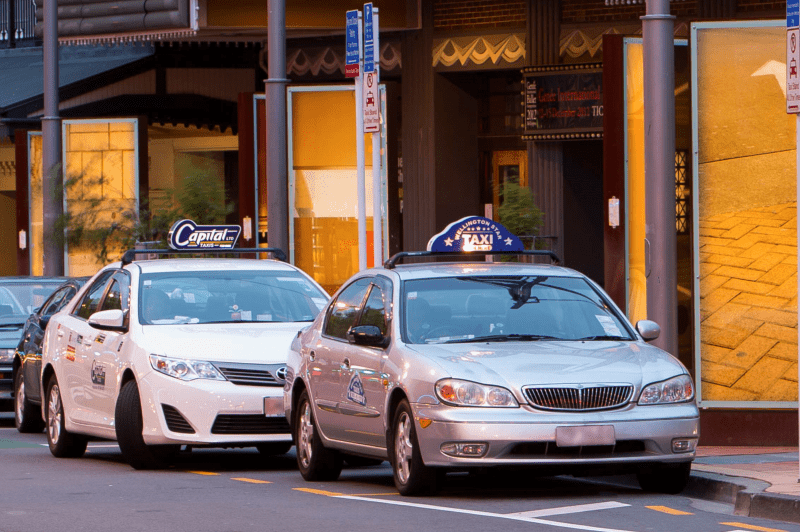 Wellington Taxi Prices
Wellington taxi prices can vary between service providers. Furthermore, taxis are not obliged to carry taximeters, although many do. It is therefore recommended to agree with the driver on how your fare will be calculated at the start of your journey. You can request a fixed rate fare or use a taximeter if one is available. Below are the average fare prices for a taxi in Wellington:
Initial base fee: €1.95-2.30 (NZD 3.30-3.95) 
Per km cost: €1.60-2.10 (NZD 2.70-3.50) 
Waiting time charge / per hour: from $35 (NZD 60)
All transfers to and from Wellington airport are subject to an airport fee between €2.10-2.95 ($3.50-5 NZD), depending on the taxi company. Late-night rides and transfers during holidays are charged at a higher rate. For exact prices please contact your service provider of choice as costs may vary significally. For a competitive set fare and no hidden fees, you may wish you book your trip ahead of time with Welcome Pickups.
What our customers say about Welcome
How to Get a Taxi in Wellington
There are many ways to get a taxi in Wellington. Requesting a taxi directly from your hotel's reception would be the most hassle-free option and you will usually find taxis waiting outside large hotels. Taxi ranks can also be found at major train and bus stations as well as popular shopping centres and other key spots throughout the city. You may also call up for a local cab and have a driver pick you up. The most popular Wellington taxi service providers you can phone for a pickup service include:
Wellington Combined Taxis: +64 (04) 384 4444
Kiwi Cabs: +64 (04) 389 9999
Hutt & City Taxis: +64 (04) 570 0057
Ekocabs: +64 (04) 800 361 163
Booking your Wellington Taxi in advance
Planning ahead for your trip always makes sense, so booking a Wellington airport taxi in advance guarantees a stress-free start to your travel experience and will get you to your hotel or apartment as fast and conveniently as possible. When booking your transfer with Welcome Pickups you will experience a premium service which will include a guaranteed fixed-rate fare with no hidden costs, alongside a fair cancellation policy and 24/7 customer support. You can also make the most of Welcome's service and book an in-city ride to Wellington's beautiful surrounding areas.
Wellington Taxi Tips
Passengers may choose any taxi waiting at a taxi rank and are not obligated to take the first one in line.
It is recommended to ask for the cost of your taxi fare at the start of your journey as some taxis do not carry taximeters.
Tipping is optional but rounding up to the nearest dollar is common practice when paying by cash. Tipping would be 8-15% of the total fare, depending on the level of service provided.
Transfers to and from the airport are subject to extra charges, so ask your driver at the start of your journey what extra fees will be added to the total fare.
Wheelchair Accessible Taxis in Wellington
Many Wellington taxi companies offer wheelchair-accessible vehicles but they need to be requested in advance (24-48hrs) of the transfer. One of the most commonly used taxi companies offering roomy, safe and fully accessible vehicles is Wellington Combined Taxis; they can be reached at +64 (04) 384 4444.
Wellington Taxi Safety and Complaints
Taxis in Wellington are regarded as a safe method of transport, just make sure that the driver's registration is visible in the vehicle when you get in. If you need to make a complaint, take note of the driver and vehicle registration numbers along with the complaint and contact the taxi company directly. If the nature of the complaint is very serious, then you should contact the nearest police station and the New Zealand Transport Authority.